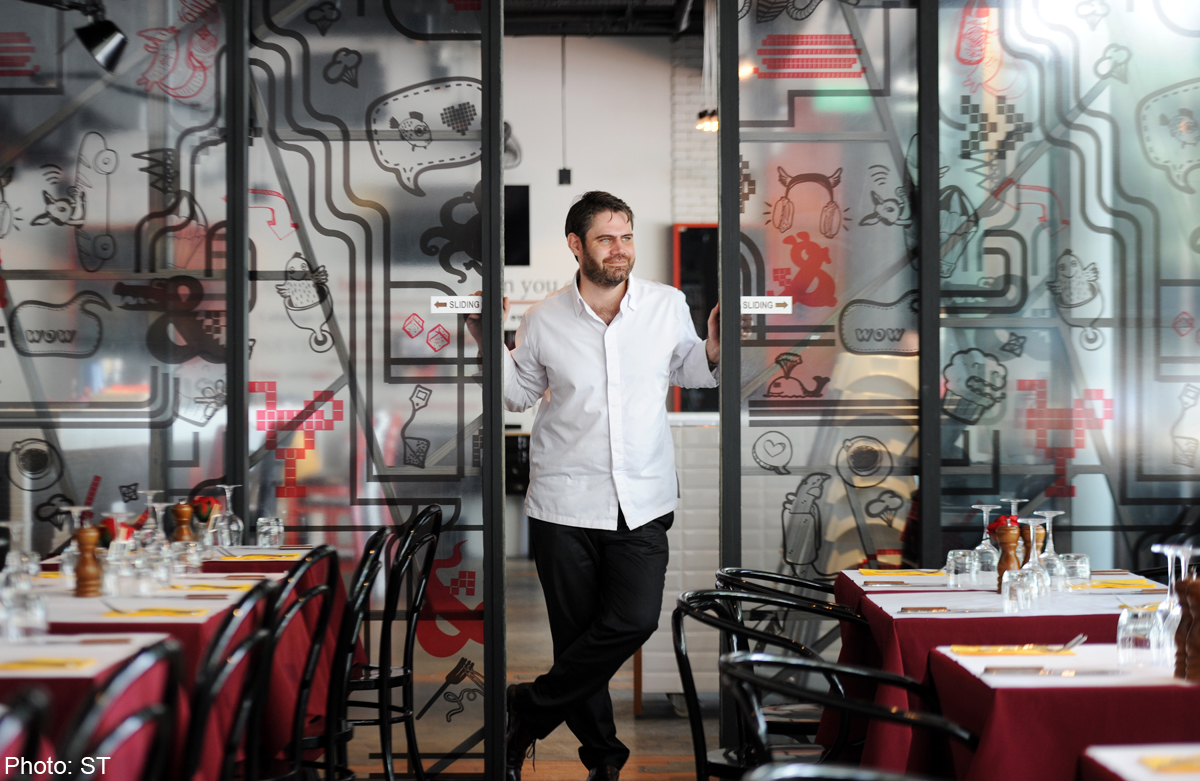 Chef Damien Le Bihan could have become a gardener in a golf club if the Lycee Hotelier de Dinard, a culinary school in Brittany, France, had been slower in sending out acceptance letters.
He found himself at 16 at the crossroads of choosing between two vocational courses after high school - gardening and cooking. It turned out that the culinary school replied earlier and the rest is history.
The 35-year-old Frenchman says: "Growing up, I never imagined that I would become a chef, but in culinary school, I saw what being a chef can offer and I wanted to travel and enjoy different cultures."
His career has taken him far from his hometown of Vannes to countries such as the United States and Singapore.
The bachelor is the group executive chef of Deliciae Hospitality Management Group, which owns 10 restaurants, including Parisian- styled bistro L'Entrecote, Spanish tapas bar Sabio and Bumbo Rum Club, a new Caribbean-inspired restaurant.
Le Bihan will also be participating at the inaugural Salon Gourmet, a culinary festival of European cuisine, wines and spirits, which starts today. It is organised by Sphere Exhibits, a wholly-owned subsidiary of Singapore Press Holdings, and food and beverage consultancy Poulose Associates.
The chef will show how to make prawn ceviche and chocolate mousse at a culinary workshop on March 8. He will be cooking alongside five Singapore-based European chefs, including chef Julien Bompard from Scotts 27, in the Culinary Stars of Europe Dinner on March 27 . He will showcase a classic French dish - sous vide beef ribeye with foie gras and black truffle mashed potatoes.
When he opted for cooking school, it was not a complete surprise. At age seven, he was already cooking simple fare such as pasta and croque monsieur (French-style ham and cheese sandwich) for himself and his older sister when his parents were not at home. His mother, 68, used to work in the finance industry, while his father, 70, was an engineer.
Besides cooking, Le Bihan has green fingers and grew tomatoes, pink radishes, carrots and herbs in the family's garden. "Cooking the products I grew gave me satisfaction as I could control the quality," he says.
After culinary school, his teachers pushed him to work in Paris as "it was a must for one to learn more by working with big-name chefs there".
He worked at two-Michelin-starred Michel Rostang, before joining Guy Savoy in Paris and Las Vegas.
Unlike most chefs, he has also managed front-of- house operations as general manager of the now- defunct Guy Savoy at Marina Bay Sands when it opened to much fanfare in 2010.
What was it like to make the switch from chef to general manager of a restaurant?
I was surprised but happy by this new big challenge offered by chef Savoy. He wanted someone to transfer knowledge of cooking and speak about the kitchen to service staff and train them.
What is one lesson you took away from working on the service side?
I know approximately how long a guest takes to eat a dish and when to inform the chef to start cooking the next course, so that diners do not have to wait.
I now use this knowledge when I am cooking. Communication is important to know what both the chefs and guests want.
Why did you return to become a chef?
I missed cooking, from touching the products to doing the A to Z of a dish. I prefer to be in the kitchen to being in service. I get more pleasure and satisfaction from cooking.
How often do you cook these days?
I visit different outlets daily and cook six days a week at the restaurants as I am close to my team of chefs and want to ensure that the quality of the products and dishes is maintained.
What was the first dish you cooked?
Roast chicken with mashed potatoes. When I started out, it was difficult to master the technique of cleaning the chicken and preparing it for roasting.
What is the most memorable moment in your cooking career?
It was in May 2010 when I was with Guy Savoy. We cooked a gala dinner for 40 people for Chateau Margaux at the Great Wall of China in Beijing. It was something special when you think about the history behind the Great Wall. It was a beautiful moment.
What are your favourite ingredients to work with?
I love coriander as it is light and flavourful, it lifts the flavours and gives a nice kick to the dishes, especially tuna and salads. I also love to work with seafood as I am from Brittany and we have fresh ingredients there.
I like making tuna tartare with kombu dressing, which is made of soya sauce and seaweed.
What is the most difficult ingredient to cook?
Langoustine - it is very easy to overcook it, causing the meat to be chewy and have a spongy texture. It should have a firm bite.
What are your all-time favourite Singapore dishes?
Black pepper crab from Jumbo Seafood Restaurant. I like to visit the East Coast Park branch as its seaside location reminds me of being in Brittany. The soft texture and juiciness of the meat have been maintained over the years.
I also like chicken rice from Boon Tong Kee in River Valley Road and Indian food such as tandoori chicken and chicken curry for their balance of spices.
What food do you like to eat when you are back in Brittany?
I have to eat a seafood platter, as you cannot find the same quality of seafood in Singapore.
Though the seafood can be imported here, the flavour is not the same. It consists of poached langoustine, lobsters, crabs and periwinkles (sea snails). I eat them with mayonnaise, and bread with salted butter.
How do you unwind after work?
I like to relax with a cigar, cheese platter, wine and nice company.
What are your guilty pleasures when it comes to food?
Cheeses, especially brie, St-Nectaire and Tomme de Savoie. When I eat them, I think about the months of hard work behind developing the cheeses.
What do you cook on your days off?
I cook once a week with what I can find in the supermarkets. At home, I cook dishes such as chicken ragout with capsicums and rice, beef stew or barbecued meats.
If you could pick anyone to have a meal with, who would you pick?
My parents. I do not see them often as I return to my hometown once a year. They have given me the opportunity to become a chef.
I will ask them to cook ham quiche, ginger pork and a fruit crumble for me.
For more information on Salon Gourmet 2015, go to www.salon-gourmet.com.sg.

This article was first published on Mar 1, 2015.
Get a copy of The Straits Times or go to straitstimes.com for more stories.