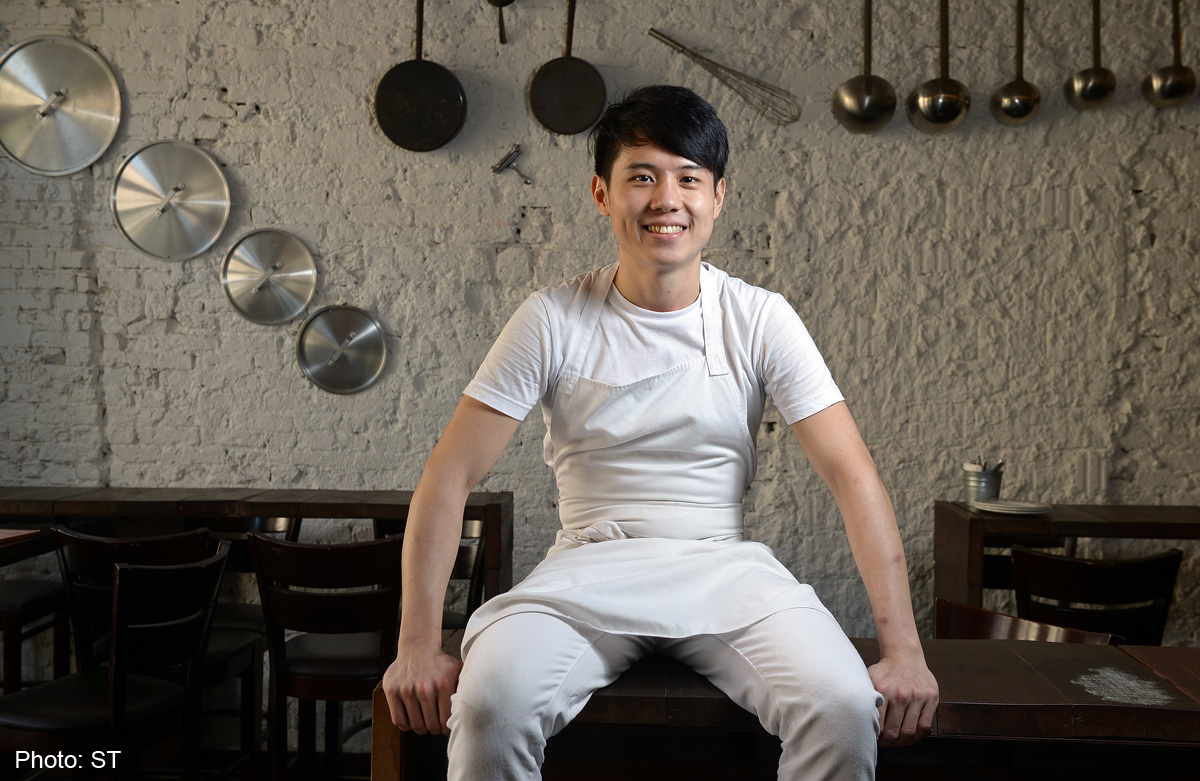 From the age of 10, Brandon Foo, now chef de cuisine of French restaurant Le Bistrot Du Sommelier in Armenian Street, knew he wanted to be a chef and started by helping his mother peel onions in the kitchen.
That single-minded pursuit of his ambition has paid off.
The 28-year-old was named Meat & Livestock Rising Chef of the Year two Saturdays ago at the World Gourmet Summit's Awards of Excellence.
As a child, he says, he loved seeing how a raw ingredient bought from the wet market could be transformed into something edible and enjoyable.
Even though he was only 10, he cooked home-style Chinese dishes such as fried chicken and stir-fried vegetables for his family of five - he has an older sister and a younger one - about twice a week.
He stopped schooling after the O levels and after completing national service at age 20, started building his culinary career.
"I joined a small restaurant, the now- defunct New York New York at Citylink Mall, and it happened by chance. I was walking by and I saw that it was hiring kitchen helpers. I went in, got a job and started from the bottom - peeling shallots, onions and garlic, and cutting vegetables."
Impressed by his knife skills and that Foo was always the first to arrive and the last to leave, his boss, chef Nelson Chua, helped him get a job with chef Patrick Heuberger at Au Petit Salut, then located in Jalan Merah Saga.
He started as a part-time trainee chef in 2006 and moved with the restaurant to its current location in Harding Road the next year. He climbed the ranks to commis cook and eventually trained in pastry and hot cooking. He then became a saucier, the most important role in the kitchen brigade.
He says of chef Heuberger: "He trained me pretty hard. I totally don't regret it. He's my mentor and I admire and respect him."
After working for three years under his mentor, he went to Agen, France, to work in Chateau Saint Philippe, a hotel with a restaurant, under chef Arnaud Carre. He says: "When I first travelled to France, I was a bit terrified as I heard that the French discriminated against Asians. However, I didn't really have this problem there."
After the three-month stint in France, chef Heuberger helped him get other cooking stints. In Geneva, Switzerland, he worked in three different restaurants before moving to Australia. There, he worked at Absynthe, a French restaurant in Surfers Paradise on the Gold Coast of Queensland. In 2010, he decided to come back to Singapore and worked at the now-defunct Guy Savoy at Marina Bay Sands. He now runs the daily operations at Le Bistrot Du Sommelier.
Winning the Rising Chef award would seem like he has made his name in the industry, but he does not think so.
"When I won the award, I felt happy and grateful but, at the same time, I told myself that I have to work harder to maintain the standard or exceed it. When more people start to recognise my food and my name, and newcomers start to come back after their first dining experience, then I would think that I have made my mark."
You started cooking with your mother when you were 10. Do you still cook with her?
I don't really cook with her now because she says cooking with me is very stressful. Sometimes, I tell her that her cooking methods are not right. She'll then remind me that this is not the restaurant and ask me to leave her alone.
Were your family members supportive when you wanted to be a chef?
When I was younger, they tried to talk me out of it. They said I would have to work long hours and it would be tough. However, I told them that I was passionate about it and I loved seeing the expressions on my guests' faces when they tucked into my food. Now, they are very proud of me.
Why did you choose to specialise in French cuisine? Would you want to try cooking other cuisines?
I've been in the culinary business for eight years and I've worked only in French restaurants. It is interesting to see the different techniques of French cooking. I do not mind learning Chinese cuisine.
What are your other passions or hobbies besides cooking?
I love to drink. I enjoy going to places such as Brussels Sprouts or Sabio By The Sea to chill.
Which chef do you admire?
Thomas Keller of The French Laundry in Napa Valley and Per Se in New York. I love how he refined French food.
What is your favourite ingredient?
My favourite ingredients are shallots, garlic and Italian parsley. Without these, I don't know how to cook.
What is one item that is always in your refrigerator at home?
Nutella. I love chocolate and I love nuts. Even on my menu, I always try to think of something chocolatey and nutty. I like my Nutella with bread or cookies.
What is your comfort food?
My mother's Chinese soups, especially lotus root with pig tails and peanuts.
What is your take on being a chef?
Being a chef requires a lot of commitment. You don't really have your own time. For me, it basically means "no life".
Then how do you balance work and personal life?
I meet my girlfriend Charmaine Ng, 24, who is working in a government job while studying, every Sunday after work. I make an effort to go overseas with her during my annual leave. Thankfully, she is understanding and knows that my line of work is really tough. We have been together for six years.
What is the most adventurous dish you have ever eaten?
That would be balut, a boiled developing duck embryo in its shell. It is not nice at all. I just wanted to try it. One of the service staff brought it from the Philippines and stuffed it into my mouth.
How do you get inspired to come up with the dishes you make?
I get inspired by everyone and everything. For example, when I was young and had a cough, my mother would make bitter almond soup, a Chinese remedy that soothes the throat.
I told myself I wanted to recreate the dish. I made an almond jelly, served with poached rhubarb and fresh strawberries, for Le Bistrot Du Sommelier.
justynt@sph.com.sg
This article was published on April 13 in The Straits Times.


Get a copy of The Straits Times or go to straitstimes.com for more stories.