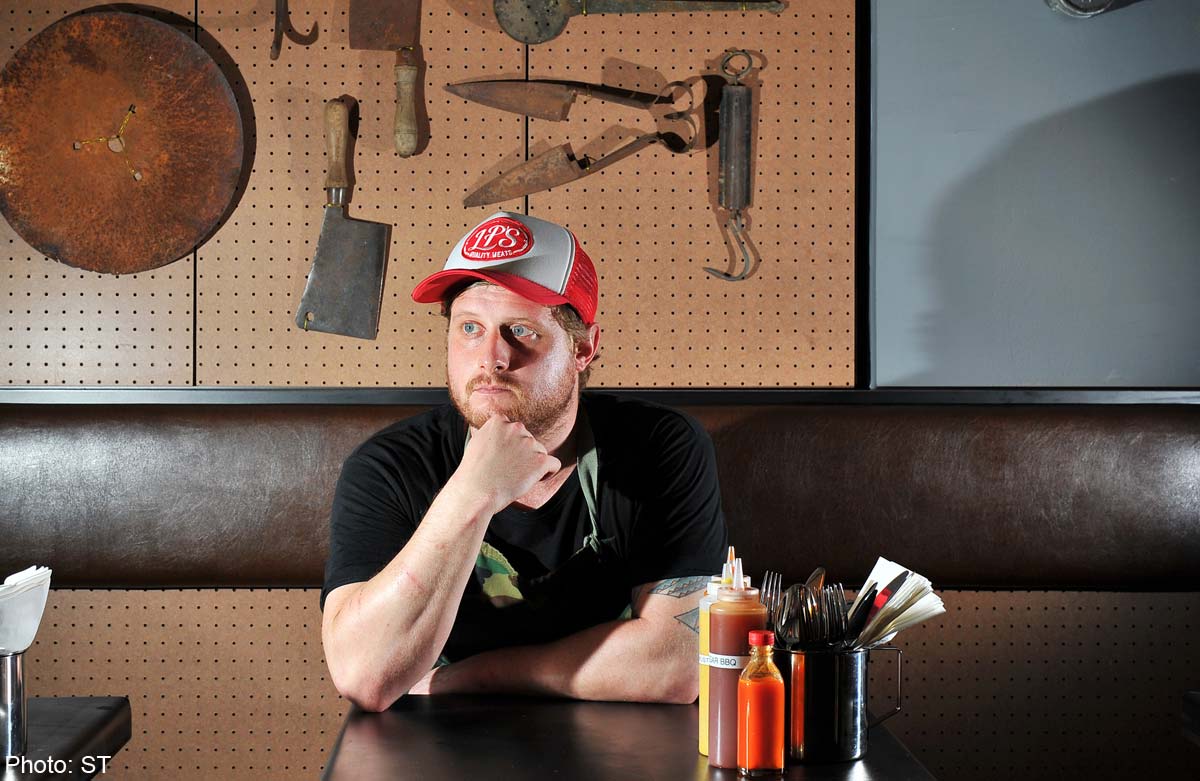 Chef Andrew Baldus' resume reads like the menu of an international buffet.
The 30-year-old American has worked in Italian and Mediterranean restaurants and was head chef of a ramen shop.
The list gets even more diverse.
The chef, who is from Lincoln, Nebraska, now heads Meat Smith, a three-month-old American smokehouse in Telok Ayer that serves barbecue, such as pork ribs and beef brisket, and unusual parts such as beef tongue served with Sichuan-style aioli.
He says: "I eat everything and am interested in trying different cuisines. My mum cooked dishes from around the world when I was growing up."
His family kitchen was home to a melting pot of flavours from around the globe.
His mother, 68, a retired psychiatric nurse, whipped up Irish dishes such as corned beef with cabbage, beef stew with soda bread, Czech goulash and dumplings and Indian curries. She learnt these recipes from her collection of cookbooks.
His father, 66, is a retired civil servant. He has an older brother, 32, who works as a recruitment agent.
Chef Baldus' first foray into cooking was an after-school stint at the deli counter in a supermarket when he was 14. He made salads and sandwiches.
He was also inspired by his Singapore-born high school friend and fellow chef Howard Lafour to sign up for culinary school at Le Cordon Bleu in Oregon.
He has worked in Mingo, an Italian restaurant in Portland, and Muse, a Mediterranean restaurant in South Carolina.
He taught himself to make ramen for Amu Manu Ramen Bar in Nebraska.
His Singapore stint was also spurred by a four-month trip here in 2013 with Lafour. They ate their way through hawker centres and restaurants and tracked down the friend's childhood favourites such as roti prata and Hokkien mee.
Chef Baldus, who is single, says: "It is exciting to see so many food offerings in Singapore and that food is a much talked-about topic here. Back home, people just talk about the weather and football."
How did you become the head chef of a ramen restaurant?
A former employer approached me to create recipes for his ramen shop. I learnt to cook ramen by trial and error. I read books and did research on the Internet.
I had a month to experiment with making broths, such as tonkotsu (pork bone broth). It was challenging to develop it as I needed to find out how to clean the bones, how long to boil them and getting the right amount of collagen in the broth.
How did your stint in Meat Smith come about?
I met chef Dave Pynt, executive chef of Australian barbecue restaurant Burnt Ends, through friends when I was in Singapore and was invited to do a one-month guest stint at his restaurant. When he told me about an opportunity to work here last September, I decided to give it a go.
Why do you think the concept of American-style barbecue can work here?
Singaporeans are adventurous eaters. There is also demand from expatriates who have not been able to find such a concept here.
How did you learn to barbecue meats?
It was basically trial and error during barbecue gatherings.
What is your favourite meat?
Beef brisket, as each piece of meat has a different personality and cooks differently. It takes eight to 14 hours to cook each brisket.
It is a challenge, but when you do it correctly, you feel good about it. Sometimes, I drop by the shop at 2am to put the meats into the smoker.
What makes a good beef brisket?
It needs to have a good marbling. It should contain a good amount of fat and collagen which is broken down to make the meat moist and tender when cooked at a high temperature.
Which chef do you look up to most?
Michael Uhnak, who was the head chef at Mingo. He broadened my horizons of Italian ingredients and taught me how to keep the flavours clean with good produce. He told me not to be afraid of any kitchen and that gave me the confidence to work alongside more experienced chefs in bigger cities.
What is your worst kitchen disaster?
When I was working in a country club in South Carolina, a fellow chef tripped and dropped a pot of hot cream soup behind me. The soup splashed on the back of my legs, went into my shoes and scalded my feet. It hurt, but I had to go back to dinner service that night.
What are your favourite Singapore foods and where would you go?
I like the crab beehoon and sea snails in Sin Huat Eating House in Geylang Road and the wonton noodles at Eng's Noodles House in Tanjong Katong Road. Its chilli sauce is the closest to the spiciness of salsa. What foods from the US do you miss most?
Pepperoni and cream cheese pizza from Ramon's Pizza and Yia Yia's Pizza and Beer in Lincoln. I also miss cheeseburgers with bacon from fast-food chains such as In-N-Out and Five Guys. I like their thin smashed patties that are cooked fresh upon order.
What do you have in your home fridge?
Condiments such as ketchup, mustard, mayonnaise and Tabasco sauces. Tabasco sauces are my jam. I add them to hamburgers and tacos. I do not cook at home these days as there are too many good food options around Tanjong Pagar, where I live.
If you could pick anyone to have a meal with, who would you pick?
The late American comedian Bill Hicks, who died in 1994. He is the most honest comedian and is very funny. I would love to find out his views on the world today, from the political landscape to social norms.
kengohsz@sph.com.sg

This article was first published on May 10, 2015.
Get a copy of The Straits Times or go to straitstimes.com for more stories.