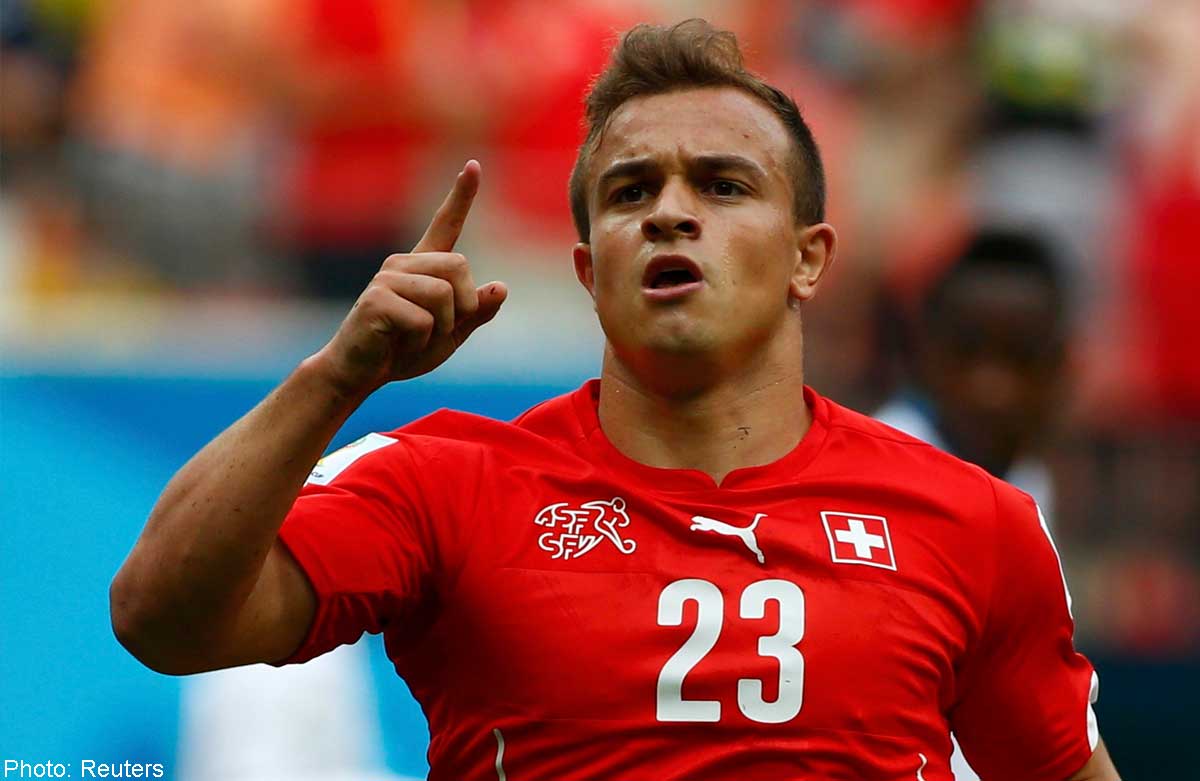 PORTO SEGURO, Brazil - Xherdan Shaqiri, dubbed 'the Messi of the Alps' thanks to his World Cup hat-trick, hopes to conquer new peaks when Switzerland faces Argentina in Tuesday's last 16 clash.
Shaqiri lived up to his flattering nickname with a hat-trick in his team's 3-0 romp against Honduras in their final group match to set up Tuesday's last 16 clash in Sao Paulo against Lionel Messi and Argentina.
"It's a dream tie for us, little Switzerland is facing a big challenge," said the 22-year-old as Swiss newspaper Blick proudly boasted "We have our own Messi".
"We have achieved something big as little Switzerland, I am proud of my three goals.
"Anything is possible now in the last 16." Switzerland have never beaten Argentina in six previous attempts and are also bidding to reach the World Cup quarter-finals for the first time in 60 years.
Shaqiri proved his form with a hat-trick in their final group match to set up Tuesday's last 16 dream clash.
"He has already showed what he is capable off. Xherdan wrote a page of history against Honduras," said Switzerland's German coach Ottmar Hitzfeld as the Swiss chase an historic win.
"If we put in a similar performance, then we also have a chance against Argentina." In their most recent meeting, the Swiss were drawing with Argentina in a Bern friendly in February 2012 until Messi hit two late goals to claim his first international hat-trick in a 3-1 victory.
Shaqiri's Bayern Munich coach Pep Guardiola has said Argentina's 'Seleccion' must be on their guard against the pint-sized winger whose prefered nickname 'XS' is at odds with his body-builder physique.
"They must pay close attention to Xherdan Shaqiri," said Guardiola during a World Cup event in Buenos Aires.
"He's dangerous in the penalty area, because he's quick and can shoot very well.
"At Bayern, he's often only a replacement, but when he comes on he always does well.
"It's a gift to have a player like him at the club and in his own country, he's a god." Having played second fiddle to left wing Franck Ribery at Bayern, Shaqiri is revelling in his role in the middle as an attacking midfielder with Switzerland.
The ex-FC Basel star first announced himself on the international stage with a superb goal against England in a 3-1 defeat in a Euro 2012 qualifier.
Against Honduras, Shaqiri became the first Swiss player to score multiple goals in a World Cup match since 1954 - when they last reached the quarter-finals.
Two of Shaqiri's goals came from assists by Swiss striker Josep Drmic and the future Bayer Leverkusen player is hoping for more of the same against Argentina.
"Of course, as a striker you always want to score, but I'm happy to have been able to provide as well," said Drmic.
"We've proven we work well as a duo, let's hope that continues."