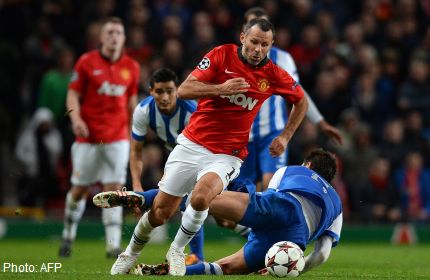 LONDON - With a masterful performance at Bayer Leverkusen on Wednesday, Ryan Giggs demonstrated that he remains an integral player for Manchester United despite the arrival on Friday of his 40th birthday.
Having impressed as a substitute in United's 2-2 draw at Cardiff City, Giggs was restored to the starting line-up at the BayArena and orchestrated a 5-0 win that sent his side swaggering into the Champions League last 16.
Belying his advancing years, the Welshman dictated the pace of the game throughout and capped his display with an intelligent lofted pass that enabled Nani to score the visitors' fifth goal in the 88th minute.
"I've run out of things to say about Ryan," said United striker Wayne Rooney. "Actually, during the game, the Bayer centre-half was asking how he is still playing at that age."
Alex Ferguson may have stepped down as manager after 26 and a half long, glorious years and United may have fallen off the pace in the Premier League under his successor, David Moyes, but the ageless Giggs bounds on regardless.
"People mention his age, but all you should talk about is his football ability," says Moyes.
"He is an unbelievable footballer, and you could say he is getting better. He is a wonderful player and I am really fortunate to be working with him."
Giggs is starting to cast an eye towards the future, having been enrolled on United's coaching staff following Moyes's arrival from Everton, while he recently opened a London restaurant with former team-mate Gary Neville.
However, although his current United contract is due to expire in June, he says he has had no thoughts about turning the page on his playing career.
Asked by Neville during a recent television interview whether the approach of his fifth decade had brought retirement into sharper focus, he said: "I've never been guided really by the age.
"It's just about how I felt, if I'm contributing, if I'm still getting picked, still enjoying it.
"I could probably contribute a little bit more, but hopefully that will come as the season goes on. But no, just because I've turned 40 doesn't mean that's it.
"If I felt like that, then I might as well just pack it in now, but I still feel good and I'm still enjoying it."
Giggs is used sparingly these days and has played in only five of United's 12 league games to date this season, but he is already certain to leave a historic legacy.
He is United's record appearance-maker (953 games and counting), and with 13 league titles, two Champions League trophies, four FA Cups and three League Cups to his name - as well as a clutch of other prizes - he is the most decorated footballer in the history of the English game.
A devilish tormentor of opposition right-backs when he blazed onto the scene as a jet-heeled winger in the early-1990s, Giggs has refined his game in recent years and now operates more often than not as an elegant midfield playmaker.
As a youngster, he was dogged by hamstring injuries, but he attributes his longevity to the discovery of yoga techniques that have helped him steer clear of the treatment tables in his latter years.
"The yoga has definitely helped me," he told La Gazetta dello Sport last year. "It helps me train every day because it gives me the flexibility and the strength not only to play the game, but to train as well."
Giggs's famed hunger for success is unlikely to diminish in the months ahead, particularly with United currently seven points behind leaders Arsenal in the league.
He will also be eager to maintain a run of scoring in consecutive league seasons that extends all the way back to 1991 - before some of his current team-mates were even born.