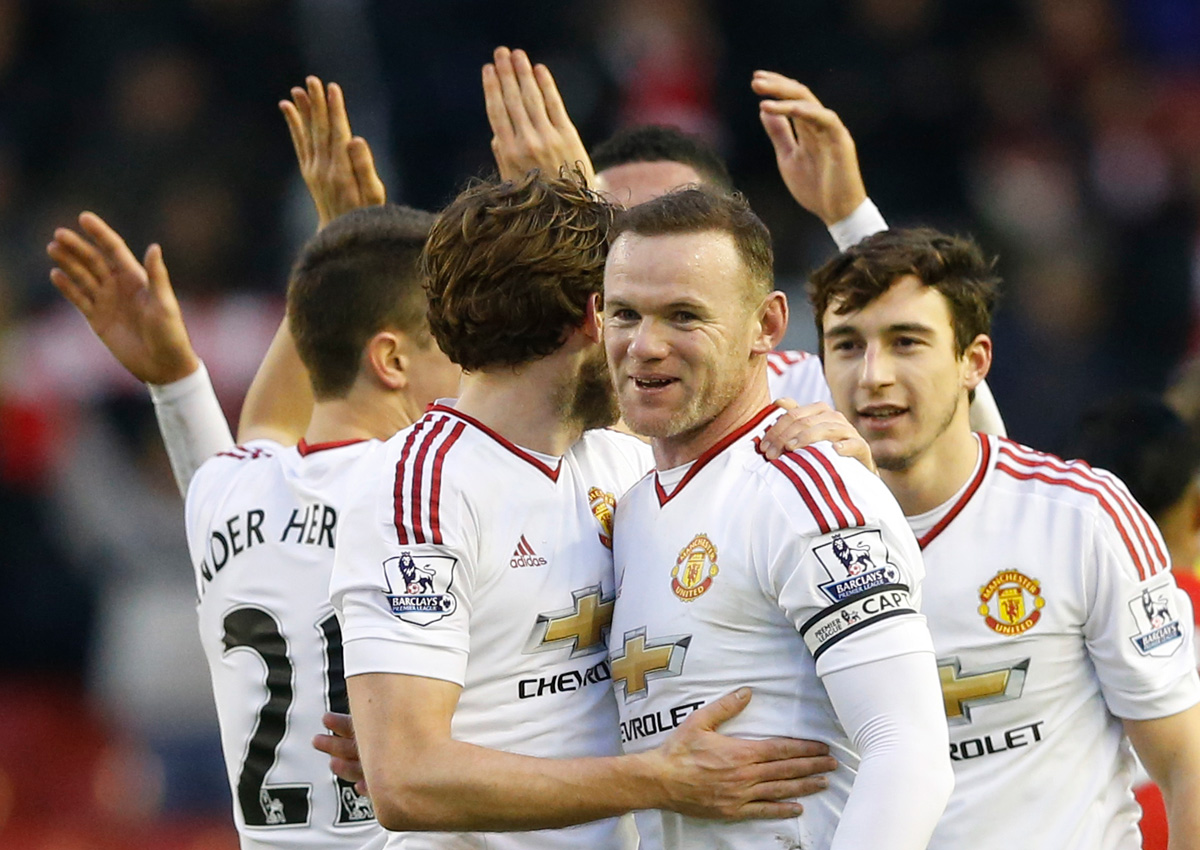 Liverpool - Manchester United's smash-and-grab 1-0 victory at Liverpool will strengthen conviction that they can yet end a difficult season as Premier League champions, according to manager Louis van Gaal.
Wayne Rooney's 78th-minute goal at a chilly Anfield on Sunday earned United an opportunistic win over their arch rivals, which left the 20-time champions seven points below leaders Arsenal in fifth place.
United had been second-best by some distance until then, but following a run of four straight defeats over Christmas that saw Van Gaal's position called into question, they are now unbeaten in five games and their manager believes the title is still a viable objective.
"I think to beat Liverpool is always important and today (Sunday) it was important because our competitors have lost points," he said.
"When the gap is seven points, you can oversee (overcome) that. So that's what I'm thinking.
"We have a lot of matches still to go. We started 2016 very good with a lot of wins, a draw (3-3 at Newcastle United), and we didn't lose.
"I think this game shall give a big boost to the players, to the fans, to everybody in the environment of Manchester United.
"We have to continue. That's not so easy. We have seen that today, but we can do it. We show every week that we can do it." Castigated in some quarters for his performances over the first half of the season, Rooney has become the figurehead of United's mini-revival, scoring five goals in his last four appearances.
He was a peripheral figure against Liverpool until the hosts switched off at a corner, allowing Marouane Fellaini to head against the bar from Juan Mata's cross, and when the ball dropped in the six-yard box, the United number 10 reacted quickest to lash home the winner.
"A striker who scores is always very important," said Van Gaal.
"Now he's scoring in a row and we are winning in a row. It's always like that. I'm very happy for him, but also for Manchester United and for the fans, because everyone wants to see Rooney scoring." There is nobody as prolific as Rooney in the ranks of Liverpool manager Jurgen Klopp, who once again preferred Roberto Firmino to £32.5 million (S$66.7 million) striker Christian Benteke in attack.
For all their dominance, Liverpool could not score, with United goalkeeper David de Gea notably thwarting Jordan Henderson and, twice, Emre Can, but Klopp said that he was satisfied with his options at centre-forward.
"The smallest of all our problems today was our centre-forward," said the German, whose side are six points below United in ninth place.
"Roberto Firmino made again a really good game. He can play this position. He is a real centre-forward when he plays there. Plus all the other things.
"We have no problem on this position. We created our chances. It's too easy to say another player in this position would have scored.
"As long as we have enough players to play, we should not think about this. In this moment we play not bad. We had a good game against Arsenal (drawing 3-3), but then we concede too many goals.
"Today we played not bad, so we're on a good way. Of course not everyone can see it, but we need the results and we don't have them often enough. That's the truth." Summing up his team's display, Klopp said: "I didn't see too many chances for Manchester United and we didn't take ours. It is frustrating. We lost a game that we should not have lost."
United lost auxiliary right-back Ashley Young to an apparent groin injury late in the first half and Van Gaal admitted to "overloading" the former Aston Villa player due to injuries to his other full-backs.
"I don't think it's a very worse (bad) injury, but we have to wait and see because I am not a doctor," said the Dutchman.