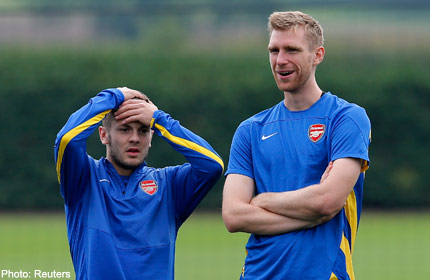 LONDON - Per Mertesacker has warned Arsenal must learn from their midweek Champions League setback if the Premier League leaders are to sustain their impressive start to the domestic campaign.
The Gunners travel across London to face struggling Crystal Palace on Saturday after Robert Lewandowski's late winner secured Borussia Dortmund's 2-1 victory at the Emirates Stadium.
With second-bottom Palace without a manager following the departure of Ian Holloway, the odds are stacked heavily on Arsene Wenger's side securing the win that will guarantee they maintain their place at the top of the table.
Arsenal will be hoping to reproduce some of the thrilling forward play that illuminated their 4-1 home victory over Norwich City last weekend.
But centre-back Mertesacker believes there is plenty of room for improvement.
The Germany international said: "We know we are on a good run, but we know it needs more than just playing with full freedom and vision.
"We need to defend first and then we can switch the rest on. You have seen what can happen after that."
Arsenal's strength so far this season has been the form of their midfield playmakers following the arrival of Mesut Ozil from Real Madrid.
Ozil had a quieter game than usual against Dortmund but Mertesacker believes his Germany team-mate is already part of something special.
"Tomas Rosicky came in and fitted into everything as well as Mesut Ozil or Jack Wilshere. When those three combined together, you could feel some magic in the air, a real chemistry."
Spain midfielder Santi Cazorla is confident Ozil's influence upon Arsenal will continue to grow as the title race begins to take shape.
"As the days go by we have a better association on the pitch," said Cazorla of club record-signing Ozil, who arrived at the north London side for £42.4 million (S$81 million, 50 million euros) from Real Madrid on transfer deadline day.
"Mesut is a player of a different kind. He is a joy to watch and has a lot of talent.
"Like (Zinedine) Zidane or Ronaldinho, he can be one of those players who marks an era."
Mathieu Flamini was rested midweek but the Frenchman's expected return to the midfield should add more steel to Wenger's side.
However, Wilshere could miss out if his ankle problem proves worse than first feared.
Palace have had a traumatic week with Holloway's departure coming after a 4-1 home defeat by Fulham – the Eagles' seventh defeat in their opening eight league games.
Holloway left following discussion with club chairman Steve Parish, insisting he had been left drained by his efforts to kick-start the club's campaign.
The former manager also criticised the efforts of some Palace players and the task of galvanising the squad will now fall to Keith Millen, previously Holloway's assistant.
Millen – who will be helped by veteran striker Kevin Phillips – insists he has no ambition to fill the job on a permanent basis, with former Stoke manager Tony Pulis emerging as the early favourite to become Palace's next full-time boss.
"It's a fresh start," Millen said. "I have no personal issues with the lads, I've enjoyed working with them.
"I want a reaction, of course I do and the club and the fans need a reaction. I think you'll see it on Saturday.
"We can stay up, without a doubt, but we've got to start somewhere. We've got plenty to play, but we've got to get the group united because if you don't have the best players then you need good spirit and you need them to believe.
"The new manager needs to add that. But I feel there is enough quality to get the points to stay up."