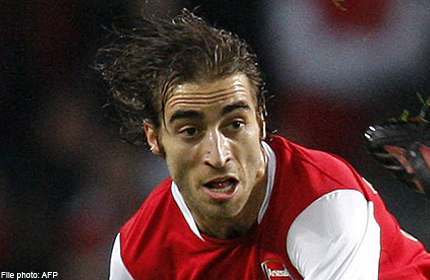 French midfielder Mathieu Flamini has rejoined Arsenal five years after leaving for AC Milan, the Premier League club said on Thursday.
Arsenal have come under fire for their lack of activity in the transfer market, with a number of high-profile names deciding against a move to the Emirates Stadium and French youngster Yaya Sanogo the only arrival.
"We're very pleased Mathieu has agreed to re-join us," manager Arsene Wenger said on the club's website (www.arsenal.com).
"He is a player of real quality, with a fantastic work rate and great mentality. As we know, Mathieu is a strong midfielder, but is also is comfortable playing in defence too. He is a very good addition to our squad."
Flamini made 153 appearances for Arsenal between 2004 and 2008, winning the FA Cup in 2005 and reaching the Champions League final the following season.
The 29-year-old played 122 times for AC Milan, winning one Serie A title and the Italian Super Cup.
He had been training with Arsenal during pre-season having left AC Milan at the end of his contract.