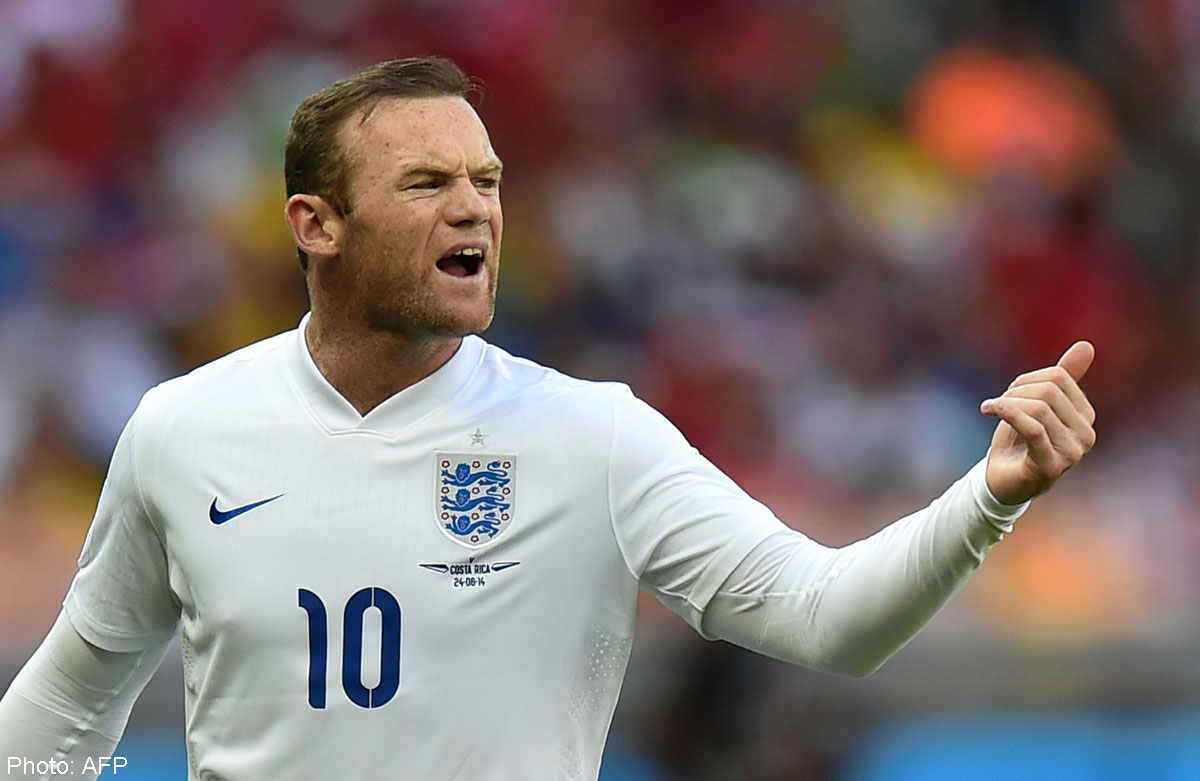 LONDON - England manager Roy Hodgson has admitted that Wayne Rooney faces a challenge to balance his natural aggression and ferocious will to win with his new responsibilities as captain.
Rooney was appointed as the successor to Steven Gerrard as England skipper on Thursday, two weeks after inheriting the captain's armband at Manchester United.
The 28-year-old striker has had disciplinary problems in the past, having been sent off for stamping on Portugal's Ricardo Carvalho at the 2006 World Cup and been given a two-game ban for kicking out at Montenegro defender Miodrag Dzudovic during England's Euro 2012 qualifying campaign.
Hodgson admitted on Thursday that the former Everton player has "baggage" when it comes to disciplinary matters, but he does not want him to remove the edge from his game completely.
"In these two years we've worked together, I've not been worried that he's going to get sent off," Hodgson told a group of journalists at Wembley Stadium.
"I'd like to think it's in the past, but you are quite right to bring it up and it's obviously going to be important for him. It is a cleft stick.
"Part of people's game sometimes is their aggression, their incredible enthusiasm. If you put too much of a break on it, maybe they will lose something." While the quietly-spoken Rooney is not renowned for rabble-rousing public utterances, Hodgson dismissed suggestions that he does not have the correct profile to be captain.
"I would shy away from the stereotype of the natural leader, the loud-mouthed, up-and-at-em, screaming and shouting type who makes himself noticeable everywhere he goes," Hodgson said.
"That's the stereotype of the leader, but that wasn't Steven, that wasn't Bryan Robson. That isn't Wayne Rooney.
"Sometimes leaders have other qualities deep within that actually are more important than qualities we can easily identify."
Hodgson 'not a fool'
The Rooney era will begin when England host Norway in a friendly next week, before Hodgson's side launch their bid to qualify for the 2016 European Championship away to Switzerland on September 8.
The tournament's expanded format means that the top two teams in each group will be guaranteed a place in the finals and with Slovenia, Estonia, Lithuania and San Marino the other sides in Group D, Hodgson says that England face a "relatively easy" task.
However, England have slumped to a world ranking of 20th since their group-stage exit at the World Cup, and Hodgson feels that the meeting with Switzerland will allow them to prove that they have not become a second-rank team.
"We're being labelled or I'm being accused of leading England to being a second-rate country. If that's the case, then a draw is a fantastic result over there," said Hodgson, who has called up uncapped quartet Calum Chambers, Danny Rose Fabian Delph, and Jack Colback.
"If that's your real opinion, that we're heading towards mediocrity, maybe you shouldn't be expecting us to win matches against Switzerland, who are fifth or sixth (ninth) in the world, had quite a good World Cup, and have a very experienced team.
"I don't think that way. I don't think we're heading for mediocrity. I think there's great potential. There's hope. We are going there to try to win it." Hodgson also hit out after a number of British newspapers claimed that he had compared England favourably with world champions Germany.
"The point I made and I can almost quote it verbatim is that there is nothing in the way Germany play, nothing in the way they approach the game, nothing in the system that they use, that we can't do," he said.
"That's what I said. So if that is going to be misinterpreted as 'Roy Hodgson says we are as good as Germany,' that is sophistry on your part. I resent that.
"Don't try to make me out to be some complete fool, who after getting knocked out in the first round says we are as good as the team that won it. That's wrong."