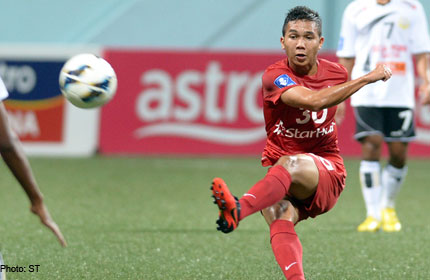 It may be a competition with a US$50,000 ($64,000) winners' cheque, but, for the Singapore Under-23 side, the Merdeka Tournament will serve more as an audition for spots for December's South-east Asia (SEA) Games squad.
From a goalkeeper to defenders and midfielders, V Sundramoorthy's side will be missing six key players during the tournament, which runs from this Saturday to Sept 15 in Kuantan, Malaysia.
Skipper Hariss Harun, Safuwan Baharudin, Faritz Abdul Hameed, Izwan Mahbud, Shakir Hamzah and Shahfiq Ghani will all be with Bernd Stange's national team, who will leave today for friendlies against China and Hong Kong.
The absence of forward Shahfiq will probably be felt the most.
Sundram will have goalkeeper Izwan and defender Shakir back after the team's opening game against Malaysia on Saturday, and while there are several players ready to pounce on the opportunity to shine, the Under-23s will make the trip north with just two recognised forwards in the 21-man squad.
Khairul Nizam and Syafiq Zainal, both from Malaysian Super League champions the LionsXII, will bear the burden of goalscoring.
"We're missing several players, and now it looks like this tournament is an opportunity for us to expose players, players who must take the opportunity to show what they are made of," said Sundram, ahead of his side's 90-minute workout at the Jalan Besar Stadium on Tuesday night.
"It is their chance to make sure they get selected for the SEA Games in December."
Courts Young Lions' forward Sahil Suhaimi was initially in the squad, but National Service commitments means he will miss the trip. Replacing him is clubmate Shamil Sharif, a midfielder.
It means Nizam and Syafiq will be in the firing line against Malaysia, Myanmar and Thailand during the competition.
"Nizam needs to work even harder to get back to the level he was at before his injury," said Sundram, of the 21-year-old targetman, who is still on the road to full recovery after suffering a torn anterior cruciate ligament in August last year.
"But we need to give him as much support as we can, because he is one of the most talented forwards that we have in the country today."
Nizam saw around 20 minutes of action in the LionsXII's 2-1 win over Perak in the Malaysia Cup last Saturday, but failed to make any impression.
Not fully fit
According to the club's physiotherapist, he is not yet ready for 90 minutes of action.
And Syafiq, 22, is in the same predicament, according to his coach.
Said Sundram: "It is a similar case for Syafiq. He has struggled with hamstring injuries and he needs a bit more time to get back to his best."
Syafiq has chalked up one goal for the LionsXII this year, netting the winner in January's 2-1 victory over Terengganu at Jalan Besar. Nizam is also on one goal - scoring in the MSL champions' 3-1 win over PKNS in May.
With Zulfahmi Arifin, Izzdin Shafiq, Fazli Ayob, Nazrul Nazari and Gabriel Quak in his midfield, Sundram's side have the ability to fashion opportunities, but can his forwards make an impact?
"We'll just have to put our trust in them and give them opportunities," said Sundram. "The rest is up to them."

Get The New Paper for more stories.