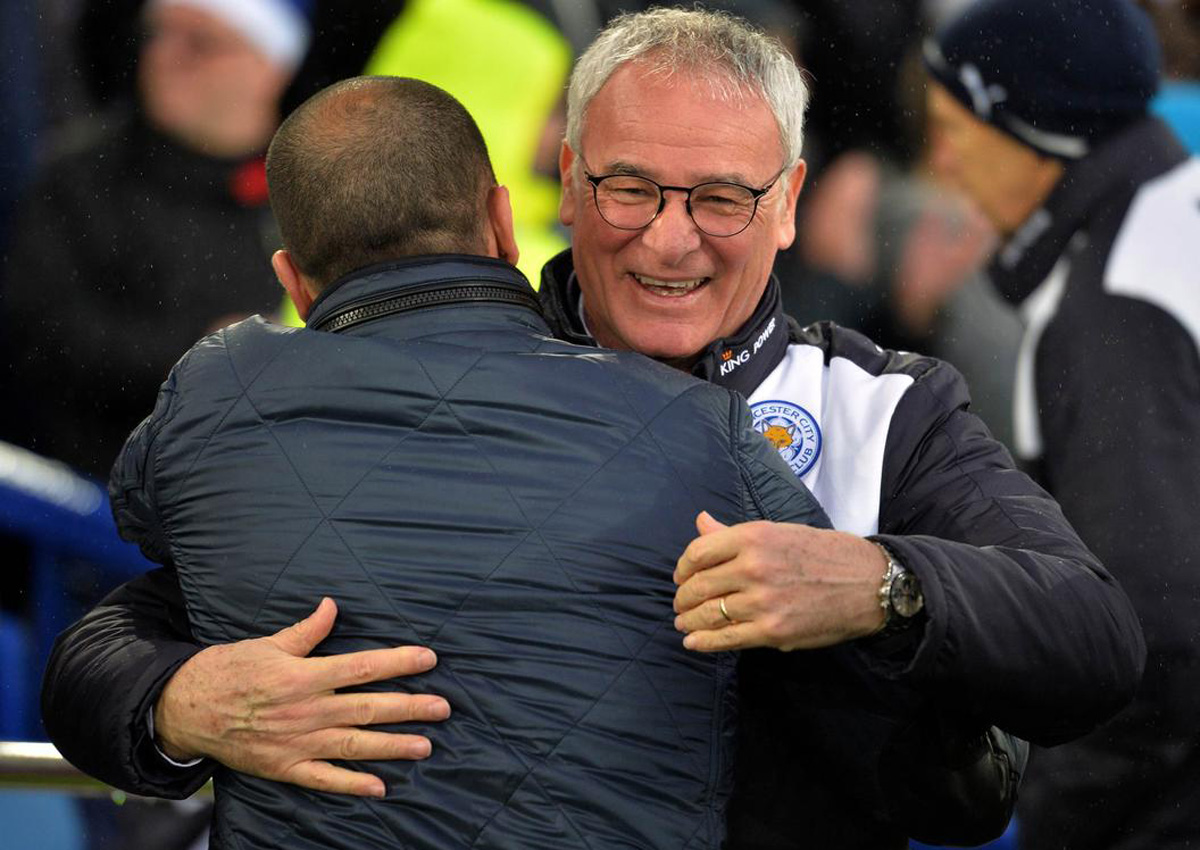 Liverpool - Leicester City manager Claudio Ranieri was full of praise for his players after their 3-2 win at Everton ensured that they will top the Premier League table at Christmas.
Leicester's rise to the summit of the English top flight has been one of the most remarkable football stories of recent times and they have become the neutrals' favourite in the title race.
The expectation has been that Ranieri's side would fall away as the season progressed, but they underlined their tenacity and courage at Goodison Park by hanging on for all three points.
However, Ranieri warned: "I am very, very honest. If we stay there at the end of April I might then think about the title, but for now I enjoy it.
"We are on a good run, good form. Today (Saturday) was a difficult, difficult, difficult match. Everton is a good team, they move the ball so quickly. We were very concentrated and we didn't allow them much space.
"In the first half we didn't react well. In the second we were much better. Football is crazy. If it is crazy in this way, I am very happy." Two penalties from Riyad Mahrez and a strike from Shinji Okazaki helped Leicester overcome Everton, who scored through Romelu Lukaku and Kevin Mirallas but were off the pace for most of the encounter.
After a quiet opening, Mahrez converted from 12 yards after Ramiro Funes Mori had dragged Okazaki down inside the area.
Lukaku equalised soon after to make it eight consecutive Everton matches with a goal, but Leicester were not to be denied as Mahrez scored a further penalty after the interval before Okazaki made it 3-1.
Mirallas brought Everton back to within one goal with a minute left, but Leicester held on and Ranieri was pleased by how his team had listened closely to his half-time instructions.
"I had told them to be calm, confident," he said. "To be fast, but calm.
"The performance in a defensive way was very good because Everton moved the ball very fast to try and create some space and if I think how many saves Kasper (Schmeichel) made, there were not too many." Leicester were helped by an inept defensive display from Everton in front of a set of fans who are growing frustrated at the way they are defending this season.
Manager Roberto Martinez was in no mood to hide his feelings afterwards.
"That was very disappointing and very frustrating," he said. "We wanted to face the league leaders and have a good test and make the three good draws a win.
"Leicester came with a good moment of form. They have the best goalscoring threat in the league and they are the best team on the counter-attack. I thought we stopped them completely.
"For us to concede three goals in the manner we did is very frustrating. The whole game went into a difficult way in terms of getting our tempo.
"The disappointment is we conceded such soft goals - two from throw-ins. That is the difference between winning a game and not. Scoring two goals at home should be enough." Despite conceding two goals from penalties, Martinez refused to blame referee Jonathan Webb for the loss.
"We need to be better as a team," the Spaniard said. "It is not a time to blame the unfortunate action of the referee."