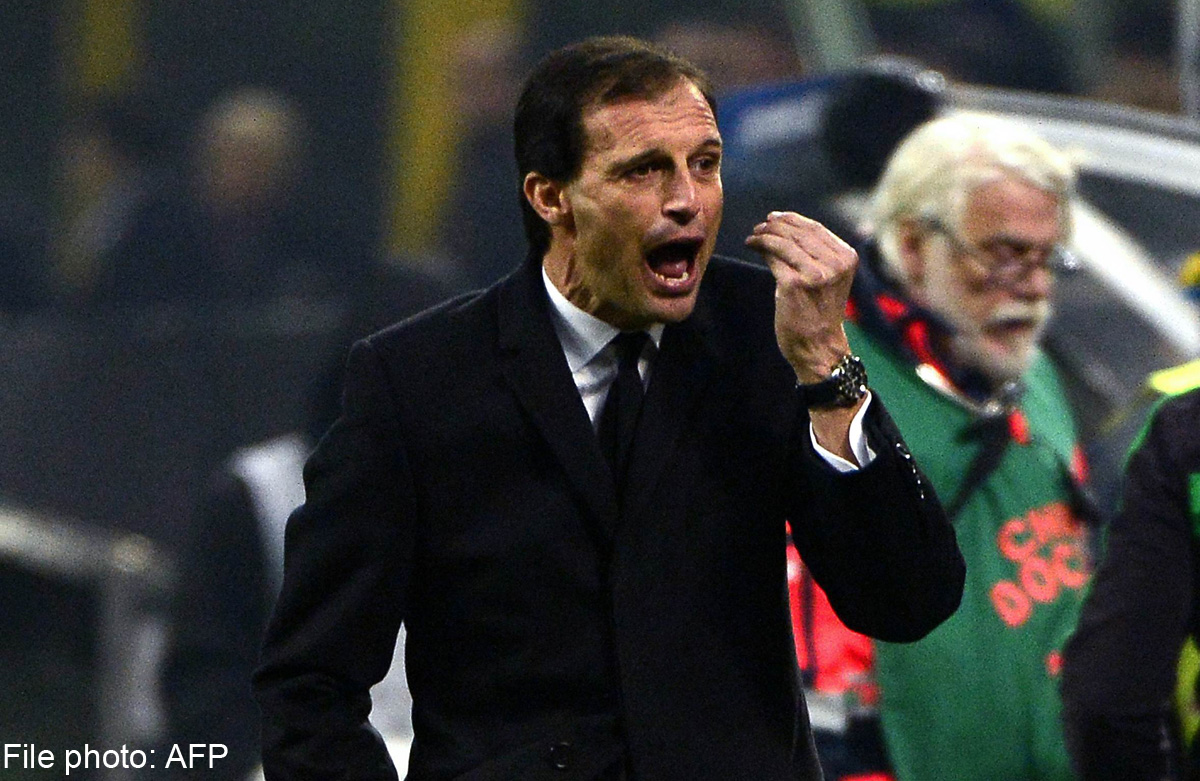 MILAN - Struggling Serie A giants AC Milan sacked coach Massimiliano Allegri on Monday, a day after a 4-3 league defeat to league newcomers Sassuolo.
Milan are 11th in Serie A, 30 points behind leaders Juventus and 20 behind Napoli who occupy the third and last qualifying spot for the Champions League.
A statement on www.acmilan.it said: "AC Milan announces that it has dismissed as coach of the first team, with immediate effect, Mr. Massimiliano Allegri and his staff. "AC Milan would like to thank Mr. Allegri and his staff for the work done and wishes them the best professional success. The team will be run on a caretaker basis by Mr. Mauro Tassotti."
For the second successive season Allegri's side has struggled to keep pace on the domestic front as Juventus, Roma and Napoli lay early claim to Serie A's three allocated places in the Champions League.
Sunday's defeat to Sassuolo, who scored four goals thanks to 19-year-old sensation Domenico Berardi, appeared to seal Allegri's fate when he came under attack from club vice-CEO Barbara Berlusconi.
Berlusconi, the daughter of club owner and president Silvio Berlusconi, had launched a scathing attack on club CEO Adriano Galliani prior to Christmas which prompted the official to offer his resignation before eventually backpedalling.
On Sunday Berlusconi pointed the finger directly at Allegri and said an "urgent change" was needed at the helm of the seven-time European champions.
"A disappointing night, just like others, which confirms that a change is necessary and urgent," Barbara Berlusconi said.
"We can no longer tolerate the fact that our fans have to put up with performances like these."
Allegri, who ironically played a pivotal role in leading Sassuolo into Serie B, took over Milan in time for the 2010/2011 season and won the title in his first season in charge.
Milan finished runners-up the following season but Allegri saw his side decimated as a host of key players - among whom Zlatan Ibrahimovic, Thiago Silva and Clarence Seedorf - all left the club.
Milan bought Mario Balotelli from Manchester City on a four-year deal last January in a bid to boost their forward line and scraped to a third-place finish at the end of the season.
Galliani, credited with bringing in major signings that steered the club to huge success over the past two-and-a-half decades, pulled off another coup in signing Ricardo Kaka from Real Madrid on a free transfer in time for this season.
However, under Allegri Milan have failed to gel as a team and began this season, like last, failing to play to their full potential.
Allegri stated two weeks ago this season would be his last at the helm of the San Siro giants but Sunday's reverse sealed his departure earlier than expected.
Italian media reports on Monday claimed Milan could call on youth team coach and former striker Filippo Inzaghi to step in as coach until the end of the season, when former midfielder Seedorf could take over.
Seedorf is currently under contract as a player with Botafogo in Brazil but has been championed as Milan's future coach by Italian sports media.