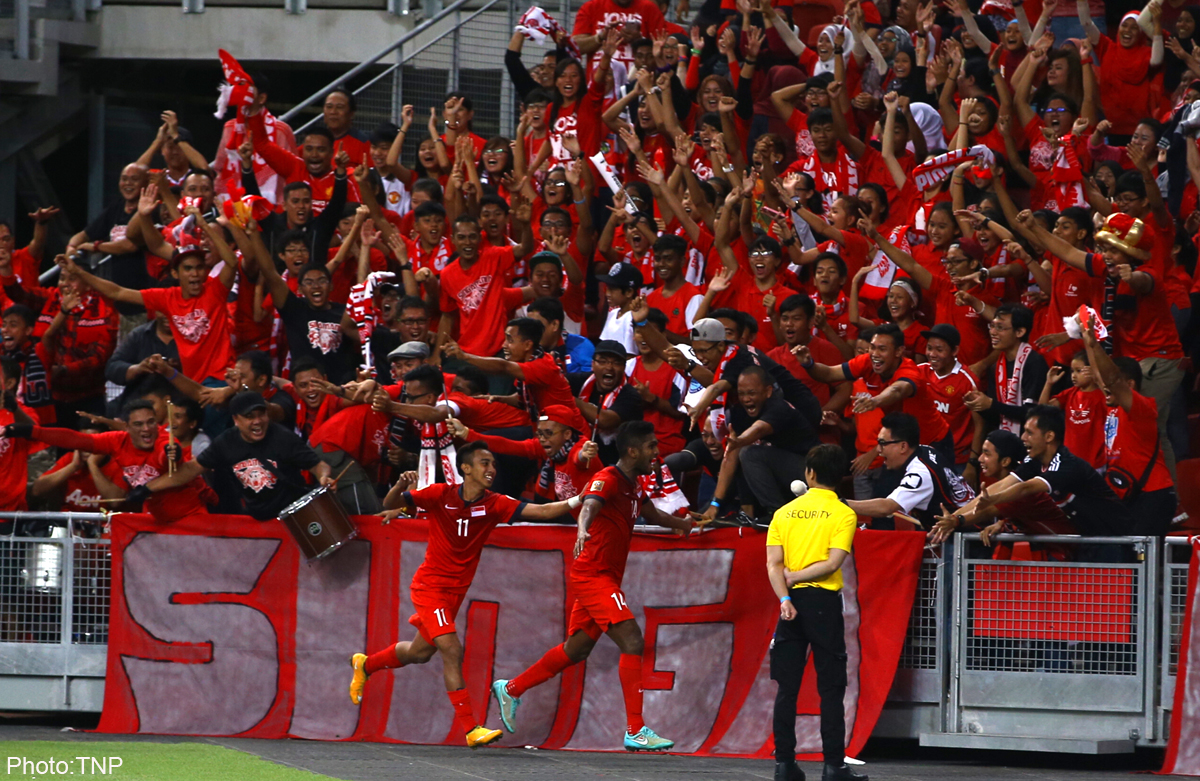 Loud and enthusiastic home fans are a common sight in any football-mad nation.
Many countries have an official fan group, sometimes called the "ultras" - the most dedicated bunch who can be easily spotted wearing uniform colours, they are the loudest in their home ground and stick by their team through thick and thin.
During Singapore's last two Suzuki Cup matches at the National Stadium, SingaMania was prominent in the stands, wearing blood-red, singing and paying homage to their heroes throughout the games.
SingaMania is made up of a few smaller fan groups like ExcluSinga, King George's Hooligans, Grandstand Maki Kakis and fans from S.League clubs like Balestier Khalsa, Tampines Rovers and Warriors FC.
Last Thursday, before the start of the Suzuki Cup, and with the National Stadium's distinctive dome as an imposing backdrop, a group of about 30 members gave The New Paper a preview of what they've put together for the tournament, and sang their signature "Satu Nada" ("One Voice" in Malay) chant.
"Our chants are quite simple. They are the usual ones that we always sing at Jalan Besar Stadium during LionsXII matches, so I believe other fans will be aware of them," said Syed Faris, one of the leaders of SingaMania.
SPONTANEOUS
"We also do impromptu chants and synchronised hand movements. We sing them over and over again, so after a while, other fans in the stadium pick them up and start singing, too."
"The chants are very contagious. A while back, 'Satu Nada' was sung once at a match, and fans immediately started singing it at every game."
The SingaMania die-hards will be seated at the National Stadium's East Stand when the Lions take on Causeway rivals Malaysia tomorrow and they will take up the entire section which they have nicknamed as the SingaMania Curva.
They will unfurl the large banner seen in the matches against Thailand and Myanmar, and the group will once again hold aloft the Singapore flag measuring 10 metres in length just before kick off, during the singing of Majulah Singapura.
The group, who have numbered around 700 for the Suzuki Cup, will have eight sets of drums to liven up the atmosphere.
They have some other plans for tomorrow's Causeway Derby, but declined to reveal much, saying only that they have a "special chant" when the match gets underway.
SingaMania maintains a strong online presence by posting regular updates and photos and videos, giving fans a platform to learn about the group's latest developments and new chants.
Faris, though, believes it will be difficult to see a National Stadium crowd coming close to being as loud as that of famed arenas like Anfield or Borussia Dortmund's Westfalenstadion.
"The fans of old grew up in an era where noise was made mainly to insult the referee or other players. It's time to leave that behind.
SING FOR 90 MINUTES
"Other countries have their own songs which they sing for 90 minutes, so we're moving towards that," said the 26-year-old.
"We've been around for only a short period of time, but we're going in the right direction.
"We aim to have our own ultras, just like every other country.
"Look at the games in the English Premier League or the Bundesliga. The fans never sit down. They're always standing, singing. That's our aim."
Another member, Hidayat Hassan, agreed.
He hopes the group will be able to help unite fans and create just the right atmosphere for the Lions.
Said the 25 year-old: "People always say that football fans back then were much better. Yes, we don't deny that, but what's so great about standing up every five minutes to shout at the referee and then sit back down?
"That was the norm back then. But we don't want opposition fans to come to our National Stadium and make more noise than us. That shouldn't be the case.
"So I hope that this can be a call to unite Singaporeans from all walks of life to join in our movement and make us louder than we've ever been."
That is what Faris is looking forward to when the Lions take on the Tigers, with the hope that a must-win clash can add to the pressure-cooker atmosphere in the stadium.
"A semi-final place is at stake, so I'm sure that the atmosphere will be amazing," he said.
"Singaporeans have to unite and cheer on the Lions together. I want to see all of them singing, not just for five minutes, but also throughout the match, if possible.
"Besides, we're playing against Malaysia. What more do you need!"
haiqals@sph.com.sg
This article was first published on Nov 28, 2014. Get The New Paper for more stories.