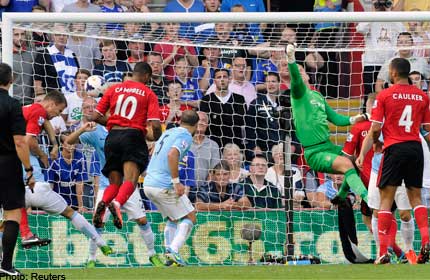 MANCHESTER, England - Record spending by Premier League clubs signalled a desire to keep up the English top flight's self-proclaimed reputation as the best in the world, along with a message that homegrown talent was perhaps not.
With Andy Carroll's move to West Ham for US$23 million (S$29.39 million) the biggest deal involving an Englishman in the latest transfer window, and a trend for the top clubs to sell off rather than buy local talent, confidence in the country's players seems low.
Premier League clubs had spent 630 million pounds (US$980.53 million) by Monday's transfer deadline, smashing the previous record of 500 million pounds set in 2008 according to business services group Deloitte.
The standout deals were mainly for Spaniards, South Americans and Germans with Mesut Ozil, Fernandinho, Willian and Roberto Soldado joining Arsenal, Manchester City, Chelsea and Tottenham Hotspur respectively.
England's Manchester United striker Wayne Rooney could have been a big-name move with Chelsea chasing him for much of the close season before cooling off last week and Everton defender Leighton Baines was a United target but neither deal came off.
There was a loan deal for England midfielder Gareth Barry from Manchester City to Everton, defender Steven Caulker - who has one cap - moved to Cardiff City from Tottenham for 10 million but other activity was even lower key.
Midfielder Stewart Downing joined West Ham from Liverpool, Tom Huddlestone swapped Spurs for Hull City and midfielder Jonjo Shelvey went to Swansea from Liverpool, all for single-figure millions apiece.
The trio of newly promoted clubs, Crystal Palace, Hull City and Cardiff City, were the most active in acquiring English players, mopping up what they could from the bigger clubs for small fees or free.
England manager Roy Hodgson had last week urged clubs to do their transfer business before his squad assembled to prepare for this month's World Cup qualifiers rather than having players make mad dashes across the country to sign late deals.
"We will co-operate with the clubs, of course, but we will be asking them to co-operate with us as well because if it is at all possible to get your business done before 12 p.m. on September 1, we would be very grateful," he said.
STIFF COMPETITION
He got his wish but ahead of next year's World Cup it does not say much for the quality of his squad that so many of the top players were not even linked with moves to Premier League clubs or further afield.
At least in the case of Rooney, his club were repeatedly made to say he was not for sale in the face of interest but many others never even got enquiries.
England, who are second behind Montenegro - whose striker Stevan Jovetic was a US$43.5-million purchase for Manchester City in July - in their World Cup qualifying group, host Moldova on Friday and travel to Ukraine next Tuesday in qualifiers.
A look at the England squad for those matches highlights one of the main problems Hodgson has with several of his players struggling to get a regular game for their clubs, particularly those at the bigger outfits.
A case in point is Rooney, who was frequently on the United bench last season, and Hodgson thinks some should perhaps follow the example of striker Daniel Sturridge who swapped a lack of regular action at Chelsea to move to Liverpool in January and kickstart his career.
"A lot of our players are in that position at the moment,"British media quoted him as saying on Tuesday.
"They're too good for the clubs to say: 'We'll sell you or we'll loan you out'. But they face such stiff competition in these top teams that they don't get that many games.
"It takes a club to say: 'Look, I'm convinced that this guy is a 90-minute starter every week and I will play the price required to get him', as Liverpool did (for Sturridge), and then give him the chance.
"But I think with the U21 game the other week and the matches I see, there are a few players out there who could surprise you if they moved from good reserve positions at top clubs to other good clubs in the Premier League."
Unfortunately for Hodgson, and perhaps England, the transfer window has shut and the next opportunity for a move will be in January, a few months before the World Cup starts in Brazil.