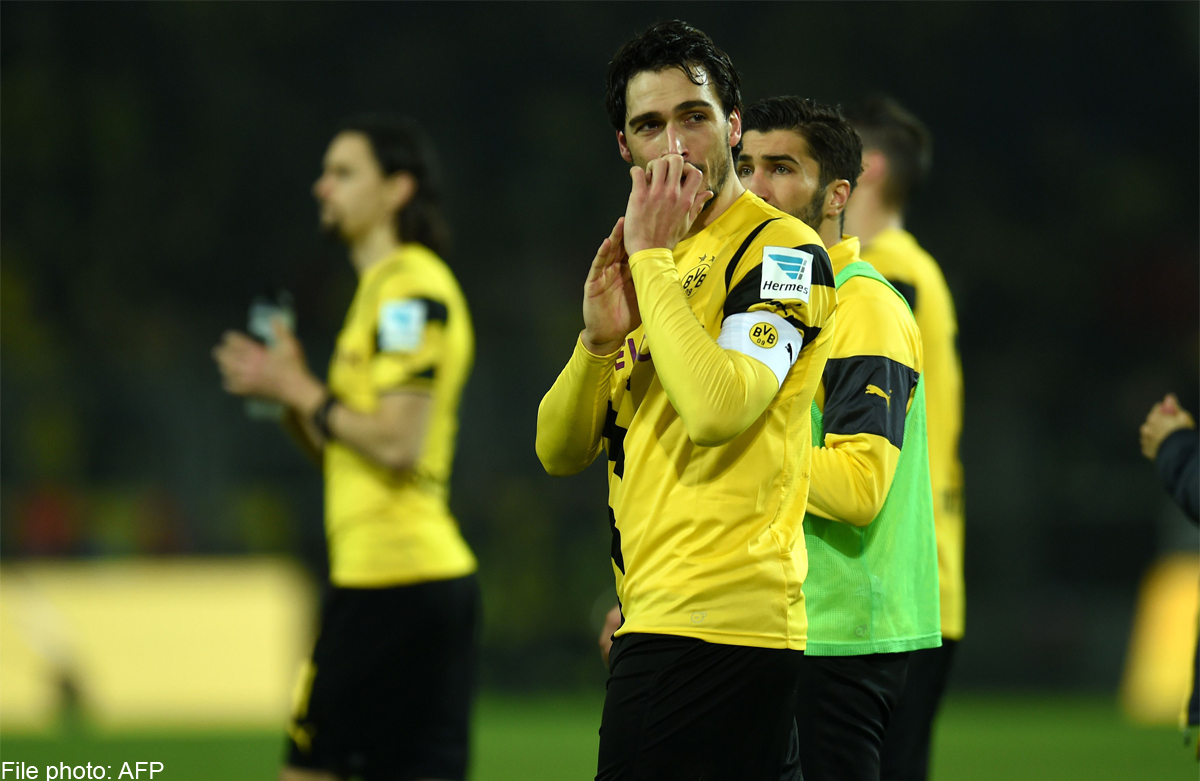 Mats Hummels is the man for Manchester United.
In many respects, he is the only man; the one potential signing guaranteed to close gaps and silence critics.
Louis van Gaal must sign the Borussia Dortmund centre back.
Whether he gets lucky in this transfer window or returns with a bigger bag of carrots at the end of the season, the United manager should get the German's signature.
Van Gaal desperately needs a target that fits, a firm, definitive square peg in a square hole.
His purchases so far have as many question marks as they have defensive qualities.
A couple of injuries denied Marcos Rojo a shot at consistency and Luke Shaw's youth and comparative inexperience have reduced the newcomer to bit parts and cameos.
Both men deserve better from their enigmatic coach and his exasperating formations, but then the same could be said for most of the squad.
At first glance, van Gaal has bought the right players for the wrong formation, suggesting his ego trumps logic.
After his sterling performances for Argentina, Rojo was a popular choice in various World Cup best 11s. He excelled at left back.
Against Cambridge United, he popped up at right back, the wrong end of a surreal back four that also included Phil Jones, Antonio Valencia and Daley Blind.
Van Gaal defies popular convention.
Every line-up is another a tale of the unexpected.
No player should ever take his place for granted.
But under van Gaal, no United defender can ever take his position for granted.
The Dutchman's tinkering has certainly stalled Shaw's progress, with names and numbers rotated across the defence and the former Saint often sacrificed.
A recent injury hasn't helped.
He was back on the bench against Cambridge and came on for Blind three minutes before the final whistle.
The substitution summed up Shaw's first season for United.
It was neither here nor there, rather like van Gaal's defensive acquisitions.
STYLE
He has opted for style over substance, bringing in too many leading men rather than establishing a tight ensemble.
Signing Hummels would change that perception.
The German World Cup winner ticks every box on the most demanding of United checklists.
He brings both guile and gumption. Utterly fearless, the 26-year-old exudes authority and confidence.
Without him, Germany lost their way in the World Cup Round of 16. When he returned for the quarter-final against France, they were resolute once more.
He was a towering presence, his influence acknowledged later by coach Joachim Loew.
With Hummels in the side, Germany looked like World Cup winners in waiting, unhurried and unflappable; the very qualities that have often eluded United's defence.
A strong, robust character, Hummels revels in a physical challenge. He rarely boils over in a volatile cauldron.
United's current defence struggles to get through a training session without picking up a knock.
Physically imposing and comfortable in possession, Hummels is a reliable, reassuring presence, calming those around him in a way not too dissimilar to Nemanja Matic at Chelsea.
At times, United's three stooges have projected only panic.
For four seasons, Jonny Evans, Phil Jones and Chris Smalling served long apprenticeships, toiling in the long shadows of Rio Ferdinand and Nemanja Vidic.
David Moyes gave them a chance, insisting United were no club for old men.
Their inconsistency contributed to his downfall.
And their inability to play in a back three has damaged van Gaal's standing this time around.
He rotates because he doesn't have the resources.
If anything, the trio's struggles only compound Moyes' error in dropping the old guard and explain why Sir Alex Ferguson massaged Ferdinand's bad back for so long.
The veteran defender's spine was less brittle than his back-up on the bench.
REINFORCE
Hummels displays no such weakness.
He promises to bring not only a physical fortitude to the back three (or four), but he will also reinforce van Gaal's spending record.
The United manager needs a hit.
His signings do not quite constitute flops, but they are hardly runaway successes either.
Van Gaal's erratic spending policy and his insistence on forcing an unfamiliar system on 4-4-2-raised players are causes for disquiet among the United faithful.
The Dutch gambler has taken too many punts on potential.
Hummels offers a rare chance to back a raging certainty.
BY THE NUMBERS
9.66
Mats Hummels garnered an average rating of 9.66 out of 10 on Fifa's Top 10 Players index at last year's World Cup. The 26-year-old was fourth, just behind Stefan de Vrlj (9.7), Arjen Robben (9.74) and Toni Kroos (9.79).
npsports@sph.com.sg

This article was first published on Jan 28, 2015.
Get The New Paper for more stories.