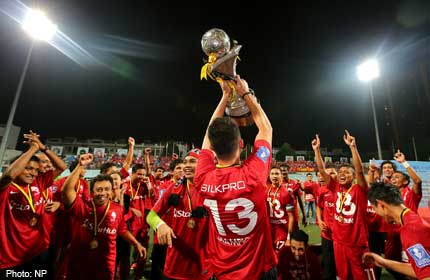 SINGAPORE - Fancy having dinner with Malaysian Super League champions LionsXII and taking a picture with your heroes and their gleaming trophy?
You can get the chance this Sunday as The New Paper and Gayatri Restaurant will be hosting a celebration for the LionsXII at Gayatri's Orchid Country Club outlet.
At the event TNP will also be handing out several key awards. First and foremost, we will name our Player of the Season.
We are also asking fans to name their favourite player on the TNP Facebook page (www.facebook.com/thenewpaper).
Could one player win both awards? Sure. But it will be interesting to see if that really happens.
Awards aside, TNP is planning to make it an evening for the LionsXII to celebrate with fans like you.
All season long, the 12th man, whom the team's name is named after, has played a big part in the LionsXII's success.
This is especially true at Jalan Besar, where the home side won 10 out of 11 games.
Said LionsXII skipper Shahril Ishak: "We would really like to thank the fans for their fantastic support these two seasons.
"It is a big encouragement to see thousands of fans cheering us on at every home game, and it would be great if we can thank some of them personally on Sunday."
Fans who turn up will also be doing their bit for charity as a major portion of the proceeds will be channelled to Project Helping Hands.
Project Helping Hands is a charity adopted by TNP which benefits senior citizens who live alone, by installing motion sensors in their homes.
Tickets for the dinner are priced at $100 for adults and $50 for fans aged 12 and under.
Each adult fan will also receive one free ticket to TNP's 25th anniversary party - Mardi Gras at The Courtyard at Robertson Walk on July 26 - which comes with more than $130 worth of goodies.
Among the goodies are vouchers for Harley Davidson, House Of Seafood and T.M.Lewin.
They will also get two LionsXII posters created by TNP's award-winning art and photo desks.
Said TNP sports editor S Murali: "We wanted to find a way to celebrate this amazing achievement by the LionsXII and came up with this idea for a dinner party with fans.
"Luckily, we found a great partner in Gayatri to make this happen. Of course, nothing would be possible without the support of the Football Association of Singapore."
Added Gayatri owner G Shanmugam: "We are happy to be part of this as it's no small feat to win the M-League again after 19 years. I hope that more sponsors can follow suit and help Singapore football build on this success."
FAS assistant director for commercial and business development Rikram Jit Singh said: "We would like to thank The New Paper, Gayatri and our key partners such as StarHub, Silkpro, Kingsmen, Singapore Pools, Singapore Sports Council and especially the fans for their continuous support throughout this memorable season.
"We hope more sponsors and other corporate entities will come forward to support the team and help Singapore football continue to make progress."
Fans who would like to make reservations for this Sunday's dinner can contact Gayatri at 62924544.