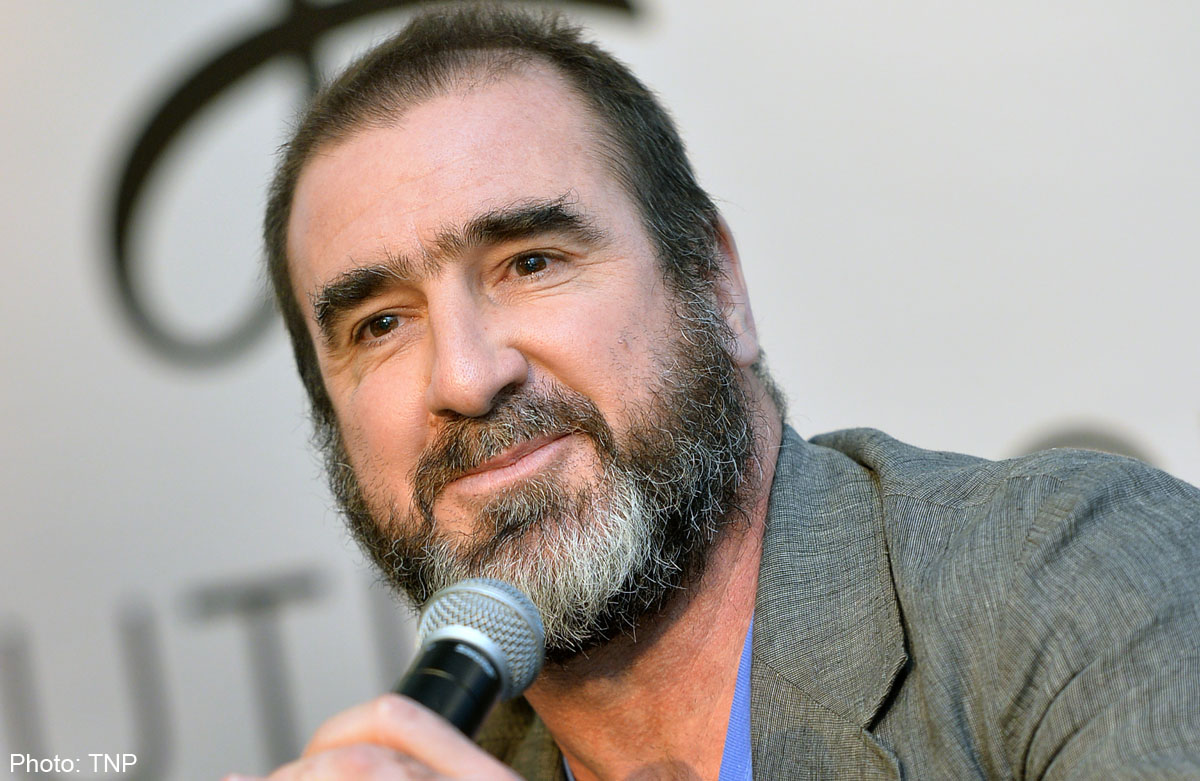 He's 48, wears a greying beard and carries a paunch these days.
But Manchester United legend Eric Cantona still commands that distinctive aura, and the impudence and sense of mystery that made him such a fan favourite with the Red Devils.
When asked if Louis van Gaal's team are missing a creative and artistic playmaker like him, the Frenchman didn't miss a beat when he said, with a cheeky grin: "Sure, everyone misses me."
Cantona helped United win four English Premier League titles and two FA Cups from 1992 to 1997, when he suddenly announced he was retiring from football at just 31 years of age.
He was in town yesterday for the Singapore launch of the Hautlence World Tour at Kewalram House, where he promoted the Invictus Morphos Limited Edition watch that he helped design.
Inspired by the Morphos butterfly, he explained the relationship of time and space, and how the metamorphosis from pupa to butterfly is a symbol of freedom.
And King Eric was in imperious form as he charmed guests, entertaining every photograph and autograph request, while thoughtfully fielding questions.
While there have been signs of recovery at Old Trafford after the club's abject seventh-placed finish last season, the Red Devils are still 13 points behind leaders Chelsea just 12 games into the season.
Winger Angel di Maria has contributed the most in the attacking third with three goals and six assists.
Wayne Rooney (four goals, two assists) has just resumed his partnership with Robin van Persie up front but an alarming injury crisis has hurt United for much of the season so far.
Cantona urged the current crop of United players to relish playing for the most successful English club of all time, to show what they've got and how good they are at it.
Referring to his own experience, Cantona said: "I am lucky that I could express myself on the pitch, through football, and also off the pitch, directing movies, collecting street art and designing watches.
"Invictus is Latin for unbeatable, which is a bit like me."
"And it is a great privilege and it gives me great pleasure to be part of the design of the Invictus Morphos. I would pay for that but, instead, I'm paid to do it, so I'm grateful."
"Being able to express myself in these ways is very important for me. If I don't have opportunities to express myself, I will die."
While Cantona will always hold a special regard for his former manager and fellow United legend Sir Alex Ferguson, he encouraged fans to continue to back van Gaal and trust his tactics and signings to come good.
Rather aptly for a watch launch, he said: "Give him time."
davidlee@sph.com.sg
This article was first published on Nov 28, 2014. Get The New Paper for more stories.