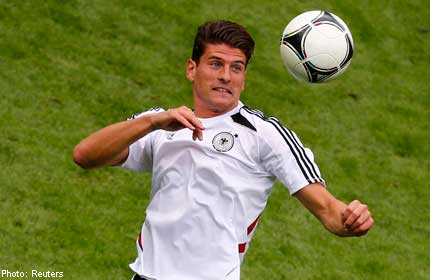 BERLIN, Germany - Captain Philipp Lahm has slammed Germany's fans for again jeering unpopular striker Mario Gomez during the draw against Paraguay and called for the five years of cat-calls to stop.
Whistles and jeers rang out on Wednesday in Kaiserslautern as German fans voiced their noisy disapproval when the 28-year-old Gomez came off the bench for the final half hour of the 3-3 draw with the south Americans.
Gomez bore the brunt of supporter frustration for a below-par performance from the Germany team when he replaced veteran Miroslav Klose, a former Kaiserslautern player and firm fans' favourite, who is just one short of Gerd Mueller's goal-scoring record.
Despite having scored an impressive 25 goals in 59 international appearances, Gomez, who left Bayern Munich for Italy's Fiorentina in July, has been unpopular with German fans for the last five years since missing numerous chances against Austria in a Euro 2008 group stage match.
Gomez hurried through the mixed zone after the game and quickly left the Fritz-Walter Stadium, but it was in sharp contrast to his Fiorentina introduction four weeks ago, where he was greeted by adoring fans and Lahm called for the verbal abuse to stop.
"The spectators always have a right to express themselves, they pay a lot of money and must be allowed to be critical," said Lahm.
"But I find it out of order when they boo a player who is just coming on the pitch.
"That doesn't belong in the game. It doesn't help and it's not okay. "It is something we have to clearly address.
"Fans have always whistled when they are unhappy, but these whistles against a single player I just can't understand.
"That's unacceptable and it's important for me that this is written about and the message is made clear."
Before Wednesday's friendly, Gomez was directly asked if he thought he would be jeered in the match.
"No, I don't play for Bayern Munich any more," he half joked at the pre-match press conference.
But he clearly underestimated the long history of fans' negative feelings towards him.
In March 2011, he was again jeered in Kaiserslautern when he came on in the 4-0 win over Kazakhstan, a Euro 2012 qualifier, and was booed again three days later despite scoring in Germany's 2-1 friendly defeat to Australia.
In 2009, fans jeered the mere mention of his name when he sat on the bench for the 2-2 draw against the Ivory Coast in Gelsenkirchen.
Germany goalkeeper Manuel Neuer, who has also been booed by Germany fans, said the negative trend against Gomez is worrying.
"This is a dangerous development," said Neuer, who was targeted at Nuremberg after he let in a goal in the 4-1 win over Kazakhstan in a World Cup qualifier.
"You have to live with it, but certainly a limit is sometimes reached, because no one makes a mistake intentionally."