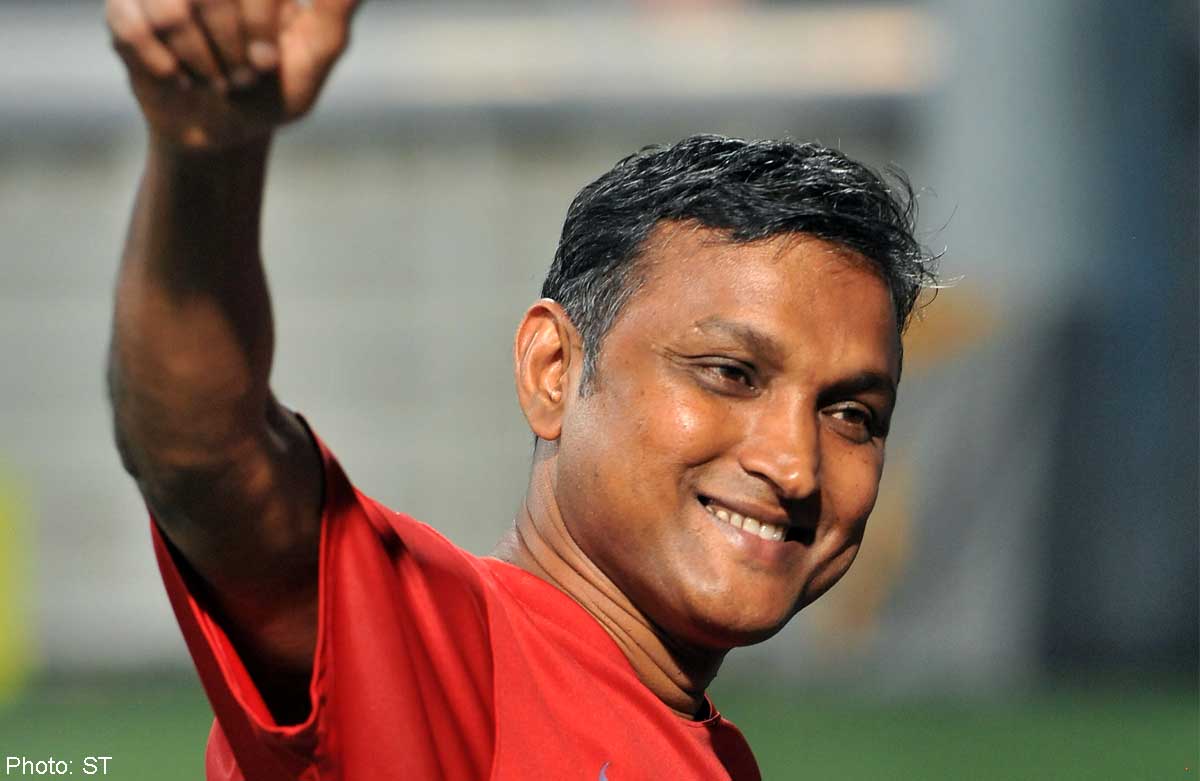 He scored against Liverpool in a five-a-side Masters tournament two years ago, and V Sundramoorthy believes that this time around when he lines up alongside the likes of Fandi Ahmad and Aleksandar Duric, there will be goals, loads of entertainment, and a bit of "cheating" from the Singapore side.
The former Singapore star striker and his team will face a Liverpool Legends side that won the Masters Cup in The Castlewood Group Liverpool Masters, at Jalan Besar Stadium on Nov 15, in a full-pitch 11-a-side single-match contest.
And the Singapore side will have a bit of an edge in 44-year-old Duric, who will be coming off his final S.League season as a professional footballer with local side Tampines Rovers.
"Aleks is a current professional, but this is Liverpool we're playing against, they'll understand that we will need a bit of help," Sundram told The New Paper yesterday, with a chuckle.
"He's still playing and will be fitter than just about anyone on the field, and we'll definitely use him to make runs and, of course, to close down opponents," added the coach of Negeri Sembilan.
Duric, the S.League's all-time top scorer, made his debut for the Singapore national team at 37, managing 27 goals in 54 matches in an international career that ended with Singapore's AFF Suzuki Cup win in 2012.
FITNESS
His supreme fitness has seen him keep up with youngsters in the S.League who are young enough to be his children, and he's already found the net five times this season.
"It will be a dream come true to play with two of Singapore's biggest legends, in Fandi and Sundram, and I honestly can't wait to team up with them against opponents like Liverpool," said Duric, who like Sundram, is confident that the Republic's representatives can compete.
Liverpool won the Masters Cup last year and the side will feature several of those who lifted the trophy, including the likes of Robbie Fowler, Stephane Henchoz, Vladimir Smicer and Patrik Berger.
"I think we've got very good attacking power with (Fandi and Sundram), and with the three of us, we'll be able to score goals, don't worry about that," declared Duric.
Singapore has a strong and passionate Liverpool support base and much of Jalan Besar will be decked out in the club's famous red on matchday.
But Sundram is unfazed.
He vividly remembers the goal he scored against Liverpool two years ago, beating the Merseyside giants 5-3. Despite losing to the EPL All-Stars in the final by the same scoreline, he the tournament has a special place in his heart.
"The fans were supporting Liverpool and Manchester United that day, but when we started playing well and scoring goals, they really got behind us," said the man who led the LionsXII to the Malaysian Super League title in 2013.
"I remember the crowd going crazy when I scored that back-heel goal against Liverpool. That was my best memory and we beat them that day.
"I think this time around, we will be able to compete, too."
More than just winning, 48-year-old Sundram, is looking forward to getting back on the pitch with his mates.
"It'll be good to get back together with the boys, I'm sure we'll enjoy ourselves and put on a show," he said.
"We're nowhere near as fit as Aleks, so we'll let the ball do most of the work for us, but hey, good thing we have him on our team."
Singapore squad: Rezal Hassan, Shahri Rahim, Lim Tong Hai, Aide Iskandar, Zulkarnean Zainal, S Subramani, Malek Awab, Nahar Daud, Steven Tan, Nazri Nasir, Rafi Ali, Dalis Supait, Aleksandar Duric, Fandi Ahmad, V Sundramoorthy.
What: The Castlewood Group Liverpool Masters
When: Nov 15
Where: Jalan Besar Stadium
Tickets: From $10 to $30. Tickets can now be purchased from www.ticketbooth.com.sg, or at at all Ticketbooth outlets from noon today. *Tickets purchased online will be eligible for lucky draws that will see prizes that include VIP access and even a spot to watch the match from the team bench.
As a boy I was a Liverpool fan, and although we have played against them before, it will be great to play against them again, and this time with players like Fandi and Aleks. It will be great for us and the fans. - V Sundramoorthy
This article was first published on July 23, 2014. Get The New Paper for more stories.