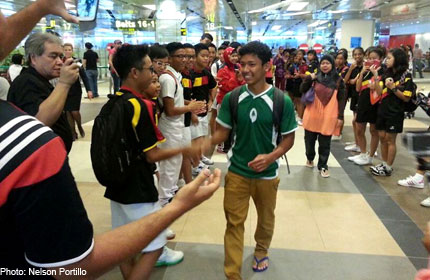 He turned Changi Airport Terminal One's arrival hall into his personal stage, waltzing past the gantry with an easy beaming smile and an almost presidential wave.
Even in the face of a 50-strong guard-of-honour of Siglap Secondary School students lining up for him, Mahathir Azeman did not flinch.
It was hard to imagine that this was the same wide-eyed 17-year-old, who, five months ago, left for Rio de Janeiro with butterflies in his stomach and a backpack full of dreams.
Back to sit for O Level examinations in his three remaining subjects, with a one-year extension to his Boavista contract secured, Mahathir spoke with a maturity beyond his years.
"Being there has changed me. I've had to learn to mingle with new people and learn how to handle that without being able to converse freely because of the language," he said.
"But because of it I feel more matured, make better decisions than before, take more responsibility in my studies and manage my time better."
It is an attitude that will serve him well. Mahathir returns to school today, with an eye on acing his three remaining subjects: combined humanities, combined sciences and English.
He has already obtained passing grades in mathematics and second language, giving him the five subjects required for a student to qualify for a polytechnic.
His academic responsibility is in addition to donning the Republic's colours in the AFF under-18 championships starting this weekend in Surabaya as well as the AFC under-19 qualifiers next month.
Siglap teachers have kept touch with him via weekly emails during his five months in Brazil, and Mahathir has been given assignments that his teachers will finally get a look at on Tuesday.
Back at school, he will be pulled out of regular classes, with teachers taking turns to give him one-on-one attention.
"Speaking from a personal viewpoint, academics is important, but it is not the only pathway to succeed in life," Siglap principal Loo Joo Hong told The New Paper.
"This was a once in a lifetime opportunity, and we want to give him the opportunity to see how far he can push himself."
Promoted
Mahathir has already surprised most by getting several games for Boavista's under-17 side under his belt, and he has been promoted, poised to play for the reserve team to Boavista's professional side starting in January next year.
"We don't feel as much vindicated as happy for him - he deserves everything he gets.
"He's humble, disciplined and committed - he's given us a lot of confidence that he'd make full use of this opportunity," said a pleased Low.
So far Mahathir has not disappointed.
He has made Boavista's No. 10 shirt his own while keeping up with his study schedule, but the acid test will only come later.
"He has always been on task, showing that he can manage his time," said Siglap teacher Quaide Millath.
"But we'll only know how effective this has been when his results come out. Having said that, there are still six weeks to go to his exams, and we will help him," he vowed.
Millath revealed that while the whole project was inspired by former S-League player and Mahathir's coach, Fabio Da Silva, it flourished due to his drive, support from his family and the school.
It is a fact not lost on Azeman Salleh, the footballer's father.
"We are very thankful to the school, for granting him a leave of absence to do this, as well as paying for his return trip to Rio (through its Opportunity Fund)," he said. Mahathir, though, is already aiming for the stars.
"I think I can be a top footballer and do my family, school and country proud," he said.
"I have put in a lot of time and effort to football, and now with the contract, things are in my hands - it's just a question of whether I take the chance, or let it slip.
"I have a great school here and a wonderful family, great coaches and teammates there - and I don't plan to disappoint anyone."

Get The New Paper for more stories.