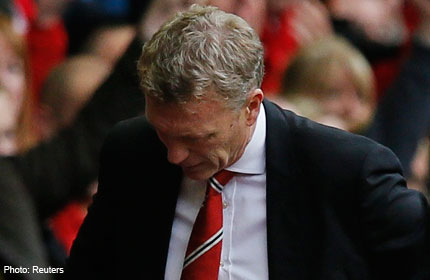 LONDON - Manchester United manager David Moyes says his team do not possess enough "world-class players" to mount a serious challenge for Champions League success this season.
United have lost three of their first six games in the Premier League since Moyes succeeded Alex Ferguson, with Saturday's 2-1 loss at home to West Bromwich Albion leaving them in 12th place in the table.
It represents the club's worst start to a league season since 1989.
Moyes missed out on targets including Cesc Fabregas, Leighton Baines and Ander Herrera during the close-season transfer window, and he is now worried that his team will come up short in European competition.
"To win the Champions League, you need five or six world-class players," he told the Sunday editions of several British newspapers.
"Look at Bayern Munich; they have it. Look at Barcelona, who had it in the past and Real Madrid, who have maybe got it now.
"That's the level you have to be at to win it. We've not got that yet, but what we have got is experience."
United opened their Champions League campaign with a 4-2 home win over German side Bayer Leverkusen earlier this month.
They visit Ukrainian champions Shakhtar Donetsk for their second Group A fixture on Wednesday.