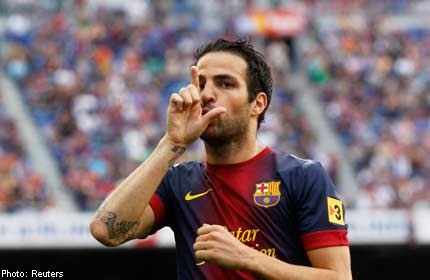 SYDNEY, New South Wales - Manager David Moyes said Friday he hopes to have some good news about the possibility of Barcelona's Cesc Fabregas joining Manchester United in the "next day or so."
Moyes is looking to bring some new players into the squad in his first season in charge at Old Trafford and has been linked with the Spanish international midfielder, while Wayne Rooney's future remains unresolved.
The English Premier League champions are in Sydney as part of their pre-season tour and are taking on the A-League All Stars on Saturday.
But all interest has been on Moyes' behind-the-scenes transfer manoeuvrings with the British press reporting the club has lodged a 26 million pound ( S$50 million) bid for midfielder Fabregas, which has yet to be rejected by Spanish champions Barcelona.
"I'm in contact with the chief executive who has been dealing with it and hopefully I'll know a bit more in the next day or so," Moyes told a press conference when asked how the Fabregas negotiations were progressing.
"It's the middle of the night back home in England so I might have a bit more info in the next day or so about how it is going,"
Club chief executive Ed Woodward left the pre-season tour earlier this week to attend what he said was "urgent transfer business."
Moyes, who has been tight-lipped over the Rooney situation this week, gave little away when he said Friday "the club's position hasn't changed on Wayne Rooney, there's no change to that".
"Besides that... we're tyring very hard to make some additions to the squad and hopefully there will be some good news in the not too distant future."
Spicing up the Rooney situation is an offer from new Chelsea boss Jose Mourinho for the England international striker for a reported 10 million pounds.
United has repeatedly said he is not for sale.