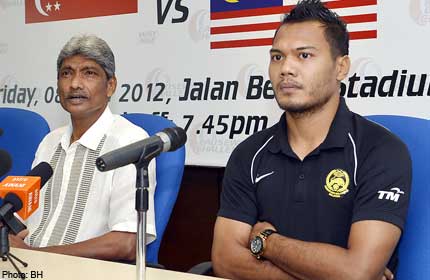 MALAYSIA - He had come in for criticism after some poor results.
The sudden cancellation of the Causeway Challenge by the Football Association of Malaysia (FAM) then sparked talked that Tigers' coach K Rajagobal was being spared the battle against arch-rivals Singapore, who had shredded them on their own ground in December in the group stage of the Suzuki Cup, en route to a record fourth regional crown.
On Friday, the Malaysian coach broke his silence over the controversial cancellation of this year's Causeway Challenge.
Ahead of Saturday's friendly against Barcelona at the Bukit Jalil Stadium, Rajagobal, 57, told The New Paper: "What's there to be afraid of?
"In last year's Causeway Challenge, Singapore needed a last-minute equaliser to draw 2-2 with us at Jalan Besar, before we beat them 2-0 at Shah Alam."
This year's competition, originally scheduled for June 4 at Shah Alam and June 7 at Jalan Besar Stadium, was curiously called off.
The Football Association of Singapore (FAS) released a statement to say the FAM had informed them on May 22 that their first and second national teams would be unavailable for the matches.
Malaysia duly went on a training tour of Australia.
The FAM initially blamed their Singapore counterparts, before admitting they were the ones who called the home-and-away ties off.
Rajagobal insisted he was not sure of the circumstances, and added to the mystery when he said: "I was under the impression that the Causeway Challenge was cancelled before we made arrangements to play our friendlies in Australia."
Defiant
Rejecting all talk that he was under pressure, a defiant Rajagobal pointed to positives in the Suzuki Cup and Asian Cup qualifiers.
He said: "I'm not afraid. I'm just doing my job.
"We reached the semi-finals for two consecutive editions of the Suzuki Cup and played our best game in the first leg of the semi-final last year against Thailand, which we drew 1-1.
"In the second leg, we got a red card just before half-time and playing with 10 men with four key players out injured, I knew we were up against it to make the final against Singapore.
"In the Asian Cup qualifiers, we have three points from two games. Many teams would love to be in our position.
"Against Barcelona, I called up new young players like K Reuben and Junior Eldstal. I'm always looking to blood youngsters, but some people don't see what I'm doing."
When asked if he felt that he was one poor result away from getting the sack, he replied: "The pressure is always there.
"My future as national coach is up to the association, but I will continue to do my job to the best of my abilities.
"Sometimes some people may say that the national team are not doing well, but I still get people coming up to me giving me a word of encouragement and I really appreciate that."

Get The New Paper for more stories.