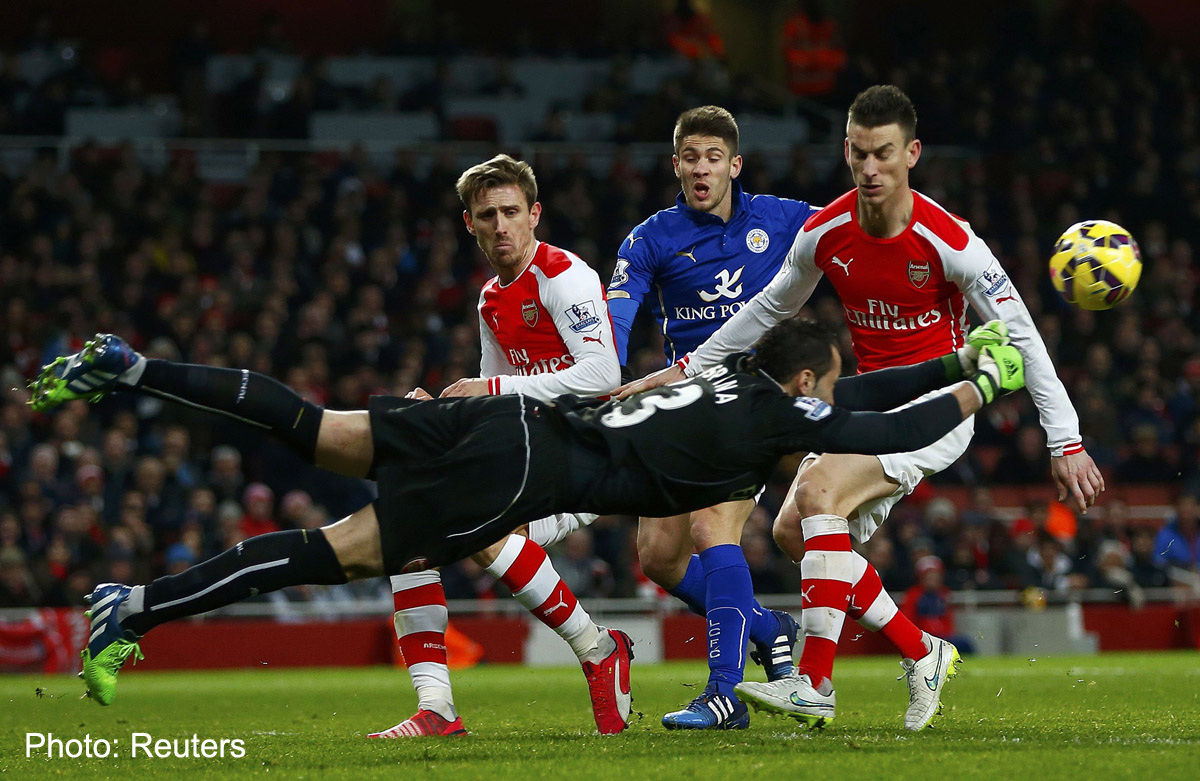 LONDON - English Premier League clubs risk losing a generation of supporters if their record-breaking new television rights deal does not translate into cheaper ticket prices, fan groups warned on Wednesday.
The Premier League on Tuesday announced that broadcasters Sky and BT have paid £5.1 billion (S$10.6 billion) to show live games in the period 2016-2019 - a 70 per cent increase on the previous deal.
Overall revenue could soar beyond £8 billion once a global TV rights deal is renegotiated, but it comes at a time when rising ticket prices are making it difficult for some supporters to attend games.
A spokesman for the Football Supporters Federation (FSF) said that the situation had reached a "tipping point", which could see supporters desert the game in droves if remedial action is not taken.
"For decades, players and owners and agents have benefited massively from the wealth flowing into football and it's about time fans did too via cheaper ticket prices," Michael Brunskill told AFP.
"Tipping point maybe is the word because at the minute there's a real feeling of, 'How much money can they keep generating without giving anything back?' "There's obviously a fear that particularly younger fans might turn their backs on the game. There's going to be some people who just turn away and never come back."
The FSF has launched a campaign to introduce a flat rate of £20 for away tickets, which has been backed by former Liverpool defender Jamie Carragher, who now works as a Sky pundit.
"Great day for @SkyFootball, but with the amounts involved ticket pricing especially for away fans has too (sic) change," he wrote on Twitter.
A BBC survey published last year showed that the average price of the cheapest Premier League season ticket has increased 8.7 per cent since 2012.
While several leading clubs have frozen season ticket prices, they remain too expensive for many fans. Arsenal's cheapest season ticket costs £1,014, compared to just £103 for fellow European heavyweights Barcelona.
'Keep grounds full'
The issue has sparked anger among fans, with supporters from various clubs marching on the Premier League's London headquarters at the start of the last two seasons.
Fans of traditional rivals Everton and Liverpool joined a demonstration against rising ticket prices prior to last week's Merseyside derby.
But Premier League chief executive Richard Scudamore has argued that clubs are already taking steps to cater for hard-up supporters, highlighting a stadium occupancy rate of almost 96 per cent last season.
"They (clubs) understand they have to encourage the younger generation and make sure the younger fans are encouraged and clubs will continue to do that," he said.
"Our Away Supporters Initiative started last season with £12 million committed over three years to get clubs to offer deals and away attendances rose 2.8 per cent.
"Clubs offer home fans a range of deals, such as Arsenal's £10 tickets for teenagers and Man City's £299 season ticket."
A Premier League spokesman told AFP: "Fundamentally, our number one strategic priority is to keep grounds full."
The Premier League has also been challenged to make sure that some of the money from the new TV rights deal trickles down to grassroots football.
British Sports Minister Helen Grant called for the money to bring "increased benefits to clubs lower down the football pyramid" in the form of investment in pitches and coaches at community level.
Former Arsenal striker Ian Wright wrote on Twitter: "5 billion pounds spent on Premier League rights. And I bet in a year's time we'll still be talking about the lack of funding in grass roots!"
The Premier League points out that it has committed five per cent of the income generated by the 2013-2016 domestic TV rights agreement - around £168 million - to good causes, including grassroots projects.
But for squeezed fans and under-resourced amateur clubs, those contributions may seem like leftovers from an extravagant feast.