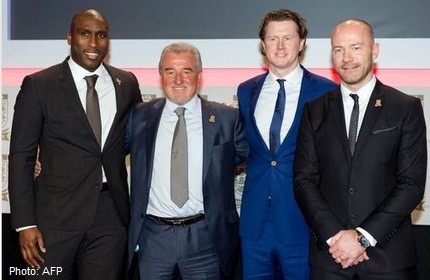 LONDON - Former England international defender Sol Campbell says English football would benefit from a salary cap for youth players which would make academies less attractive for overseas talent.
Campbell, 39, who made 73 appearances for England during a 20-year playing career, said too many foreign youngsters in English academies were hampering the development of local players.
In an interview with Reuters ahead of the publication of his autobiography "Sol Searching" next year, the former Tottenham, Arsenal and Portsmouth centre-back, said: "You cannot stop overseas players playing in the Premier League.
"But I think there should be a salary cap for younger, youth team players.
"Youth team players from overseas are coming into the academies and earning too much money too young and English youngsters are suffering.
"Their salaries should be capped until there are 18 or 19 or they get to the first team.
"It would make coming to England less attractive for foreign youngsters and give some of the English players time to learn their trade. They would not be under such severe pressure and it would allow them time to grow.
"It would mean we could get them up to the standard to play at the highest level. It would give them time and space to develop.
"Everyone else, the Germans, for example, have time and space. In Germany, there may be a couple of Swiss guys, or Austrian. You are not going to have 60 or 70 per cent non-German youngsters at youth team level.
"In Spain, you might have a couple of Portuguese or South Americans but you are not going to have 60 or 70 per cent of players from around the world in youth teams in Spain."
LONG CAREER
Campbell's career spanned the first 19 seasons of the Premier League from the time he made his debut with Spurs as an 18-year-old in 1992 until he retired in 2012 after a handful of games with Newcastle United.
At the start of the 1992-93 season when he began his career there were less than 40 overseas players in the Premier League, and the latest estimate is that now only around 30 per cent of players are English.
Campbell, who was one of the relatively few English players to regularly feature for Arsenal during his first five seasons there after his move from Spurs, added: "When I was growing up at Tottenham, we had one overseas player, Quinton Fortune from South Africa.
"Everyone else was British, they were English, Scottish, Welsh or Irish. If you want to get into an academy now you are competing against kids from all over the world and that's why the money for young players should be capped." He also said that England manager Roy Hodgson should play the younger players in his squad at the World Cup finals next year.
"Win, lose or draw, it will be a fantastic experience for them. I always wished I had played in South America.
"It will also be fantastic for the younger lads to get that experience and of playing in that tournament, so I hope they play.
"For the younger lads to get there and not to play in it, is not the best way.
"You have got to blood these guys in tournament play because that is how they get better. If you keep the younger guys on the bench, that's not the best thing to do.
"You want to get them playing, because next time around they will have the confidence and know what its all about."