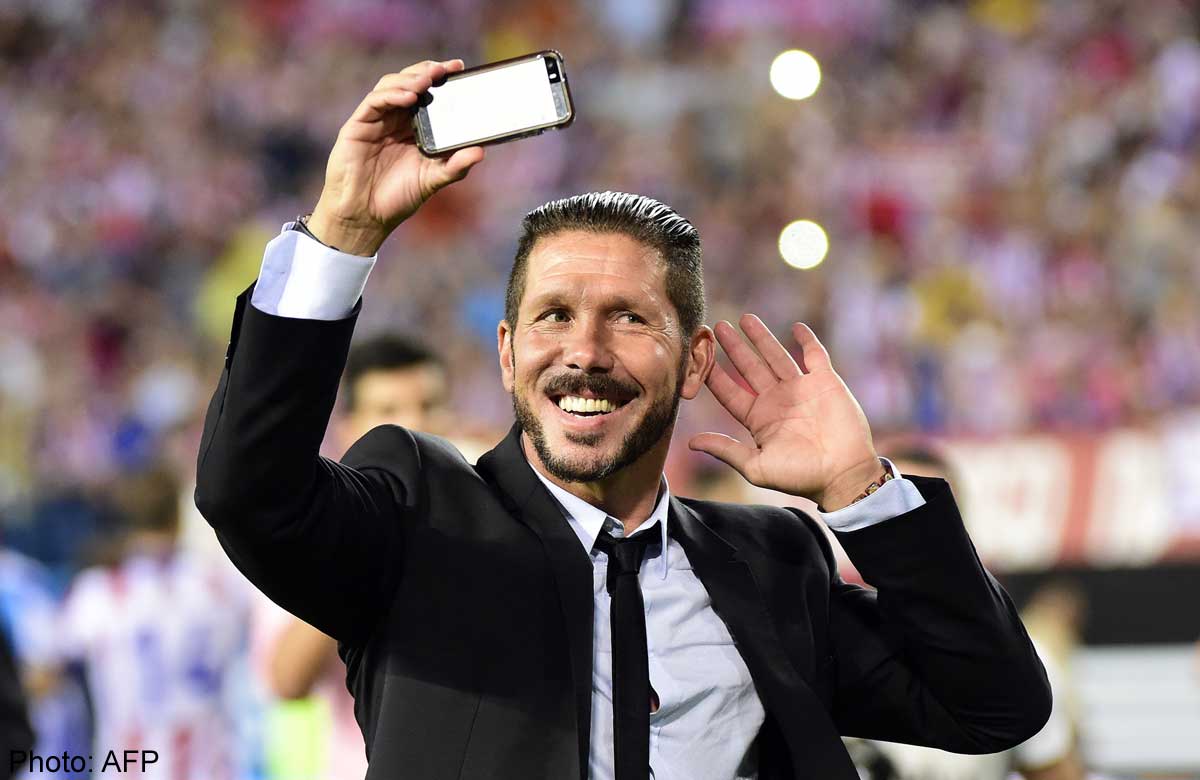 SPANISH SUPER CUP FINAL
ATLETICO MADRID 1
REAL MADRID 0
He may have gained a modicum of revenge for their heartbreaking defeat by Real Madrid in the Champions League final last season, but Diego Simeone is sticking to his view that his team are the underdogs in this season's La Liga.
Atletico Madrid striker Mario Mandzukic's early goal at the Vicente Calderon secured a 1-0 second-leg win over Real and a 2-1 aggregate success to clinch the Spanish Super Cup yesterday morning (Singapore time).
Simeone had said before the match that Atletico could not repeat their title-winning feat of last season and yesterday morning's win did nothing to change his tune.
"Over one or two games, we have a chance but, in a league of 38 fixtures, Barcelona, even in a bad season for them, almost won the league. And Madrid as well, if they had beaten Valencia, they would have been top," said Simeone, noting the small differences in the title race last season.
"It is very difficult to compete across so many fixtures. But we are competitive over 90 minutes."
The hosts made the best possible start as Mandzukic volleyed home the winner from Antoine Griezmann's pass after just 90 seconds.
Real boss Carlo Ancelotti had named Cristiano Ronaldo on the bench due to the effects of a hamstring injury that had seen him withdrawn from the first leg.
However, even the Portuguese couldn't break down Atletico's typically well-organised defence as they held on to end Real's hopes of claiming six trophies this season.
"Between the end of last season and now, Real Madrid have won three cups," said Ancelotti. "I want to thank all the players and the club because I think we have done very well.
"In this game, we didn't play well, but I would rather this one than the Champions League final."
As well as leaving Ronaldo on the bench, Ancelotti also fuelled speculation over Angel di Maria's future by excluding the Argentinian from his squad entirely. However, he claimed di Maria's absence had purely been for sporting reasons.
"Di Maria was a technical decision. I didn't need him today," said Ancelotti.
APOLOGISED
Simeone also apologised for the incident which saw him sent off midway through the first half as he first complained about a referee's decision and then gave the fourth official a slight slap around the head.
"When you commit an error, you have to ask for forgiveness and I accept it was an error," said Simeone.
The Atletico boss may have downplayed his team's chances of retaining the La Liga title, but Barcelona coach Luis Enrique insists Atletico are the favourites despite the millions spent by his side and Real in the off-season.
"The favourite for the league is Atletico," said Enrique, whose side get their La Liga campaign underway at home to Elche tomorrow morning.
"It is not just out of respect for the defending champions. They continue with the same ideas from last season and they have perfected them despite changing players.
"I said last season I saw them as favourites for the league and the Champions League and they said it was a brave thing to say, but they are the clear favourites

This article was first published on August 25, 2014.
Get The New Paper for more stories.