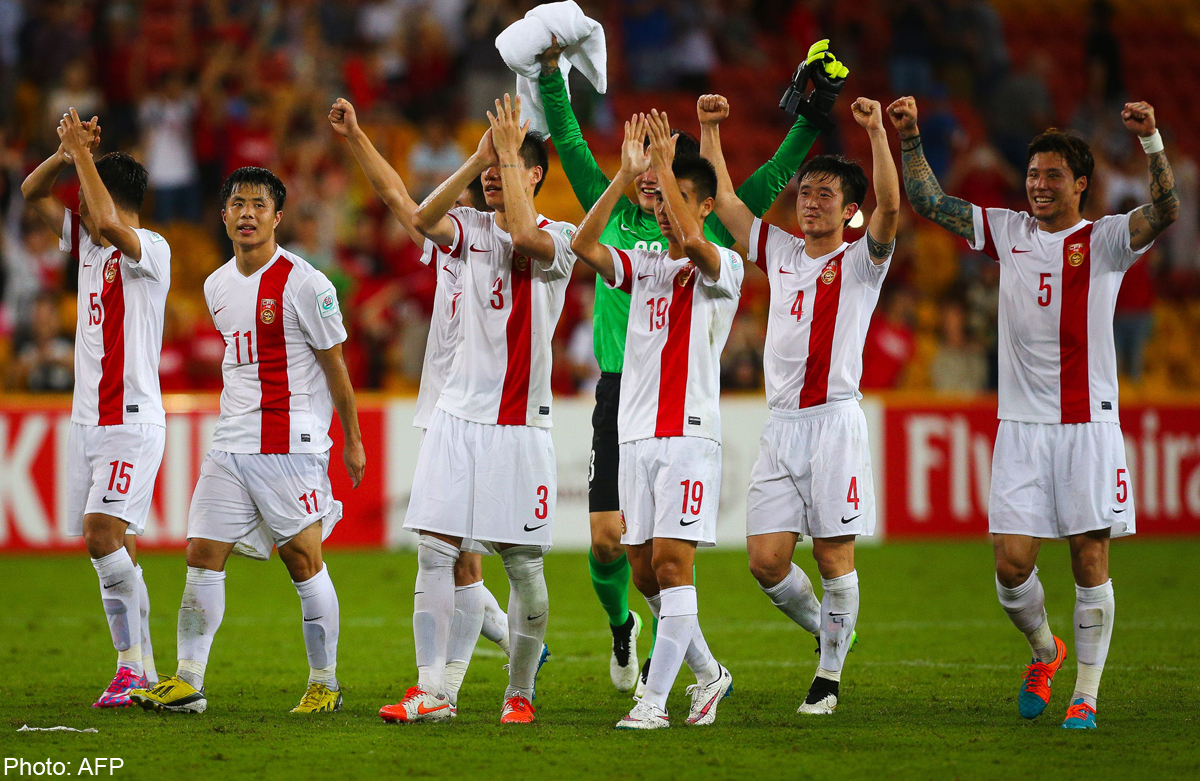 BRISBANE - High-flying China have emerged as the Asian Cup's dark horses after their best start to the competition in 27 years emphatically put the cat among the pigeons.
Twice runners-up, the Chinese have never won the continent's showcase tournament but Wednesday's explosive 2-1 comeback win over Uzbekistan in Brisbane saw them sweep into the quarter-finals and put the title favourites on red alert.
"We played a very, very beautiful match," said China coach Alain Perrin, who promised champagne corks would be popping.
"The players were nervous at the start and we conceded a goal but we kept playing our style of football."
However, the Frenchman could experience a nasty hangover after his night quaffing bubbly following upset victories over Saudi Arabia and Uzbekistan.
China, who have secured top spot in Group B, may come back to earth with a bump as they face either hosts Australia or regional heavyweights South Korea in the last eight.
The Koreans, hit with a flu bug and an injury crisis, appear the more likely opponents with the Socceroos on a hot streak of their own and scoring for fun.
"In this Asian Cup we cannot look down on any team," said Perrin, who ended China's miserable run of having failed to reach the knockout stages since hosting the competition in 2004.
"We just need to carry on focusing on what we need to do, just prepare for our next matches."
 'Beckham would be proud'
Frequently described as football's 'sleeping giant', China were unlucky not to lift the Asian Cup as 2004 hosts, beaten 3-1 by Japan in a controversial final famous for Koji Nakata's handball goal and the subsequent rioting in Beijing by furious Chinese fans.
Dutchman Arie Haan's stylish side threatened to explode the myth that the world's most populous country lacked the talent base and know-how to compete at the higher echelons of the international game.
Since reaching the 2002 World Cup under Haan's predecessor Bora Milutinovic, China have regressed, despite claiming to have invented football in the form of its ancient forerunner "cuju", said to have been a form of exercise for soldiers.
But after a corruption crackdown China's newly rich club scene has flourished, attracting big foreign names and with Guangzhou Evergrande winning the 2013 AFC Champions League.
Super-sub Sun Ke's brilliant winner against Uzbekistan served notice that China, underpinned by top-class players such as Zhang Linpeng and Zheng Zi, could also become a force to be reckoned with at national level.
Wednesday's win was applauded at home, with China's state news agency Xinhua calling Sun's goal "a right-foot shot David Beckham would be proud of".
After celebrating by jumping into ice baths, Wu Xi credited China's unity - traditionally one of their biggest obstacles - for their success so far.
"We all just follow the coach's orders," said the player.
"We had some minor problems but we were able to adjust. It was team spirit and stamina that took us through."
And while they are still a long way from the January 31 final, an eventual victory for China would spark jubilant scenes.
"If China wins the cup, I'll run through the streets naked," one Sina Weibo user said.