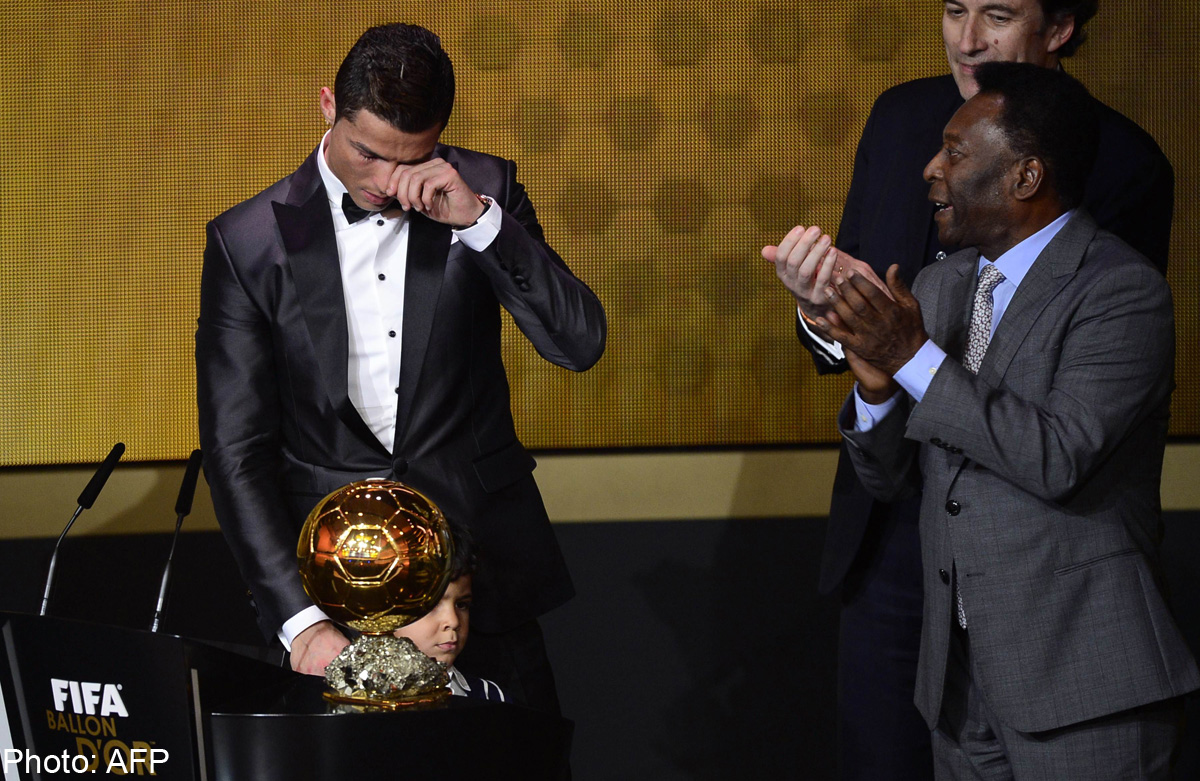 MADRID - The front pages of Spain's newspapers were awash with images of a crying Cristiano Ronaldo on Tuesday after the Portuguese picked up his second Ballon d'Or in Zurich on Monday.
Despite not winning a trophy on a collective level during 2013, Ronaldo was rewarded with football's highest individual accolade for his incredible performances last year.
The Real Madrid man averaged more than a goal a game and also guided his country to this year's World Cup in Brazil.
"Cristiano moves football with his emotional reaction to winning the Ballon d'Or," said the front page of Madrid sports daily Marca.
Fellow Madrid sports newspaper AS was more pointed as it led with "The best won."
Inside AS the famously quirky Tomas Roncero described Ronaldo's emotional reaction to winning the prize as "tears of gold" and went as far as to claim his victory was like winning the Champions League for some fans.
The vote had been tighter than many expected with the winner in the past four years, Barcelona's Lionel Messi, finishing just over two per cent behind Ronaldo with Bayern Munich's treble-winning playmaker Franck Ribery a further one percentage point back in third.
However, after being outshone by Messi in previous years, the general consensus was that Ronaldo had been a deserving winner.
"Finally his enormous perseverance was rewarded in Zurich. He clutched the highest individual recognition a footballer can receive: the longed-for Ballon d'Or," wrote Jaime Rodriguez in El Mundo.
Meanwhile, in national broadsheet El Pais, Jose Samano, said that the 28-year-old's tears were the culmination of a year in which his public persona has been turned around.
"Little by little, Cristiano has left behind being an obstinate show-off to the point where he has reached his current peak, in which he is seen as a star footballer and, that which is even more commendable, an ever more rounded person."
Unsurprisingly, the mood was somewhat different in the Catalan press as Messi's injury plagued 2013 meant he was beaten into second place for the first time in five years.
"This time the best didn't win," read the front page of Barcelona daily Sport
"Cristiano wins his second Ballon d'Or, but Messi continues to lead with four."
El Mundo Deportivo similarly concentrated on looking forward to what will be a huge year in the legacy of both Ronaldo and Messi with the World Cup just six months away.
Whilst "Cristiano wins", they wrote, Messi warns, "I am not thinking about what I have done, I am thinking about what is to come."