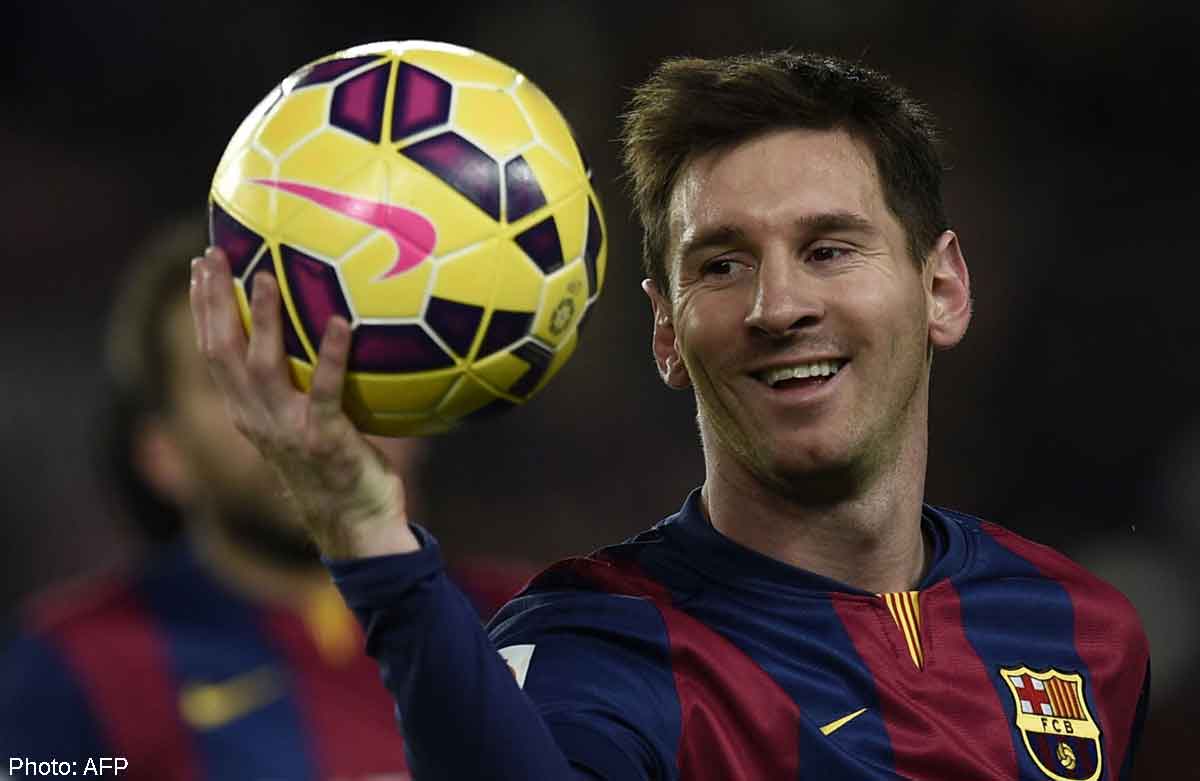 The Premier League's daftness has no limits.
Lunatics often run the asylum in the New Year and the Lionel Messi conspiracy theorists are having a field day.
Between the festive fixture mayhem and the closing of the transfer window, English football suffers a bit of a lull so rumour-mongers tend to clutch straws quicker than Messi logs onto his laptop.
According to a flurry of feverish reports, the Argentinian is joining Chelsea because he has decided to follow the club's Instagram account.
Well, obviously.
He has also followed Cesc Fabregas and Filipe Luis and both Messi and Chelsea are united by their stripes of adidas.
So it must be a done deal. (I follow JJ Abrams and Mark Hamill on Twitter and own a Star Wars T-shirt, but that doesn't mean I'm joining the cast for Episode VII).
Still, Roman Abramovich is reportedly considering a £200 million ($408m) deal for a player who enjoys a near-religious reverence around Barcelona and owns every domestic and continental honour that could be bestowed upon the world's most accomplished practitioner of perfect football in the last decade.
The only flaw in this argument, however, is that it makes no sense whatsoever.
Messi has never shown the slightest interest in playing in the faster, scruffier, relentless English Premier League. And why would he?
He rules La Liga with an iron will and a feather-light left foot.
Without ever losing his endearing common touch, Messi walks among kings. He's feted by Spanish royalty and practically canonised by the Catalans.
On the continental stage, he's Alexander the Great. There are no more worlds to conquer. The World Cup remains the elusive Holy Grail, but a stint at Stamford Bridge is hardly going to bring that particular trophy any closer.
SILLY SPECULATION
If anything, the silly speculation only reveals the Premier League's inherent arrogance.
Strip away the daft stories, mostly put forward by British or EPL-supporting media, and the naked ego is exposed.
There is a faint whiff of old-school prejudice about the Premier League's alleged superiority here.
Messi might be the all-time leading scorer in La Liga and the Champions League and owns four Ballon d'Or trophies, but he needs to go to Stoke on a wet Wednesday night to really prove his mettle.
Such parochial sentiments have long hung around the British game, like BO in a dressing room.
George Best was often put forward as a better player than Pele not because he had the superior talent, but because he performed on inferior pitches.
Pele shone only in the Santos sun, whereas Best battled on bone-hard surfaces to overcome the wind, rain and snow of Manchester's bleak mid-winter (often all in the same game).
Even if the argument had merit in the 1960s (and it's easily disputed), Messi makes a mockery of such hoary hogwash.
Beyond the top four, most of Messi's La Liga opponents can't compete, so they kick him instead.
The son of a factory worker who left home at 13 to join Barcelona is a born survivor. Messi rides roughshod over every cynical tackle. He rises above the raised studs.
Three Champions League triumphs incorporated different climates, surfaces and environments and still Messi prevailed.
LUDICROUS
So the idea, no matter how casual or fleeting, that there is unfinished business, that Messi still has a professional itch that only the Premier League can scratch is ludicrous.
He doesn't crave the Premier League spotlight any more than he lusts after Abramovich's lucre.
The hype would be insufferable and the inflated expectations unbearable (and the thought of him being berated by Jose Mourinho for not tracking back enough doesn't bear thinking about; it'd be like a tennis coach attacking Roger Federer for not hitting the ball hard enough).
Watching Messi from afar for so long makes him more myth than man.
From a distance, he's superman. Up close against the Premier League's parked buses, he might struggle to lift every one of them. He might occasionally look like Clark Kent.
Messi surely has no desire to take on the cliched challenge of facing Stoke on a wet Wednesday night to prove his manliness.
He has nothing to prove. It's a backward step.
An immortal doesn't need to be a real man.
BY THE NUMBERS
$350m: A new transfer study conducted by the International Centre for Sports Studies credits Messi as the world's most valuable player at a whopping 220 million euros ($350m). That's 87m euros more than his second-placed rival Cristiano Ronaldo, who is valued at 133m euros.
HAVE YOUR SAY
Should Messi play in the EPL? E-mail your views to npsports@sph.com.sg

This article was first published on January 7, 2015.
Get The New Paper for more stories.