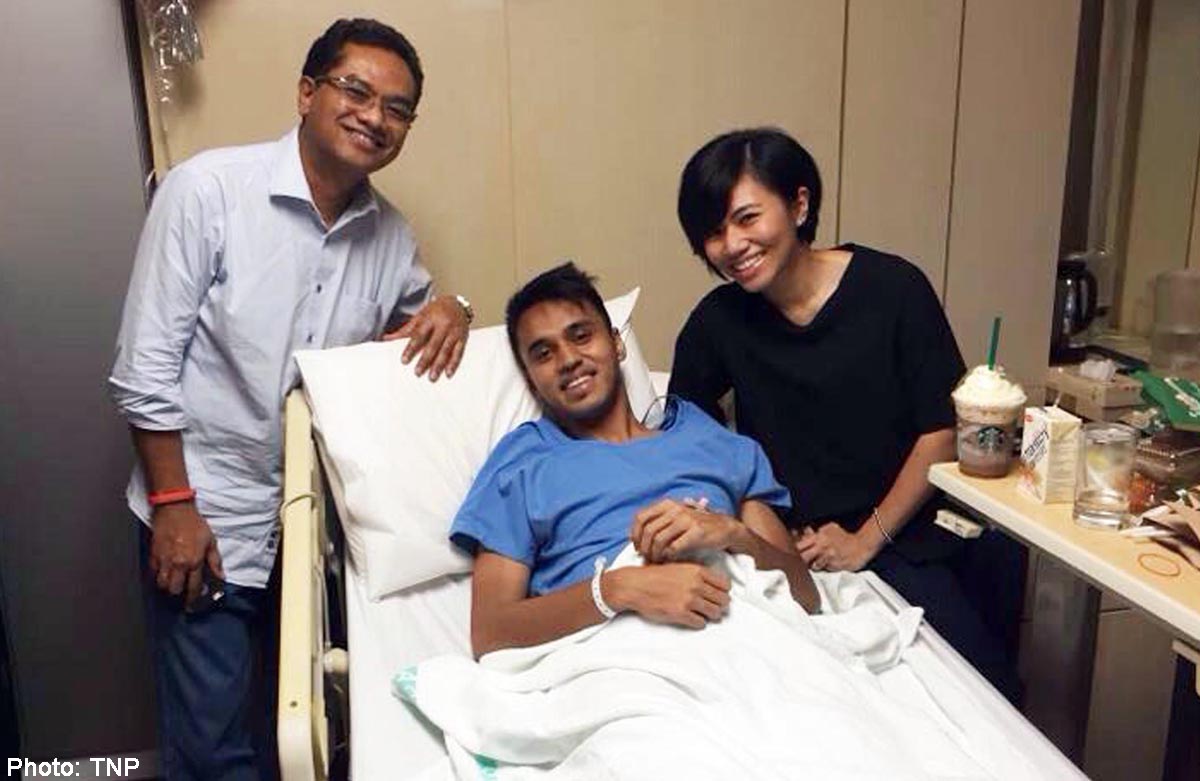 Professional athletes may recover faster from certain types of injuries because of their superior fitness levels.
But leg fractures, as a rule of thumb, would take half a year to heal, said Dr Benedict Tan, chief and senior consultant of the Changi Sports Medicine Centre.
"Such injuries are often complex issues, since the ligament, tendon and cartilage may also be involved as well," said Dr Tan, who is also the senior consultant of Singapore Sports Medicine Centre.
Factors such as strength, agility and stability will be affected if other parts of the leg - other than the tibia and fibula - are injured as well, and need to be corrected through rehabilitation.
PERMANENT
Damage to the cartilage will result in some form of permanent loss of the leg's full range of abilities, while damage to the tendons and ligaments may continue to impair a person after recovery as well, depending on the extent of the injury.
"Professional athletes already start at a higher level of fitness than the layman, so they will have an advantage in certain aspects of the rehabilitation process, such as strengthening work," said Dr Tan, who has not assessed footballer Shahdan Sulaiman's injuries himself.
"But there's no such advantage when it comes to broken bones; you have to give it time for them to fuse.
DECONDITIONING
"At the same time, he should need to beware of deconditioning and joint stiffness, especially when a cast is involved."
The former national sailor, who is now the Singapore Sailing Federation president, added that the timeline for a person's comeback from such injuries also depends on whether doctors can restore the injured parts to their original condition during surgery.
"Six months is a rule of thumb for such injuries; some may gamble after five months, but it depends on how quickly or slowly the injuries heal," said Dr Tan.
"But it will be about six months before one can run and jump after such injuries, and longer if he wants to play football.
He was in excruciating pain, and saw the lower part of his right leg twisted in an awkward angle.
Singapore international midfielder Shahdan Sulaiman instinctively tried to put it back into position.
This happened after he collided with teammate Khairul Amri while defending a corner against Myanmar in the Lions' 4-2 win at the National Stadium on Wednesday.
"I couldn't believe that my foot was in such an awkward position and I felt pain immediately," the 26-year-old told The New Paper in a telephone interview from his hospital bed yesterday.
"It was badly bent, but somehow I managed to force it back into position just before Fizah (Nurhafizah Abu Sujad, the team physiotherapist) reached me.
"I don't know where I got the courage to do that. This is definitely the worst injury in my career so far."
The 25th-minute incident in the ASEAN Football Federation Suzuki Cup match stunned teammates such as Amri, Sahil Suhaimi and Baihakki Khaizan, who were horrified by the extent of their teammate's injury.
Shahdan, who won the Great Eastern-Yeo's S.League title with Tampines Rovers last year, said: "(After the collision,) I could tell from the corner of my eye that Amri was trying to hurry the medical staff, and he gave me a call afterwards as well."
WIFE
His wife of two years, Ms Suzielya Jamil, 26, was in the stands but did not see the incident.
She said: "I was sitting with the wives of the other players but I was tending to my son when the incident happened.
"So I didn't know what happened until the other wives told me about it. I couldn't think straight after I found out."
Replaced by Zulfahmi Arifin, Shahdan was stretchered off after receiving treatment and immediately sent to Raffles Hospital with a fractured fibula and dislocation of the ankle.
He was warded overnight for observation and underwent successful surgery yesterday morning to fix his tibia and fibula, the Football Association of Singapore said.
"The doctors told me that I will be out for six months.
"They will take out the screws in my legs after six weeks, and then I'll be able to walk and start my rehabilitation," said Shahdan, whose discomfort and pain caused him to have a poor appetite and not sleep well yesterday.
Teammate Safuwan Baharudin visited him on Wednesday night and posted a picture of the creative midfielder on his Instagram account, which was reposted by several Lions and liked by thousands of fans.
Hordes of supporters also took to Twitter to show their support for Shahdan with the hashtag #prayforshahdansulaiman.
Touched by the fans' concern, the soft-spoken player said: "Thank you to all of you for your well wishes. Hopefully, I can come back stronger."
While his Suzuki Cup campaign is over, the Lions still have a fighting chance to progress from Group B to the semi-finals.
Arch-rivals Malaysia stand in the way of Bernd Stange's men tomorrow night at the National Stadium, and Shahdan hopes the fans will turn out in force to roar the Lions on.
FAITH
He said: "It is still in our hands to qualify for the next round, and I have total faith in my teammates to do just that.
"But the team will need support.
"We will need all the fans to turn up to rally behind our team so that they can make it to the semi-finals."
His injury has raised doubts about his footballing future - he recently signed a contract with Malaysia Super League outfit LionsXII for the 2015 season - and how his wife, who works, can cope with caring for their one-year-old son.
But he said: "I am just taking it one step at a time, and trying to rest and recover as quickly as I can."
Other Lions with serious injuries recently
HASSAN SUNNY
The 30-year-old goalkeeper was out of action for more than a year in 2011, after twice tearing the ACL in his right knee.
He came back and won the Great Eastern-Yeo's S.League title with Warriors last season and bagged the Footballer of the Year accolade.
HARISS HARUN
The midfielder tore his knee ligaments ahead of the 2008 Suzuki Cup and missed out again in 2010 when he fractured his right leg while playing at the Asian Games in Guangzhou, China.
He did taste action in the victorious 2012 campaign, completing just one group stage game before fracturing his fibula against Indonesia in the second match.
FAZRUL NAWAZ
The hard-working forward fractured his skull and cheekbone after he was kicked in the head by ATM's Amiridzwan Taj while featuring for LionsXII last year.
He returned to action in March this year with his new club Warriors, wearing protective headgear similar to that used by Chelsea goalkeeper Petr Cech.
KHAIRUL AMRI
The 29-year-old LionsXII forward fractured his cheekbone earlier this season after being elbowed by Felda United midfielder Ahmad Syamim Yahya. He was ruled out for about two months.
In 2010, he tore one of his leg muscles while playing for Persiba Balikpapan in Indonesia and was out of action for about eight months.
tnp@sph.com.sg
This article was first published on Nov 28, 2014. Get The New Paper for more stories.