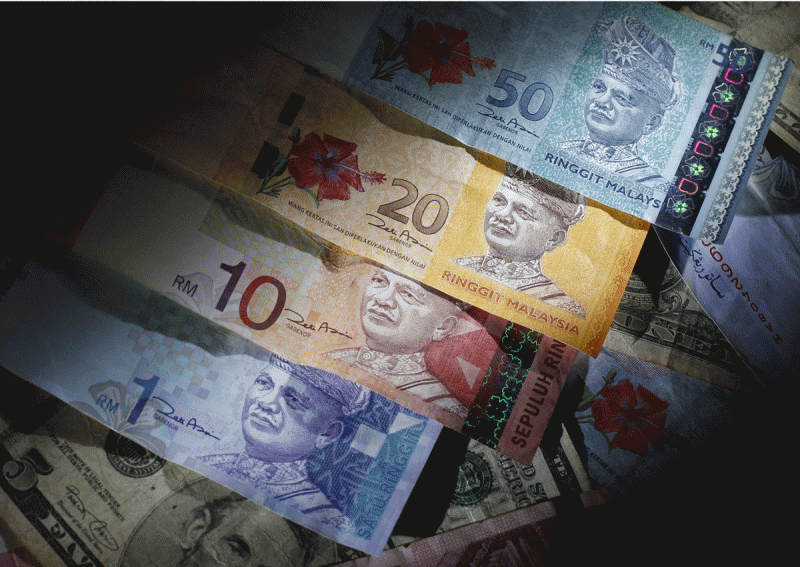 Borrowing costs are set to rise in Malaysia, with a number of banks having raised their base rates (BR), partly as a result of a liquidity crunch brought about by a shortage of ringgit and US dollars, analysts say.
As of last week, foreign banks including OCBC Bank (Malaysia) and United Overseas Bank (Malaysia) had bumped up their BRs; HSBC Bank Malaysia will make its change on Friday.
The hikes to the base rate - and consequently the effective lending rate (ELR) - have emerged despite the central bank maintaining the key overnight policy rate (OPR) at 3.25 per cent, so as not to add further pressure to businesses and individuals struggling with loan repayments in a weak economy made worse by a feeble ringgit.
Currently trading at about 4.42 to the US dollar, the currency has lost about a third of its value over the past 15 months.
A UOB customer-service executive confirmed that the bank's BR was raised last Friday by 11 basis points, taking it from 3.89 to 4 per cent. Its base lending rate (BLR) has gone from 6.85 to 6.96 per cent.
OCBC effected its increase immediately after the new year, boosting its BR from 3.92 to 3.99 per cent, and its BLR from 6.85 to 6.92 per cent.
HSBC is expected to make an even more significant hike - 15 basis points, taking its BR to 3.95 per cent (from 3.75) and its BLR to 7 (6.85) per cent.
An even more significant hike of 15 basis points is expected of HSBC with its BR to climb to 3.95 (3.75) and BLR to 7 (6.85) per cent.
Independent interest-rate and foreign-exchange strategist Suresh Ramanathan is not surprised, given the present volatility and underperforming ringgit. "Looking at the past few months, there's been a shortage of dollar and ringgit liquidity," he said.
Because of the liquidity squeeze, large-scale wholesale deposits are being taken out by companies and converted to foreign-currency deposits to pay back loans or to cover foreign-exchange losses, he said.
Corporations that borrowed US dollars (or other currencies) a few years back would not have thought to hedge the ringgit at the 4.50-to-5.00 level, he said, or have anticipated the degree of planned Federal Reserve rate hikes.
"Banks will continue to raise rates to lure depositors, but it won't work," Mr Ramanathan predicted, because of an increasing preference for foreign-currency deposits as confidence in the ringgit declines.
"People would rather put their money in a foreign currency that maintains its value, even if the deposit rate is much lower than in ringgit deposits offering higher rates but where the potential to depreciate is greater."
Hong Leong Investment economist Sia Ket Ee said the new BR framework allows banks which have different funding structures to determine their own rates, but with central bank approval.
Under a more "normalised" environment, the availability of funds has gone down, pushing banks to be more competitive, he said, adding the KLIBOR (Kuala Lumpur Interbank Offered Rate) has been trending up. To attract fresh funds, banks are dangling more attractive rates: for instance, UOB's promotion rate for a three-month fixed deposit is 4.15 per cent, versus 3.1 for existing funds.
Mr Sia said the ELR gives a more accurate idea of borrowing costs than the BR.
The Bank Negara Malaysia (BNM) website as at last Friday listed Maybank, the country's biggest banking group, as offering the lowest BR of 3.20 per cent; its indicative ELR was 4.55 per cent. Public Bank was next with a 3.6 BR, but its ELR was better at 4.45 per cent. Ambank matched Public's ELR even though its BR was 4.00 per cent.
BNM defines the indicative ELR as the indicative annual ELR for a standard 30-year housing loan with a financing amount of RM350,000 (S$114,513) and no lock-in period.

This article was first published on January 15, 2016.
Get The Business Times for more stories.