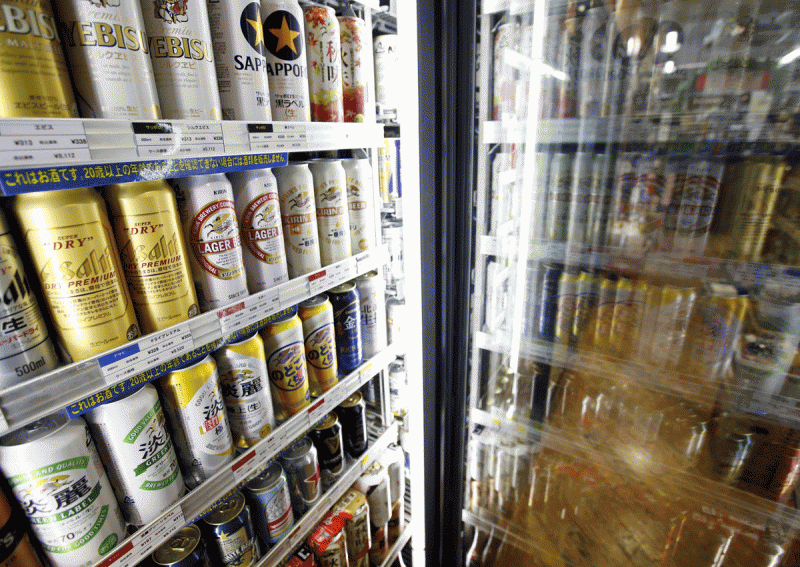 Beverage makers, aiming to curb a decline in beverage sales via vending machines, have increased the number of machines that can interface in foreign languages.
The companies hope that by enabling more non-Japanese speakers to use the machines, they can take advantage of the recent increase in the number of foreign tourist shoppers and boost vending machine sales.
On Wednesday, Asahi Group Holdings Ltd. installed a device with a built-in tablet that recommends beverages to customers in English next to a vending machine near the Kaminarimon gate in Asakusa, Tokyo.
If, for example, a customer wants to drink coffee, he or she answers a series of voice-guided prompts from the device and a coffee beverage that meets his or her preference is displayed on the screen. The customer can then buy the coffee from the vending machine next to the device. A woman from Thailand said that she enjoyed choosing a beverage and felt the machine was convenient.
In December, Coca-Cola (Japan) Co. introduced vending machines that use a QR code to send product information to customers' smartphones in 15 languages. The company plans to install 80,000 of the machines by 2020.
Beverage makers see high growth potential in the foreign tourist market and are hurrying to respond. According to one market source, the large number of vending machines found on the streets is a uniquely Japanese phenomenon and the product of a safe society. Many foreign tourists are said to be interested in the vending machines and their offerings, but often give up on buying beverages due to instructions written in Japanese.
Recently, customers have tended to buy beverages at convenience stores and other shops, and beverage sales via vending machines have dropped. According to a survey conducted by Inryo Soken, a research company focusing on the beverage market, in 2014 vending machines sold 557 million cases of beverages, down more than 20 per cent from 1997, when sales were at their highest.
Products sold via vending machines can basically go for their full list price, reaping big profits for beverage makers. Makers now face the challenge of strengthening vending machine sales.