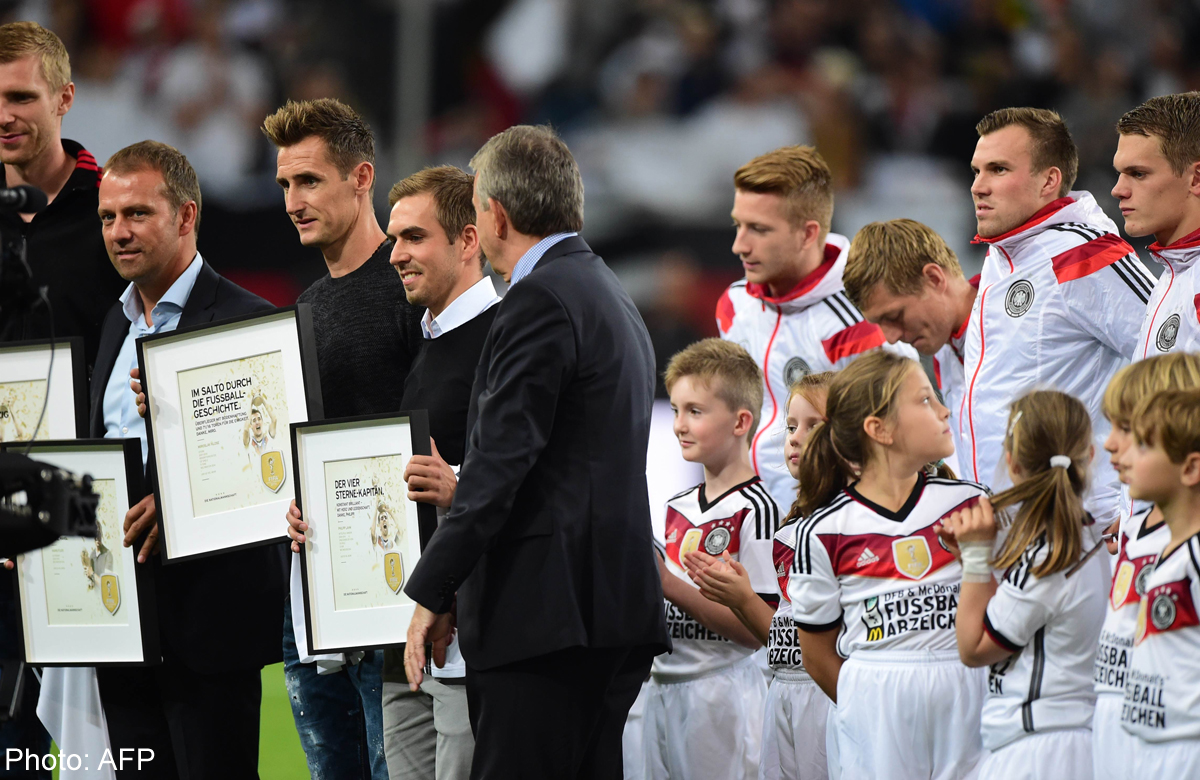 With barely a pause to get the taste of champagne out of their system, the German national team are back in competitive action this evening.
Brazil, with precious little time to begin the process of redefining their reputation in world football, are back in the old routine of playing meaningless exhibition matches for dollars in somebody else's backyard.
So, the carousel of club versus country resumes.
Clubs who pay the players' fortunes had two or three games of the new European league season to integrate them, and then, at the behest of Fifa and Uefa, those same players are flown oceans away to appear in what are euphemistically called friendly internationals.
Indeed, so friendly, so disinterested and disorganised were the Germans that they lost 2-4 to Argentina in front of a sold-out Dusseldorf stadium on Wednesday.
Der Mannschaft do not "do" friendly games.
According to some reports, Argentina "avenged" the World Cup final defeat of scarcely 50 days ago in Rio.
Angel di Maria, who has yet to make his Old Trafford debut since being sold for £60 million (S$127 million) by Real Madrid, set up three goals and scored the fourth.
This, say some observers, suggests that it would have been a different story in Rio de Janeiro had the speedy winger been fit for his country.
No way, argued Germany's coach Joachim Loew.
"We would have beaten Argentina in the final on July 13 even if di Maria had played. He couldn't have beaten us on that day."
What does it matter? Di Maria was not on the pitch in the Maracana, and Philipp Lahm, Per Mertesacker and Miroslav Klose, who were for Germany, have since retired as national team players.
Moreover, Bastian Schweinsteiger, who replaced Lahm as captain, is injured and could neither play the friendly against Argentina, nor tonight's rather more important opening fixture in Euro 2016 qualification, in Dortmund against Scotland.
Here's the reality. Wednesday was the first gathering of Germany's world champions since the partying had to stop.
Loew has to rebuild parts of that team, and start afresh without three players who between them accumulated 354 caps - and without others such as Jerome Boateng and Mats Hummels who are injured.
Loew also has a new assistant coach because Hansi Flick, who has been his No. 2 for eight years, has moved to become sporting director in Germany's football federation, DfB. The kind of continuity the DfB promotes is an alien concept to Brazil's federation, CBF.
Brazil change the national coach almost as casually as you or I might change outdoor clothing.
Luiz Felipe Scolari, World Cup- winning coach of 2002, returned to the hot seat just 18 months before the tournament this June and July.
He was personally chosen by Jose Maria Marin, who turned 80 before he took his turn as the head of the Brazil soccer federation.
And, of course, he dumped Scolari after the humiliation of a 7-1 semi-final thrashing by Germany.
So now, Marin is on his third coach. He has gone unimaginatively backwards to reappoint Dunga whose unimaginative, some would say un-Brazilian, line-ups had flopped at the 2010 World Cup.
Indeed, I go along with the Brazilians who think that Dunga's style (or lack of it) is a sell-out of the Beautiful Game. Having been an effective midfield holding player in the 1994 side, though a much more accomplished passer than he often showed, Dunga divides opinions within Brazil.
"Reappointing him left me perplexed and surprised," wrote Tostao, a player of real beauty and finesse in the 1970 Brazil team.
Now a newspaper columnist, he added that he understood nothing about the appointment.
Others see it as negative. Worse, they fear this is Marin's way of putting off what needs to be done - a complete root and branch change of priorities from the CBF down.
Brazil did not go overnight from one of the world's most populous nations - and previously most successful football side - to a complete bust. The players are there in every league, and in most clubs who win trophies.
But in the years leading to the World Cup staged in Brazil in living memory for most of the population, the Selecao had played only friendly matches - and very few of those on home soil.
Brazil had become like the Harlem Globetrotters, the United States basketball team who travelled the world playing exhibitions for any paymaster. The team who disintegrated during the World Cup failed to cope with the pressure of playing for real.
Now, without tournament fixtures until the Copa America in Chile next June, Brazil are back in that false routine.
Dunga axed half the World Cup squad, as probably any new coach would do.
He chose Neymar to captain the first selection of the post-World Cup horror.
Neymar! Undoubtedly Brazil's star, its talisman, its most gifted player of the new generation he may be. But a captain, a leader of men, a character who knows enough about life and loss to pull traumatised individuals through their lost status?
On the field, by virtue of being the best player out there, maybe.
We all saw how Brazil collapsed without him after a knee in the back ended his World Cup in the quarter-final against Colombia.
With horrible symmetry, Brazil met Colombia again on Friday, in front of 73,429 spectators in the Sun Life Stadium in Miami.
It was friendly before the kick- off when Neymar and Juan Zuniga, the opponent whose reckless foul put him in hospital in July, hugged.
After that, not so friendly.
The eighth yellow card of the game resulted in Juan Cuadrado's dismissal for his second foul on Neymar, after which Brazil's numerical advantage paid off.
Neymar, inevitably, scored the only goal with a curling free-kick.
Radamel Falcao played the final 13 minutes in his comeback after a knee injury that wrecked his year.
And Falcao, not yet blooded as a Manchester United player, put a header over the bar from six yards.
"Always good to win," claimed Dunga, "especially with the criticism after the World Cup, some of which was very strong. This will help the players to regain self-esteem and confidence."
Will it? Or did Friday simply reinforce Brazil's dependency on Neymar, even under friendly fire?
stsports@sph.com.sg

This article was first published on September 07, 2014.
Get a copy of The Straits Times or go to straitstimes.com for more stories.