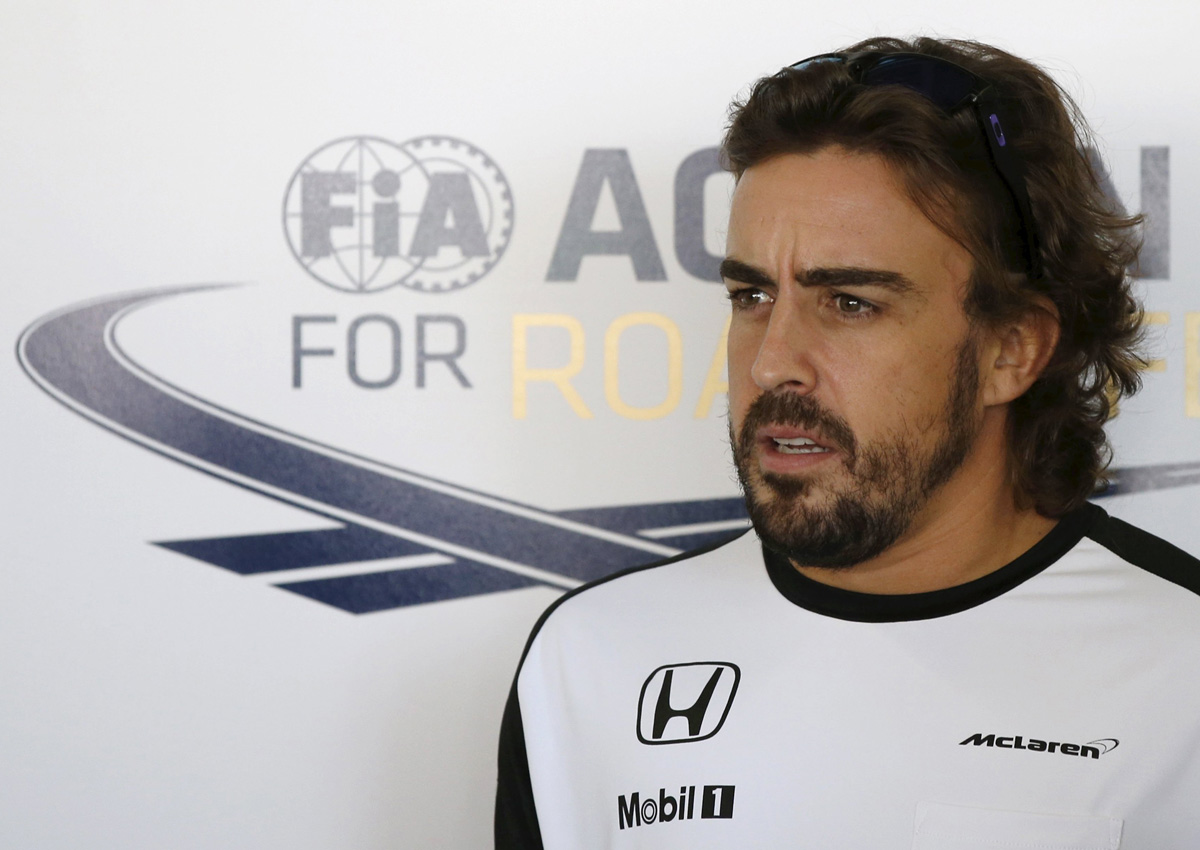 SUZUKA, Japan - Former world champion Fernando Alonso's frustration boiled over after finishing out of the points at the Japanese Grand Prix on Sunday, as he vented his fury at misfiring McLaren's mechanical problems.
As cars sped past him early in the race at Suzuka, the Spaniard barked over the cockpit radio: "It's embarrassing, very embarrassing!"
Alonso, Formula One's world champion in 2005 and 2006 with Renault, eventually finished 11th with team mate Jenson Button back in 16th - another blow to McLaren at the home of engine suppliers Honda.
"There's not much to enjoy on track," fumed Alonso. "It's frustrating how they overtake you on the straights and then you arrive at the corner and you see them braking late, making mistakes.
"You take the corner perfectly and you are recovering time and they just overtake you on the straights," he added. "Days like today, you feel a bit embarrassed. It's not possible some guys overtake you like this.
"We should be more competitive. But this is the way it is and hopefully we can learn lessons from this kind of races." Alonso, who has picked up just 11 points in 14 races this season after leaving Ferrari to return to McLaren, tried gamely to put a positive spin on a situation that has lurched from one low to another over the course of the year.
"Both cars finished after a double DNF (did not finish) in Singapore (last week)," he said. "So improved our reliability and our weak points and don't repeat errors like the gearbox overheating in Singapore."
Alonso insisted, however, that his future remained with McLaren, who have claimed just four top-10 results this season.
"I think the remaining races will be tough but my intention next year is to stay," said the 34-year-old. "Definitely I can see McLaren are the only team that will challenge Mercedes in the near future. Right now it's tough times: we don't have the tools to fight with them.
"The positive thing is that everyone knows the problems - but we cannot hide this is frustrating." Button, whose future in Formula One has come under intense speculation after talks over a contract extension appeared to have stalled, himself snapped at mechanics as tempers frayed in Japanese qualifying on Saturday.
"I can't do anything to keep other cars behind," he shrugged. "We are doing our best, but we're finding it tough as drivers, the team are finding it tough. We just have to keep our heads down and focus."
Suzuka was only the fourth time all year in which both McLaren drivers have seen the chequered flag.
"We've got a lot of work to do," said the Briton, who has taken just six points in 2015. "It's tough for us, we're used to fighting at the front. It's like a samurai warrior without his armour and sword."