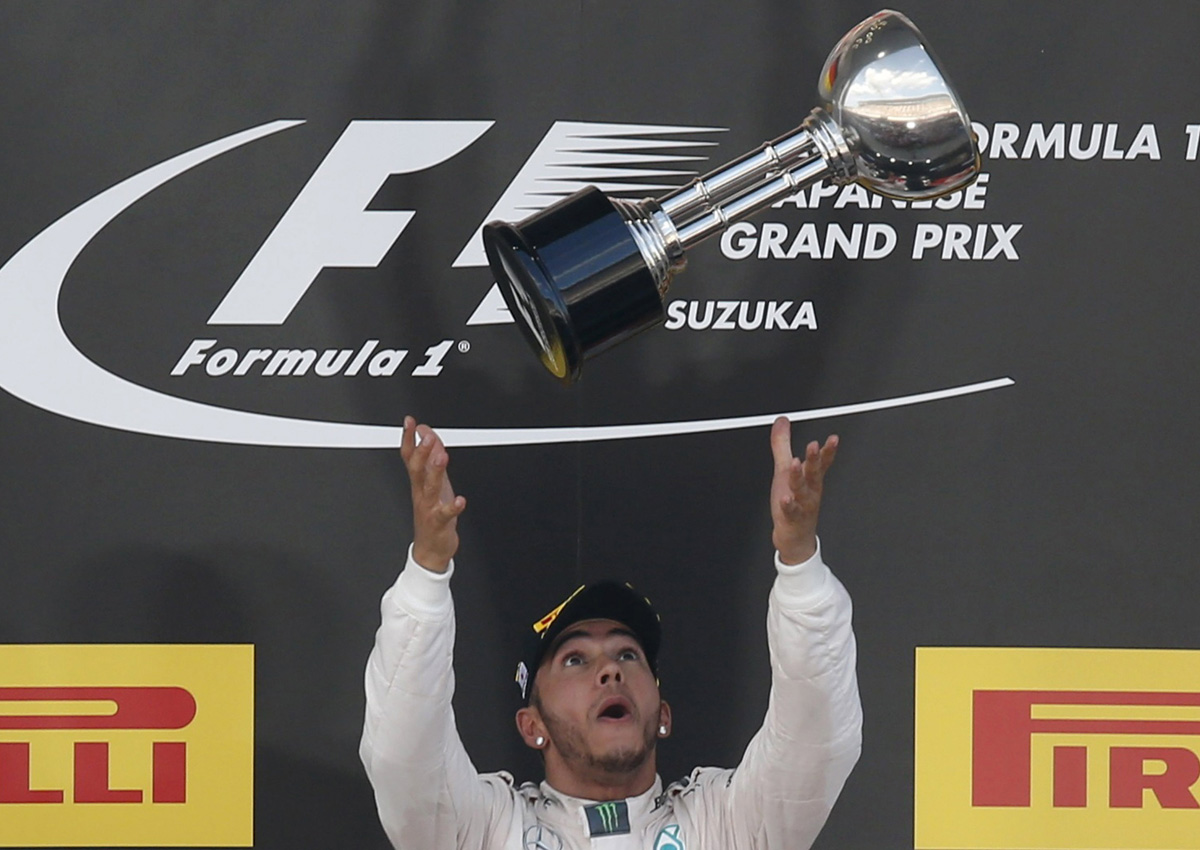 SUZUKA, Japan - Lewis Hamilton blazed to victory at the Japanese Grand Prix ahead of Mercedes team mate Nico Rosberg on Sunday to strengthen his grip on a third world title.
The Briton, who is chasing back-to-back Formula One championships, opened a 48-point gap over Rosberg with five races left after putting on a masterclass at Suzuka.
Sebastian Vettel, shock winner in Singapore last week, took third with Kimi Raikkonen fourth in the second Ferrari.
"Awesome stuff, Lewis! Fantasic race, mate!" his Mercedes team engineer said over the radio as Hamilton crossed the line pumping his fists in celebration after his eighth win of the season.
After hitting back in style from his first race-ending retirement in over a year in Singapore last week, Hamilton responded: "Fantastic job guys. So great to be back up here." Stung by his Singapore flop, Hamilton got off to a sensational start, darting into the lead at turn two after Rosberg slithered onto the grass and fell to fourth from pole.
Red Bull's Daniel Ricciardo shredded a tyre trying to thread the needle and brushed wheels with Felipe Massa, whose Williams also had to limp back to the pits for a change of front wing.
Normal service was resumed at the front of the pack, meanwhile, after Mercedes were rocked by a mysterious loss of pace in Singapore, allowing Vettel to boost his slim title chances.
Their mojo firing again in brilliant sunshine in Japan, the two Mercedes destroyed the Ferraris with Hamilton, outpaced by Vettel by 1.5 seconds in qualifying last weekend, relentlessly pounding out fastest lap after fastest lap.
Hamilton survived a scare midway though the 53-lap race, complaining of vibrations and overheating in the cockpit.
"I'm struggling out here," he said, although it proved to be only a temporary glitch as he pulled away to equal boyhood hero's Ayrton Senna's tally of 41 grand prix victories.
Rosberg recovered from his poor start and took second on lap 32 when Vettel pitted but emerged just behind his fellow German.
Rosberg set about trying to eat into Hamilton's 10-second advantage but to no avail as he got snarled up in backmarker traffic and his rival pulled away.
With Formula One in sombre mood a year after Frenchman Jules Bianchi's fatal crash at Suzuka, there was relief for race organisers when the rain that washed out much of Friday's practice held off over the weekend.
Valtteri Bottas finished fifth for Williams after qualifying third fastest with Nico Hulkenberg sixth for Force India ahead of Romain Grosjean and Pastor Maldonado for the troubled Lotus team.