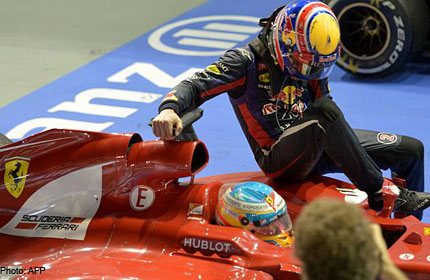 SINGAPORE - Australia's Mark Webber was facing a 10-place grid penalty on Sunday after he hitched a ride on Fernando Alonso's Ferrari at the end of the Singapore Grand Prix.
Both drivers were slapped with a reprimand over the incident, which came after Webber abandoned his Red Bull at the end of the race when it started billowing smoke.
But according to Formula One regulations, Webber is in line for the grid penalty at the next race in South Korea for receiving his third reprimand this season.
Race officials in Singapore were unable to confirm the grid penalty, which is more likely to be announced ahead of the Korean race on Oct 6.
Trackside video footage showed Webber running on to the track and flagging down Alonso, who finished second, during his post-race parade lap.
Webber then jumped on to the side of the Ferrari and was driven back to the pits, waving to the crowd as he went.
The incident prompted guffaws, but it was viewed more seriously by Formula One officials, who hauled both drivers in front of the stewards.
Webber, who is quitting Formula One this year, was told off for going on the track without permission, while Alonso was rebuked because another car had to swerve when he stopped.