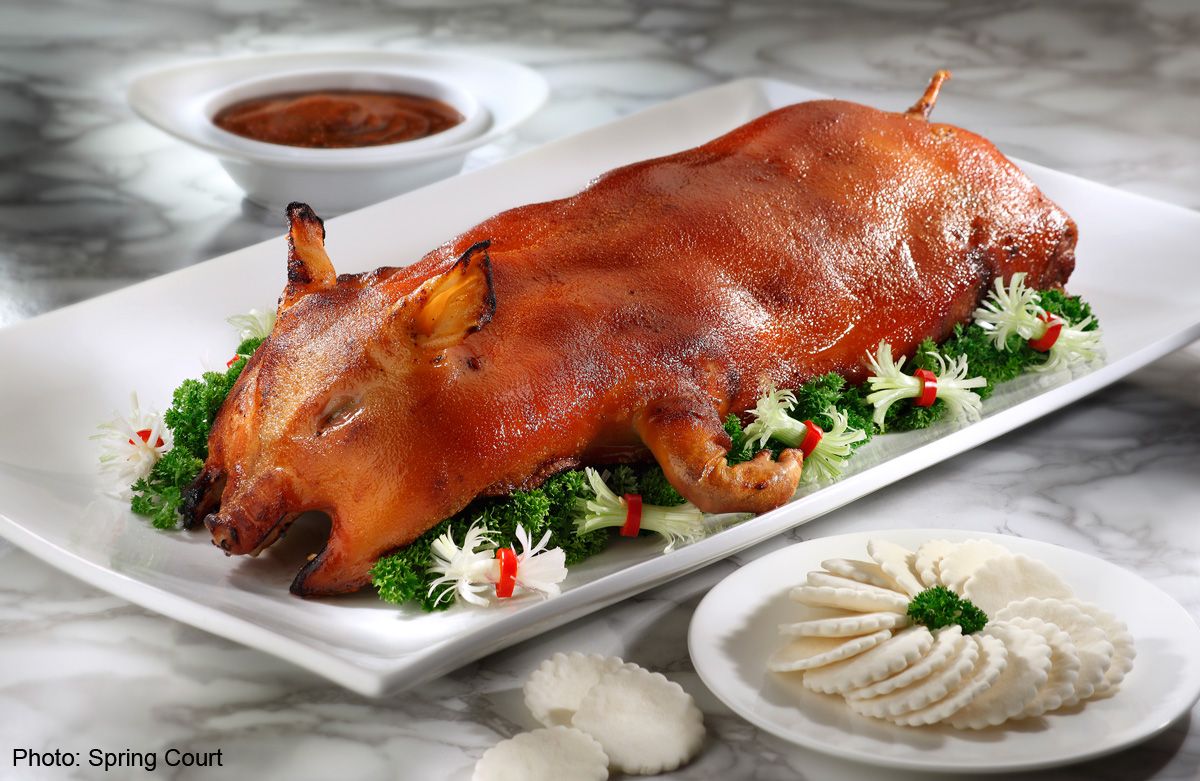 In a bid to attract diners to restaurants, restaurateurs are offering a range of promotions that include everything from discounts to freebies to dishes at nominal prices.
These promotions include deals such as 50 per cent off dim sum, and a free suckling pig or Peking duck with a minimum spend.
At other restaurants, diners are also given the option of buying, for example, a whole steamed chicken or a second main course, at just $1.
Some of these promotions can sound a little too good to be true and some of the diners interviewed say it makes them wonder whether the food is any good in the first place.
But given the competitive dining scene and Singapore's growing number of restaurants, it is no wonder that some restaurateurs are turning to such measures to draw in patrons.
Some of them say they do it to "get their name out", while others add that having promotions which showcase particular types of signature foods or specialities also help to make diners more aware of their offerings.
Either way, the promotions work, restaurateurs say.
They add that it is more important to get diners into their restaurant to spend, even though they may not be making much money on the promotional item.
Mouth Restaurant, for example, which has outlets at China Square Central in South Bridge Road and at Plaza Singapura, started offering a free suckling pig (usual price $218) with its promotional menus last week.
Owner Daniel Goh, 48, says he plans to offer free suckling pigs until October. An eight-course promotional menu for 10 people, which excludes the suckling pig, is priced at $499 for 10 people.
He says: "We are able to offer this promotion because we recently started roasting our pigs in-house, which lowered our cost. We also want diners to get a chance to taste our roast suckling pigs."
He adds that competition in the food and beverage industry also drove him to offer this deal.
Mr Thian Boon Hua, 62, owner of Boon Tong Kee and president of the Ku So Food and Beverage Association, whose members include Chinese restaurants, says that restaurateurs, especially those who own Chinese restaurants, often offer promotions after Chinese New Year, traditionally a lull period.
He says: "Restaurant owners still have to deal with their fixed costs that include rental and manpower costs. So having promotions during a lull period attracts diners who then also order other items."
He adds that promotions are often cyclical. They help to ensure that restaurants have a constant flow of business.
At Spring Court in Cross Street, which is offering a free suckling pig to diners who order a promotional set menu, third- generation owner Mike Ho, 44, says: "Business is usually slower after Chinese New Year and we usually think up various promotions to encourage diners to dine at our restaurant. It is not a matter of competition but more of a dining trend."
Busier seasons for Chinese restaurants include family occasions such as Mothers' and Fathers' days, and the dumpling and Mid-Autumn festivals.
But it is not just Chinese restaurants that are offering discounts.
Other restaurants such as Italian restaurant Burlamacco Ristorante in Amoy Street as well as Japanese eatery Standing Sushi Bar in Queen Street, are doing it too.
Mr Howard Lo, 37, owner of Standing Sushi Bar, admits he was initially worried that offering promotions such as $3 salmon sashimi (usual price $12) and 50 per cent off its nigiri sushi, for example, would "hurt branding and reputation".
Instead, such promotions have worked well for him, raising awareness of his eatery. They have also increased business on weekends, when it does not offer discounts.
He says: "The idea is to get people through the door. They might order other food to complement their meal and you hope that they get hooked and come back."
Mr Andrew Tjioe, 55, chairman of the TungLok Group and president of the Restaurant Association of Singapore, says: "It is a critical time for the food and beverage industry. When operators are desperate, they tend to give big discounts."
He adds that sometimes, discounts can be detrimental to others in the industry who may have been performing better, as it then creates a price war.
While promotions and discounts work to boost business and help restaurants get their names out, he says that those who give discounts do not always survive.
He says: "In the end, it is about the survival of the fittest. Offering a promotion does not mean business will necessarily be better."
Mr Lo says: "My philosophy is that with a 10 or 15 per cent discount, you often get lost in the crowd of credit card discounts out there. A promotion, to me, is when you, as a restaurant owner, feel like you are cutting yourself. Sometimes we lose money or make just a few cents on promotion items, but it helps business on the whole."
Diners, of course, are on the winning end, given the slew of dining promotions that also include dining vouchers that can be purchased online from websites such as Groupon. It gives them more options to dine for less.
Mr David Lee, 55, manager at an electronics company, says: "Promotions never hurt diners. Sometimes, you might think restaurants are out to cheat you, that maybe they have raised their menu prices to make you think you are getting a good deal.
"But at the end of the day, diners are savvy, we know a good deal when see one."
rltan@sph.com.sg
Follow Rebecca Lynne Tan on Twitter @STrebeccatan
Good deals
Spring Court
What: The Cantonese restaurant is giving diners a whole suckling pig (usual priced at $198) with its Suckling Pig Promotional set menus which start at $498++ for 10 people. To celebrate its 85th anniversary this year, it is also offering its Peking duck at 85 cents with a mininum food order of $85.
Where: 52-56 Upper Cross Street
Open: 11am to 3pm, 6 to 10.30pm daily
Info: Call 6449-5030 or e-mail enquiry@springcourt.com.sg. Go to www.springcourt.com.sg
Peach Garden
What: Diners who opt for dim sum for brunch or lunch get 50 per cent off on weekdays and 30 per cent off on weekends. Those who spend $500 on food from the a la carte menu get a free suckling pig (usual price $238), while those who spend $200 receive a free Peking duck (usual price $68). The promotion ends this month.
Where: Peach Garden, Hotel Miramar, 401 Havelock Road, Level 3
Open: 11.30am to 3pm, 6 to 10pm. On weekends and public holidays, it opens for dim sum at 11am
Info: Call 6736-3833 or go to www.peachgarden.com.sg
Mouth Restaurant
What: Mouth Restaurant is offering a free suckling pig (usual price $218) when diners order promotional set menus which start at $499 for an eight-course menu for 10 people. The suckling pig promotion ends in October.
Where: Mouth Restaurant, two outlets - China Square Central, 22 South Bridge Road, 01-61; Plaza Singapura, 68 Orchard Road, 02-01, old wing
Open: China Square Central - 11.30am to 3pm, 6 to 10pm. It opens at 10am on weekends and public holidays. Plaza Singapura - 11.30am to 5pm, 6 to 10pm (weekdays) but on Fridays it closes at 10.30pm; 10am to 10pm (weekends and public holidays)
Info: Call 6438-5798 or e-mail csc@mouth.com.sg (China Square Central); or call 6337-7446 or e-mail plaza@mouth.com.sg (Plaza Singapura). Go to www.mouth.com.sg
Burlamacco Ristorante
What: When diners order a bottle of wine and a signature main course at Italian restaurant Burlamacco on Thursday nights, they get a second signature main course for $1. Diners pay full price for the more expensive main course. Signature dishes include traditional black squid ink risotto with gold leaf; slow-cooked beef short ribs with marsala wine sauce; and cacciucco, a traditional Tuscan fish and seafood stew.
Where: 77 Amoy Street
Open: 11.30am to 2.30pm, 6 to 10.30pm (weekdays), 6 to 10.30pm (Saturdays), 11.30 to 2.30pm, 6.30 to 10.30pm (Sundays)
Info: Call 6220-1763 or e-mail info@burlamacco.com.sg. Go to www.burlamacco.com.sg
New Ubin Seafood
What: The popular zi char restaurant in Sin Ming is offering diners a third crab for free when they order two. They can be cooked in various styles, including with pepper, chilli and salted egg. Each crab is priced at $38. The promotion is subject to change.
Where: Block 27, Sin Ming Road
Open: 11am to 2pm, 5.30 to 10.30pm (Mondays to Fridays), 11.30am to 2.30pm, 5.30 to 10.30pm (Saturdays and Sundays)
Info: Call 6466-9558
The Standing Sushi Bar
What: The izakaya-style restaurant has promotions from Mondays to Thursdays. On Mondays and Thursdays, for example, its salmon sashimi, which is usually priced at $12 for five slices, goes for just $3 a serving. On Tuesdays, diners are entitled to 50 per cent off nigiri sushi (usually priced at $6 for a pair of salmon nigiri sushi and up), sashimi and alcohol. On Wednesdays, the discount applies to rolls, handrolls and alcohol. The promotion is ongoing.
Where: 8 Queen Street, Singapore Art Museum, 01-03
Open: noon to 2.30pm, 6 to 10pm daily
Info: Call 6333-1335. Go to standingsushibar.com
Ah Yat Seafood
What: The restaurant offers 40 per cent off its market-priced seafood at lunch and dinner daily. It is also offering 40 per cent off its a la carte dim sum menu at lunch. The promotion is ongoing but subject to change.
Where: The Grandstand, 200 Turf Club Road, 03-01/02 Main Grandstand
Open: 11.30am to 2.30pm, 5.30 to 10pm daily. Dim sum is available only between 11am and 2pm daily
Info: Call 6883-2112 or go to ahyatrestaurant.com.sg
Chao Yue Xuan
What: The restaurant is offering a steamed chicken at just $1 with at least $50 spent on food. The chicken usually costs $30. This promotion ends on June 30 and is not available on the Mothers' and Fathers' Day weekends. Diners also get 30 per cent off its seafood daily at lunch and dinner.
Where: UE Square, 207 River Valley Road, 01-51/54
Open: 11.30am to 2.30pm, 6 to 11pm daily
Info: Call 6235-8779. Go to ahyatrestaurant.com.sg
This article was published on April 6 in The Straits Times.


Get a copy of The Straits Times or go to straitstimes.com for more stories.