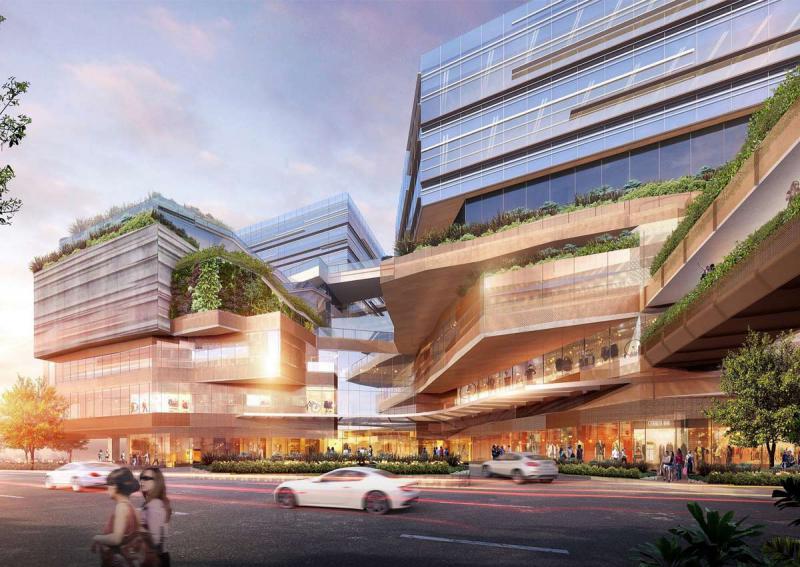 A new $560 million integrated development designed as a "lifestyle destination" will take shape in three years at the site of Funan DigitaLife Mall, which shut its doors on July 1.
The mixed-use complex will comprise two office towers, serviced residences and retail stores to complement the revitalised Civic and Cultural District, its owner CapitaLand Mall Trust (CMT) said yesterday .
The development has been designed to offer shoppers a unique retail experience, smart shopping technologies, while also serving as a lifestyle hub for sustainable living.
More than half of the redevelopment site will be allocated for retail, while a third will be for office space, while the remaining area will be for residential use.
The redevelopment of the Funan DigitaLife Mall will create 887,000 square feet of total gross floor area, almost double its current size of 482,000 sq ft. The project is expected to achieve a return on investment of 6.5 per cent, CMT said.
CMT Management's chief executive, Mr Wilson Tan, said the integrated development is scheduled for completion in the fourth quarter of 2019.
"This will be an aspirational lifestyle destination," said Mr Tan yesterday when he unveiled the financial results for the first half of the year and cited upcoming projects.
"From the collective wisdom gleaned from other malls, we wish to create a new experience for shoppers and tenants," he added.
CMT registered a 3.7 per cent rise in distributable income to $193.9 million in the first half of this year ending June 30.
It also disclosed a 1.5 per cent increase in distribution per unit (DPU) for the first half of the year to 5.47 cents year on year.
In the second quarter, CMT's distributable income was $97.1 million, a 3.3 per cent increase year on year. The DPU of 2.74 cents for the second quarter was 1.1 per cent higher than the same period last year. Based on an annualised DPU of 11.02 cents and CMT's closing price of $2.220 per unit on Thursday, the annualised distribution yield for the second quarter was 4.96 per cent.
Mr Tan said despite a soft retail market, CMT continued to produce steady operational results in the first half of the year.
"Backed by our portfolio of well-located shopping malls and extensive network of retailers, CMT registered year-on-year increases of 3.6 per cent, and 2.3 per cent in shopper traffic and tenants' sales per square foot respectively," he explained. "As at June 30, 2016, portfolio occupancy remained high at 97.9 per cent."
CMT units slid 0.9 per cent or two cents to close at $2.20.

This article was first published on July 23, 2016.
Get a copy of The Straits Times or go to straitstimes.com for more stories.