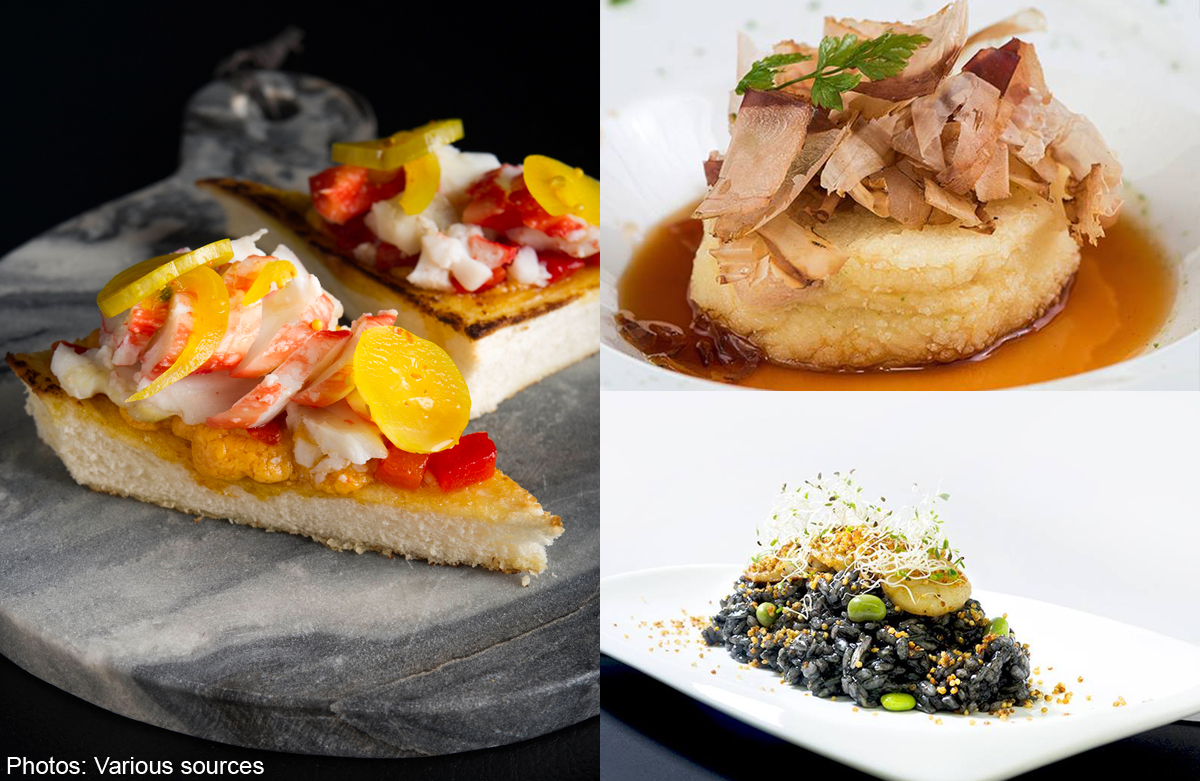 Fusion cooking isn't dead, it just pops up in different guises. BT Weekend checks out a new wave of restaurants trying to create original flavours.
Adrift
Marina Bay Sands Hotel, Tower 2 lobby
Restaurant: Sun to Thurs, 6pm - 10pm;
Fri to Sat, 6pm - 11pm.
Bar: 12pm to 2am daily
6688 5657 / 6688 5658
www.marinabaysands.com/adrift
Chef David Myers does not cook fusion food. Even though his latest restaurant, Adrift at the Marina Bay Sands Hotel, serves dishes like a foie gras bahn mi (S$32), he would not use the term "fusion" to describe it.
The easiest explanation for fusion is a "smorgasbord of cuisines and styles mashed together", but his food is simply defined as his own personal style, says the easygoing 40-year-old American celebrity chef.
"My cooking style is based on what I love to cook, and flavours I like to taste. It's what's been created based on my years of experience as a chef, cooking and travelling and learning about new techniques, ingredients, and styles of cooking," he says.
It's that same experience that eventually inspired the concept for Adrift as well, as Chef Myers explains that "Adrift is meant to be a wanderlust-filled concept. It means adrift on memory bliss."
At the restaurant, he serves a range of small plates that are targeted at groups of friends to share over cocktails from the bar by consultant mixologist Sam Ross. Every dish is new and specifically created for Adrift except for one - his preserved green papaya soup with Maine lobster and sago (S$29), which also happens to be the dish that exemplifies what the restaurant's concept is about, says Chef Myers.
The history of that dish dates back to his first trip to Singapore in 2001, when he was brought here to create a new concept that ultimately became Jaan at Swissotel The Stamford.
"I'll never forget that trip," says Chef Myers. "I went to the market and saw these big green papayas. I needed to make a dinner that evening so I used the green papaya, soursop, rambutans and dragonfruit - a number of ingredients I had never used before, plus lobster from Sri Lanka, and created a new dish around it. What's on our menu now (at Adrift) is a variation of that."
He adds: "It was that travel, that moment of being in a new place, that exploration and curiosity to try those new ingredients that led to this dish. And the history of coming to Singapore and experiencing that moment with the green papaya made me realise it was an 'adrift' moment that needs to go on this menu."
According to him, other highlights on the menu are his king crab with pimento grilled cheese (S$35), the ricotta with preserved lemon and Okinawan black sugar (S$24), the uni butter and orange jelly with hazelnuts and pumpernickel (S$29), black cod with mantou bread and chilli crab sauce (S$31), and grilled corn with dashi butter and furikake (S$12) - all dishes that he believes would work well anywhere in the world.
In fact, when asked if he would open this concept in another country, Chef Myers nods without a moment's hesitation. "I would open Adrift in Los Angeles in a heartbeat. I would open it in Tokyo, in London. I think this type of food resonates with people from all around the world because people like to explore. People are well-travelled, love the flavours, and the concept is easy to get... It's for the dreamers and the explorers, and yes I would call myself one too. I'm a gypsy chef," he says.
Violet Herbs
81 Tras Street
Mon to Sat, 11.30pm - 3pm, 6pm - 10pm
6221 3988
www.violetherbs.com.sg
Stepping into Violet Herbs is like stepping into the purple cousin of the Emerald City. The first thing that hits you is a wave of colour - violet chairs, violet walls, and bright violet sofas. And it hits you pretty hard.
Thankfully, that's where the literal translation of the restaurant's name ends - colour-wise anyway. The other part of the name comes from chef-owner Edward Hoe's love for exploring the use of herbs in his cooking.
Chef Hoe started the month-old modern-European restaurant with his wife, Danni Lin, 26, after spending the last 20-odd years working in different restaurants around Singapore, such as Restaurant Ember, Pierside (now known as The Pelican), and Haruichi at Chevron House.
Explains Ms Lin: "(Chef Hoe) gained a lot of knowledge from working at Japanese, Italian, or fusion restaurants. After building up his experience over the years, he then came up with his own restaurant concept that would allow him to combine all of that knowledge together."
Which is why his menu is a fusion of familiar European dishes and Asian elements such as a homemade lobster tofu (S$3 with any a la carte order) made with Boston lobster meat, roasted & poached foie gras (S$24) with shiitake mushroom and Mirin shoyu, and marinated red miso cod (S$33) with roasted pumpkin puree and almond eggplant.
In addition, one of the more unique items on the menu is his own original thyme-flavoured ice cream, which is served with an apple strudel (S$12).
According to Ms Lin, the other reason why they started the restaurant was to provide people with another option for affordable fine dining while maintaining the same quality and service standards.
"Everyone wants to enjoy fine dining with good quality food and good service, but they don't want to pay so much. Usually when you go out for this kind of food, you can pay up to about S$100 per person. Not everyone can afford that," she explains.
In fact, she reveals that their current prices aren't making them much money, but they intend to continue in that direction in order to build up brand awareness before opening more outlets.
"(My husband and I) used to enjoy eating at fine dining places too but we felt the prices were quite high, so we wanted to give people a chance to enjoy good food that's still affordable," she adds.
Quips a soft-spoken Chef Hoe: "Everyone hopes to be a boss and have their own restaurant some day, but it's not just about making money for me. What I want is to be able to make sure all my customers are happy."
By Rachel Loi
@RachelLoiBT
rachloi@sph.com.sg
Monochrome Fusion Bistro
291 South Bridge Road
Mon to Thurs, 11am - 10pm; Fri, Sat,
eve of public holiday and public holiday,
10am - 12am; Sun, 10am - 5pm
6221 1798
Black and white. East and West. Passion and practicality. For Ivan Seow, co-founder of Monochrome Fusion Bistro on South Bridge Road, life is all about balance.
"Doesn't everyone like things to be balanced?" he asks.
The bistro's decor is elegantly black and white, with picture frames and white flowers tastefully displayed on the duo-toned walls. Meanwhile, the food strives to find the perfect middle ground between Eastern and Western flavours.
After successful stints in design and real-estate, the 27-year-old decided to turn his business savvy to something he's always dreamed about - running a fusion bistro.
Officially launching in March, the bistro has been conducting a trial run of sorts for the past two weeks.
Why fusion food? Mr Seow explains: "It's because of the degree of thought put into the food - the unexpected flavours give a different kind of pleasure."
Their signature dishes are the Monochrome signature meatballs with black and white sesame and bonito flakes (S$16), Monochrome squid ink risotto (S$24) topped with edamame and snapper loin cha soba (S$22). Mr Seow strongly recommends the snapper, saying: "My dad, whose western taste buds aren't very developed, loved it. That's what a fusion dish should do - appeal to everybody."
Chef Chai Chen Yang, whose previous experience includes the SpaEsprit Group and Skinny Pizza, excelled at European food, but agreed to try his hand at something new.
After two months of tastings hosted for friends and family, the team finally arrived at a menu. Mr Seow says: "It strikes the right balance between what we like, and what will appeal to a wider audience."
They plan to expand their menu in the future by adding tapas items such as truffle fries and chicken wings - but with an Asian twist, of course.
The birth of Monochrome Fusion Bistro took place at a novelty cafe in the Jalan Besar area. Mr Seow had taken his real-estate mentor, Jane Neo, for a meal to celebrate the sale of a property, and they wound up talking about his passion for the F&B industry.
He recounts: "I was telling her about how the cafe business works, its structuring, concept, and why it's so popular these days. She acknowledged my passion for it, and encouraged me to think of a workable idea."
His idea was to stick with the food he loved and to be creative with the decor, without a focus on being trendy. He says: "Black-and- white differentiates us from the many novelty cafes with an industrial look, we wanted something classic that lasts."
By Avanti Nim
avantin@sph.com.sg

This article was first published on Feb 28, 2015.
Get The Business Times for more stories.