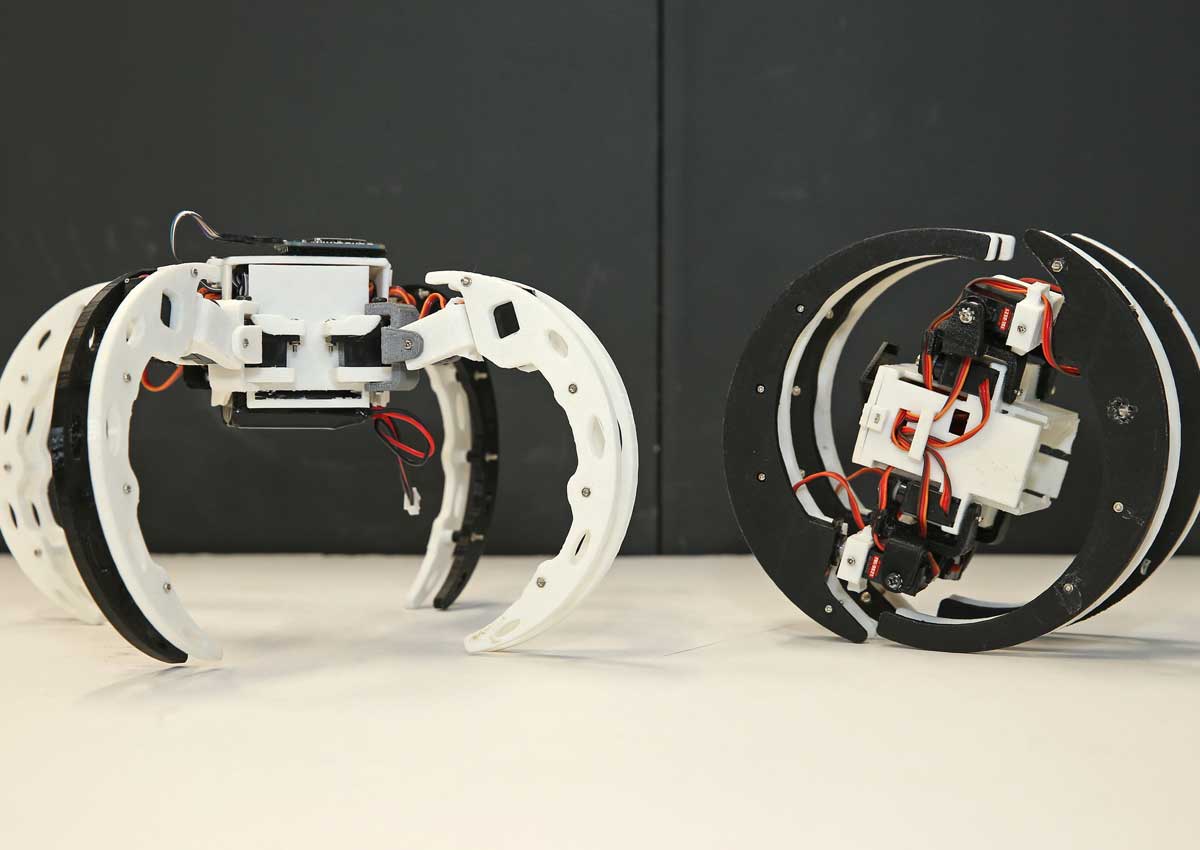 Spider robot to the rescue
Inspired by the Cerebrenus rechenbergi, a species of huntsman spider, this spider-like transformer robot can roll and somersault just like the real arachnid.
Named Scorpio, it was developed by Singapore University of Technology and Design (SUTD) researchers and can be operated remotely for use in search-and-rescue missions.
It is also able to morph into a circular shape, allowing it to roll and crawl uphill and downhill.
In autonomous mode, it makes use of colour, texture and orientation information to evaluate the terrain before changing its structure to suit it.
Dust-buster extraordinaire
This shape-shifting vacuum cleaning robot, Hinged-Tetro, was inspired by the popular game Tetris.
It is able to transform itself into any one of seven one-sided tetrominoes (geometric shapes formed by four squares) to fit into hard-to- reach areas like room corners.
Designed by researchers from the SUTD, it consists of four hollow cubes with an internal rib-like structure to minimise weight.
A medical first
This robot made medical history in July, when it was used in a kidney transplant done through the vagina instead of a standard incision.
The feat took place at the University Hospital Centre in Toulouse, France.
The transplant involved two sisters, with the donated kidney implanted immediately after removal.
Care for a brief flutter?
This paper origami crane is not just pretty to look at. It can also flap its wings and fly.
Created by Rohm, a major maker of semiconductor devices and other electronic parts, the 30cm- long invention weighs just 31g, and takes flight with the help of an ultra-light motor.
It is remotely controlled and can keep itself afloat for around five minutes.
Cheers to efficiency on the go
Murata Cheerleaders are a team of small robots that can move swiftly in any direction and remain upright using three advanced gyro sensors, which are also used in digital cameras and car navigation systems.
Each robot is equipped with four infrared sensors and five ultrasonic microphones to detect surrounding objects, even in the dark, which allow them to do high-precision dance routines without colliding.
Maker Murata Manufacturing, a global leader in advanced electronic components and solutions, says this technology could lead to safer and more efficient vehicle and transportation systems. 

This article was first published on October 16, 2015.
Get a copy of The Straits Times or go to straitstimes.com for more stories.