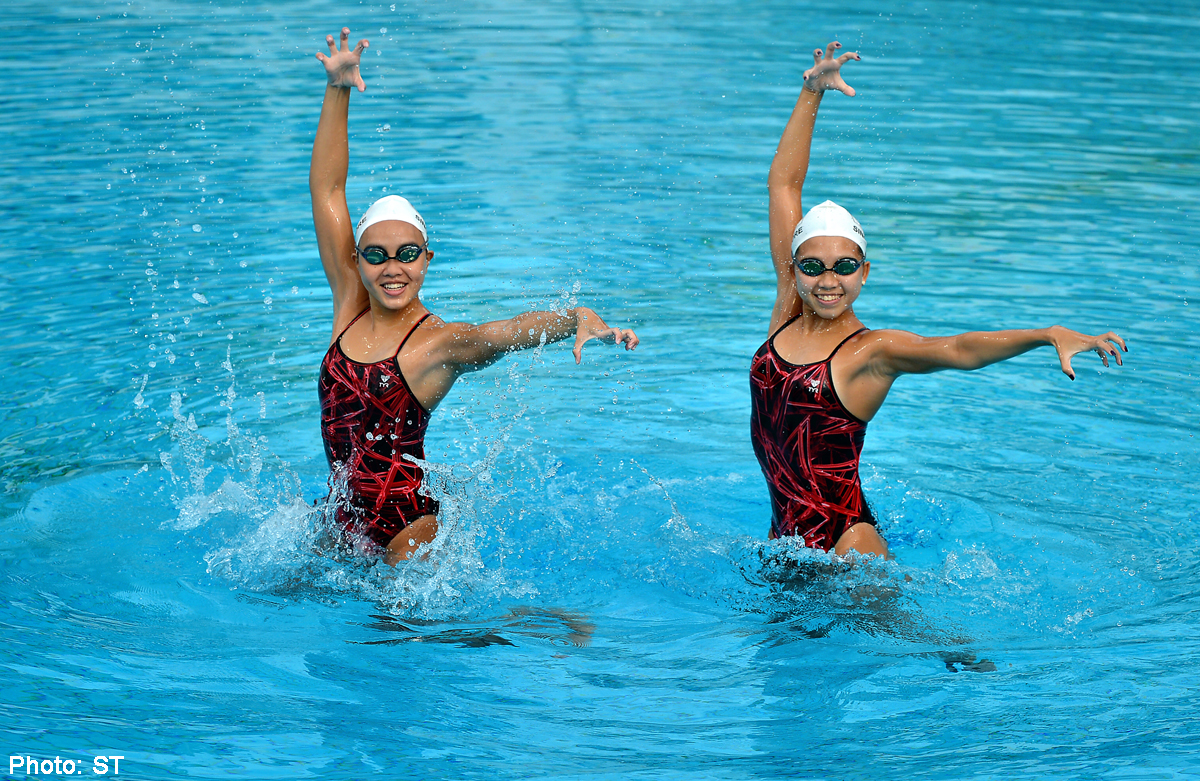 Scoring above 70 points in competition was once a psychological barrier for synchronised swimmers Stephanie Chen and Crystal Yap.
That glass ceiling was broken in 2011 when they won two silver medals at the South-east Asian (SEA) Games in Palembang, crossing that mark for the first time.
The duo have set themselves a new milestone - a gold medal in next year's SEA Games in Singapore - and have decided to defer their studies for a year to achieve this dream.
"It's not going to be easy as you would need something in the mid-70s to win at the SEA Games but we're working towards it," said Chen, 19, who will postpone pursuing a degree in food science at an overseas university for a year until after the June 5-16 Games on home soil.
Partners for five years in the national team, there has been steady progress from the pair, who scored 74 points to defeat their main rivals Malaysia for the first time in the free routine category at the Southeast Asia Swimming Championships in June.
In the two SEA Games (2001 and 2011) that have included synchronised swimming as part of its programme, Malaysia have swept all seven gold medals on offer.
Tampines Junior College student Crystal, 18, has delayed sitting for her 'A' Levels examinations for 12 months and is desperate to end that dominance next year at the OCBC Aquatic Centre.
She said: "There's definitely pressure on us as we've made the decision to train full-time. I cannot imagine if we don't make it and not win the gold medal."
National coach Maryna Tsimashenka, 47, who led her country Belarus in the 2008 Olympics, is refusing to read too much into her charges' recent victories.
She said: "Malaysia have more history in this sport than us. Their swimmers are also older and more experienced. Synchro swimmers usually hit their peak in their 20s so our girls are still young (Chen is the oldest in Singapore's squad) and there's more improvement needed from them."
One thing that cannot be faulted is their commitment. Together with their other 10 national teammates, the group spend between 35 to 45 hours weekly - half-day sessions on the weekends with only Mondays off - to train at the Toa Payoh Swimming Complex.
Under Tsimashenka's watchful gaze, they practise their routines repeatedly while strapping weights to their ankles, wrists and waist as part of resistance training to upgrade their explosive power.
Stamina-building exercises consist of 10 sets of 25m laps while also holding their breath for each lap. Breaks are used to review the video of their last routine.
"People don't realise how much time and effort is put in for a routine that lasts a couple of minutes," said Chen, who suffers from chronic wrist and ankle injuries developed during her career.
The level of endurance and strength needed to do splits, spin and flip in and out of the water is also unappreciated, said Yap. She added: "Hopefully it'll all be worth it next year."
jonwong@sph.com.sg
This article was first published on Nov 28, 2014. Get a copy of The Straits Times or go to straitstimes.com for more stories.