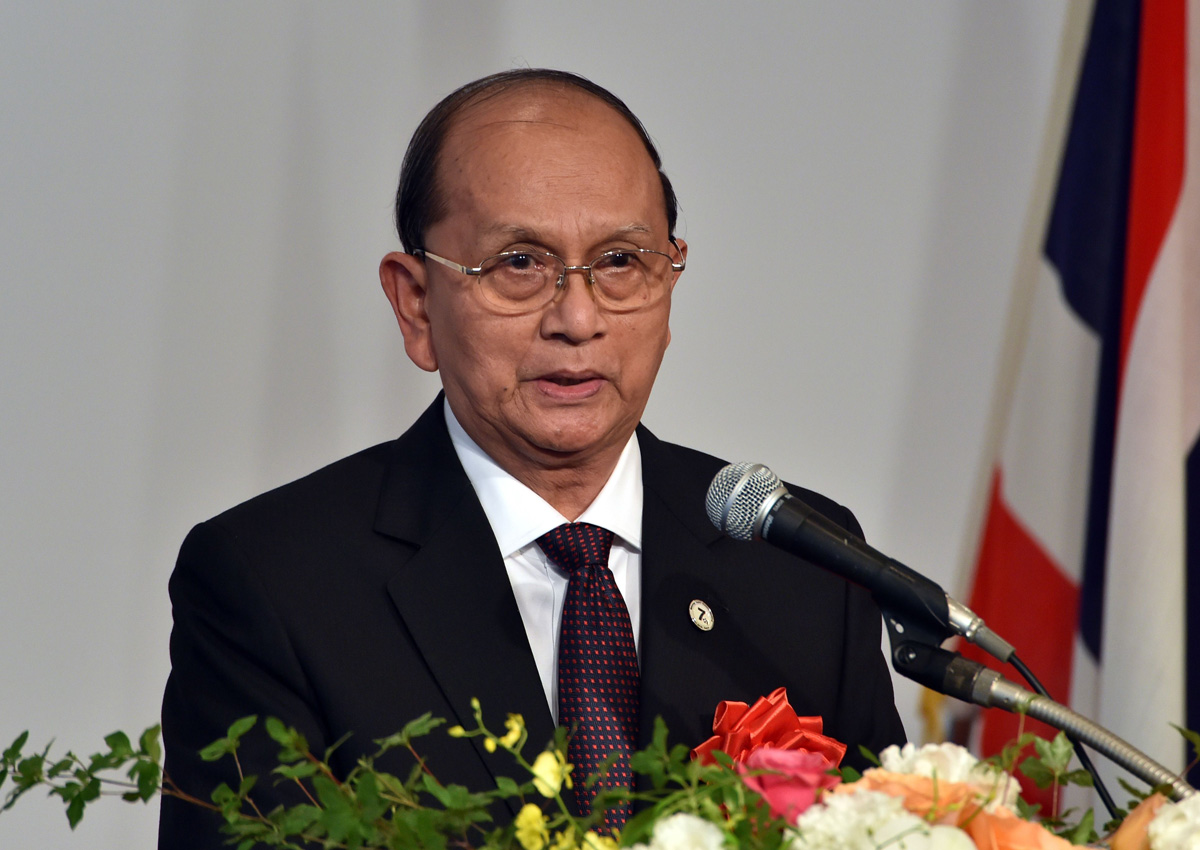 Eight years ago this day, a piquant situation involving Myanmar unfolded in Singapore at the Shangri-La Hotel's Waterfall Terrace. The heads of ASEAN states, gathered in the city-state for their annual summit, were meeting over an informal dinner. On the table, aside from sea bass, roast veal and ice cream, was what was expected to be a frank "family" conversation.
Myanmar was under severe Western sanctions then after the authorities cracked down on protesters and United Nations Special Envoy Ibrahim Gambari - whose mission was to convey the UN Secretary-General's clear message to Myanmar's rulers and promote national reconciliation - was billed to address the East Asia Summit (EAS) the next day on the progress he had made.
Most ASEAN members had approved of the idea. But then Myanmar, which initially seemed to go along, began to relay queasiness as the day approached. Its foreign minister at the time, Mr Nyan Win, clearly uncomfortable about discussing Myanmar's political situation at an international forum, told his counterparts that while he did not mind Prof Gambari briefing the ASEAN summit on his mission, he did not want this extended to the EAS.
When his boss, then Prime Minister Thein Sein, arrived in Singapore, there was a bigger volte face. No Gambari briefing, Mr Thein Sein insisted, and not even a briefing to the ASEAN leaders.
Indonesia, Thailand, the Philippines - even Malaysia, seen as most sympathetic to the generals - spoke up. But Mr Thein Sein, possibly under orders from higher-ups, would not budge, saying this was a matter between Myanmar and Prof Gambari, and between Prof Gambari and his UN bosses.
If they wanted Prof Gambari's report, they could ask their envoys to the UN in New York for a copy.
Within the polite councils of ASEAN this was the equivalent to Nikita Khrushchev's gesture of banging his shoe on the table during the 1960 UN General Assembly session. Having made his point, without theatrics, the unyielding Mr Thein Sein calmly finished his ice cream and went to bed.
As a person who listened to the former general's intervention told me later: "Thein Sein was saying that I look after my own house. You cannot come in and rearrange the furniture. The furniture may not be great but I do it the way I want it. End of matter."
Looking back in the light of events of the past month, it is amazing to consider that the ex-general is the same person that oversaw - indeed, pushed - the remarkable democratic transition under way in Myanmar.
Given the nation's history of military rule for more than half a century and the enduring influence the armed forces have in key matters such as defence and border affairs, and the guaranteed quota of one-quarter of parliamentary seats, it is important to shine a light on this 70-year-old leader from the Irrawaddy delta, even as the world celebrates the massive mandate delivered to Ms Aung San Suu Kyi.
When he was appointed President in March 2011, it was widely felt that Mr Thein Sein was a mere puppet of the junta chief, General Than Shwe, a soldier who seemed to have endless resources. Indeed, the late Mr Lee Kuan Yew remarked in 2007 that the general's diamond-bedecked daughter had been "dressed up like a Christmas tree" at her wedding the previous year. Mr Lee, who mused that a country so endowed with natural resources should remain a backwater, had predicted then that the junta would not be able to survive indefinitely.
Perhaps Mr Thein Sein recognised this too. Known to be squeaky clean, he has always held his defining childhood experience to be poverty and his role model no less a person than General Aung San, Ms Suu Kyi's father, who led Burma to independence.
In December 2012, this newspaper's editors were so impressed by Mr Thein Sein's apparent sincerity and determination to unleash Myanmar's potential that they picked him for the inaugural Straits Times Asian of the Year Award. Today, our early trust in Mr Thein Sein's resolve and good intentions stands redeemed.
His twin objectives, he once told my colleague Nirmal Ghosh, our well-connected Indochina Bureau chief, were political stability and enhancing the legitimacy of the state. On the success of the first, only what happens in the months ahead can tell. On the second, he has exceeded expectations, convincing even the worst sceptics that the Nov 8 polls were indeed free. In the process Ms Suu Kyi's National League for Democracy has unseated military-backed incumbents even in areas where the armed forces and the administration dominate.
Truly, these are remarkable times for Myanmar, for ASEAN and indeed, for Asia. After Vietnam, which is steadily opening up and whose economy is poised to gain from its membership of the Trans-Pacific Partnership, Myanmar is the last big frontier market of the region. Recognising this, in 2013, the World Economic Forum held its annual East Asia meeting in Naypyitaw, the first time it had picked Myanmar as a venue.
WEF delegates, including myself, had the privilege of being present when Ms Suu Kyi announced that she'd like to be president of her nation, a near-impossibility given that the current Constitution proscribes anyone with close kin holding foreign passports from that position. "I want to run for president and I am quite frank about it," she said, memorably dressed in crimson with the trademark flowers in her hair.
We later heard Mr Thein Sein declare that he would turn the centrally run economy into a free market and from military rule to democracy. "We will never waver in this task," he vowed.
Now that Mr Thein Sein has delivered on his promise, the hard work begins for the Lady, as Ms Suu Kyi is known. Top of the list of issues she has to confront is the political one on Rohingya - Muslims from Rakhine state who are disenfranchised and live pitiable lives, many in special camps. Indeed, not only are the Rohingya not recognised as one of the 135 ethnicities of the country, the government does not even permit use of the word. It was a rare blot on Mr Thein Sein's record that he ordered that Rohingya either face expulsion or live in camps.
Perhaps sensing a trap laid by the military, which would have liked her to stumble on an issue that matters deeply to the Buddhist majority, Ms Suu Kyi has largely remained silent on the issue, to the disappointment of many of her fans abroad. She now has the moral and political authority to speak up for their more humane and just treatment. Of course, doing this will not be easy: The radical Buddhist monk Ashin Wirathu has already fired a shot across her bow on the matter with a clear warning. She should ignore the threat and draw strength from the fact that her own father, Gen Aung San, had included religious and ethnic minorities in his Cabinet prior to his assassination in 1947.
Internally, while there is a ceasefire in place with several ethnic minority insurgent groups, some of the most powerful and fierce ones, such as the Kachin, are not part of the deal. The danger is that should either the religious or ethnic issue flare up, elements in the army will gain voice in their aspiration to take back control.
The economy needs fixing, and quickly. Among a host of other issues, power shortages, and minimum wages imposed by the government, have taken some of the shine off manufacturing in Myanmar, even as labour-intensive industries continue to move into countries like Vietnam, Laos and Bangladesh. Factory workers are her fans massively and she will have to balance their interests while keeping Myanmar a competitive spot for business.
Foreign policy is also going to be tricky. Ms Suu Kyi knows only too well that various arms of Western governments have worked strenuously to coax Myanmar into its current situation. The favours will have to be repaid, if nothing else by maintaining Myanmar's traditional neutrality. This may not be enough for some powerful neighbours, whose insecurities are rising by the day. This week, in an interview with Xinhua, the Lady made polite noises but deftly committed to little.
She would be well aware that the massive mandate she has crafted also comes with matching expectations in her ability to govern, and deliver results. Often this involves pushing against established interests. However hard she may want to try, the task is simply too enormous to be accomplished swiftly, as Indonesia's Mr Joko Widodo or India's Mr Narendra Modi could no doubt tell her.
Ms Suu Kyi has declared that she would be "above the President" and that whoever was President would do her bidding. Perhaps, like Nelson Mandela in South Africa, she intends to rule for just one term.
On the other hand if she aspires to stay longer, it may just be politically prudent to put some distance between the de jure President and herself - if only because it would be convenient to have someone else to share the blame.
At least, for that reason it, may be wise to pick a former military man for the presidency and put some of the military men in her Cabinet.

This article was first published on Nov 20, 2015.
Get a copy of The Straits Times or go to straitstimes.com for more stories.