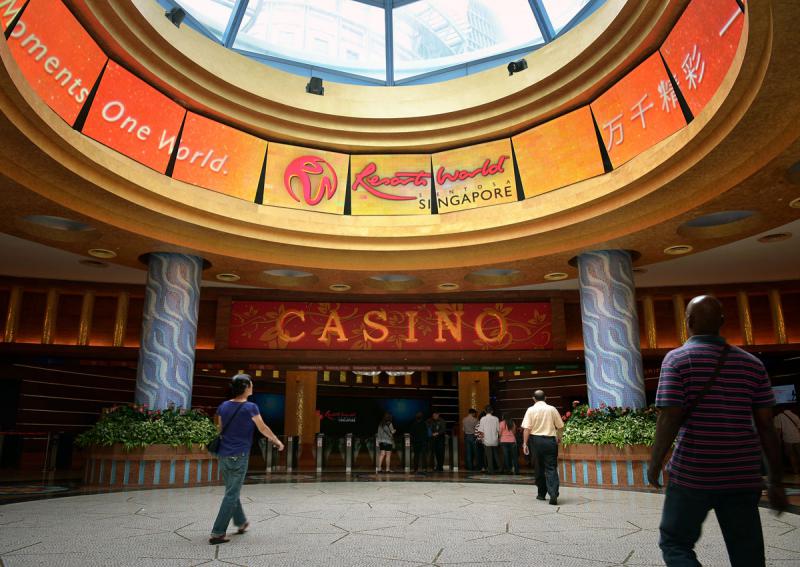 EVEN though Genting Singapore's earnings are slipping amid increasing competition, the casino operator remains highly profitable and a cash cow, its executive chairman, Lim Kok Thay, has asserted.
He said that bad debts, while on the uptrend, were under control, and indicated that the opening of a US$1.8 billion integrated resort on Jeju Island in South Korea next year would boost earnings.
"Yes, it (earnings) may be diminishing but the question is how fast and whether we are maintaining our margins - that's more important," he remarked in an interview last week.
"Of course, if fewer people are visiting us, you would expect to make less. But if we can maintain our margin, which is fairly attractive, I think the company should be okay. If it's a cash cow, it's okay to be stagnant."
Over the past few years, the operator of Resorts World Sentosa has seen an overall slump in earnings with the drop last year particularly pronounced.
Its performance is not likely to improve this year. For the first quarter ended March, its core profit of S$66 million came in below consensus and accounted for only 17 per cent of full-year estimates.
Affin Hwang Capital attributed the negative surprise to higher bad debt provisions of S$92 million - a fifth more than in the same period last year. It said that management had anticipated a tapering in bad debt provisions this year but it was likely to remain more elevated. Its credit has been reduced to 30 days from 90.
Notwithstanding the slowdown, Mr Lim contended that the company would not be as badly hurt, owing to the group's conservative write-off policy for bad debts and the creation of funds to deal with it. "You just have to have a strategy that would provide you the right reserve to be able to do this sort of business; otherwise, you shouldn't do it at all."
One of the world's biggest gaming companies, the Genting group has casinos elsewhere, including the US, the UK, the Philippines and Malaysia.
But Mr Lim acknowledged that the window of opportunity was narrowing and that it would not be as easy as before given the proliferation of legal - and illegal - gaming outlets.
Macau's gaming market slumped to a five-year low last year as casino revenues continued to decline. The US$29 billion collected last year was about a third less than in 2014. Even so, gaming giants Las Vegas Sands, Wynn Resorts and MGM Resorts plan to open another multi-billion dollar resort each this year, according to reports.
Mr Lim said: "I think gaming has already been oversold as can be seen by the Macau situation but having said that, of course, there are opportunities such as Jeju. Let's see what Jeju brings for Genting Singapore."
Management is aiming to trim gaming revenue to 50 per cent of group revenue from 60 per cent now.
In the interim, the group is looking at other businesses that have the potential to become core, Mr Lim said. But he observed that even though the non-gaming segments of the group would grow faster, they would not necessarily be more profitable. "We can do nothing - just hold on to our success but the only permanency is change. I cannot expect gaming to remain profitable forever."
Genting Singapore's share price has slipped 22 per cent in the past year and Mr Lim conceded that its bottom line was unlikely to excite.
"It will not make everybody happy but would I panic? I wouldn't think so. It's a matter then of waiting for the next opportunity to come along rather than doing something stupid.
"So we do things one step at a time. Will we do more beyond Jeju? Sure, if Jeju turns out to be a success, we will look at something else but not before Jeju is up and running. The focus in Singapore now is on how to make Jeju a success."
btworld@sph.com.sg

This article was first published on May 23, 2016.
Get The Business Times for more stories.