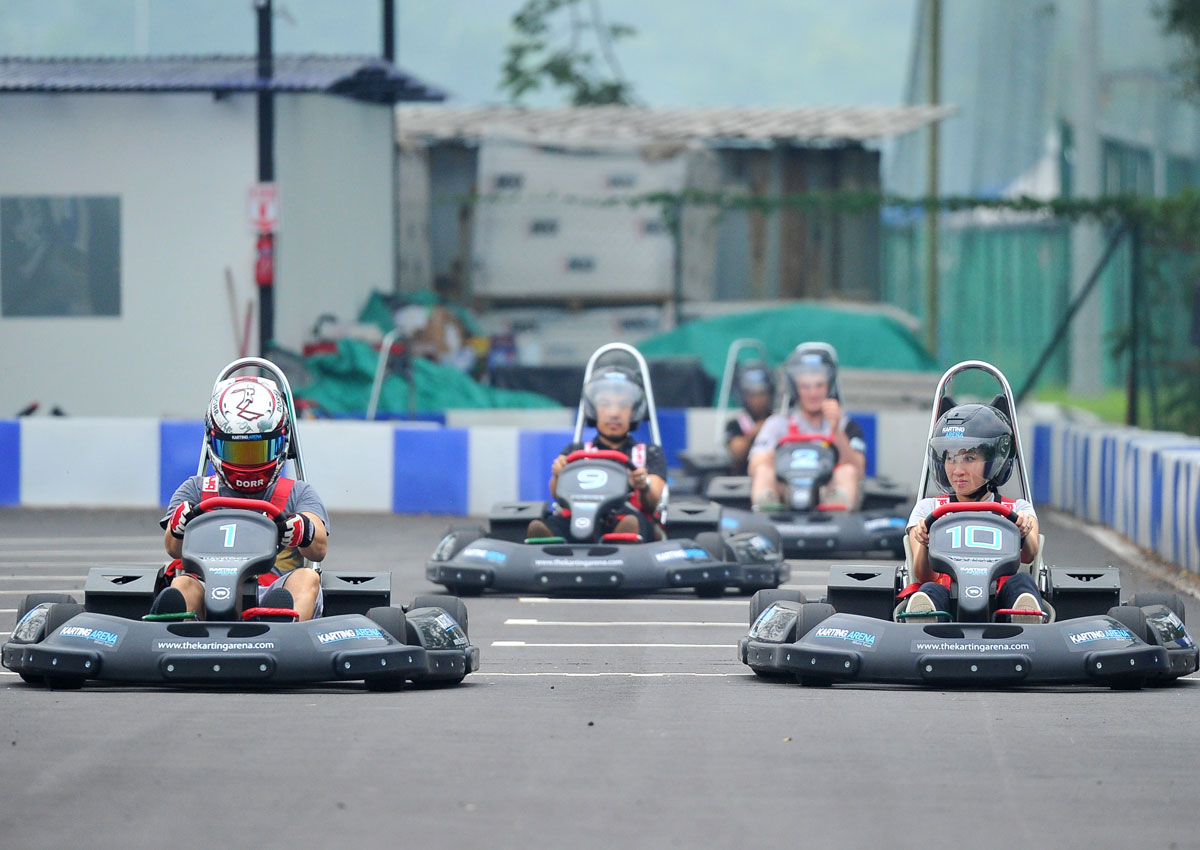 With the excitement of the Formula One Singapore Grand Prix still in the air, those who are hoping to get a taste of what it is like to speed down the tarmac can head to The Karting Arena @ Bukit Timah.
The $1.4-million karting circuit, Singapore's first electric karting track, opened at Turf City, Bukit Timah on Tuesday.
Founder and full-time race car driver Yuey Tan, 33, says that the track, designed specifically for leisure karting, will allow customers to enjoy karting as a social activity - which is something he hopes will help raise awareness of the sport.
"We want everyone in Singapore to enjoy it, but the market generally perceives karting as a competitive and an expensive sport."
The Karting Arena, which has a 500m-long track with 11 turns, offers individual sessions at $25 for eight minutes - approximately seven to 12 laps.
How does this compare to what is on the market in Singapore?
Kartright, a circuit in Upper Jurong, charges adults $35 to $45 for an individual session of 10 minutes. KF1 Karting Circuit, located in Woodlands, charges adults $28 to $45 for the same.
The Karting Arena also offers bookings for corporate and customised events with rates starting from $1,498 an hour.
The new venue uses electric karts, which run on batteries as opposed to petrol like in the more common motorised karts.
"An electric engine means a lot more torque and initial pick-up," Mr Tan says. "So you get better acceleration and a better overall experience."
At the arena, non-licensed drivers have a speed of 30kmh, while licensed drivers have a limit of 50kmh.
Although drivers have to be at least nine years old and 1.4m tall, karting is still something the whole family can enjoy.
"We found out about this place months ago and every week the boys have been asking, 'Are they open? Are they open?' They've really been looking forward to this," said Mrs Jeanine Stewart, a housewife in her 40s. She visited the arena with her two sons, Jack, 13, Sam, 11 and their friend Ollie Blakey, 11.
"It's fun to go fast and race with others," said Jack.
National serviceman Joash Tan, 22, says that karting is definitely something he would try.
"It's a bit pricey but it would be something fun to do with friends. I can drive, but it does not provide the same thrill and adrenaline rush as being able to race on the track."
melheng@sph.com.sg
Go to http://str.sg/ZByN to feel the adrenaline rush.

This article was first published on September 25, 2015.
Get a copy of The Straits Times or go to straitstimes.com for more stories.