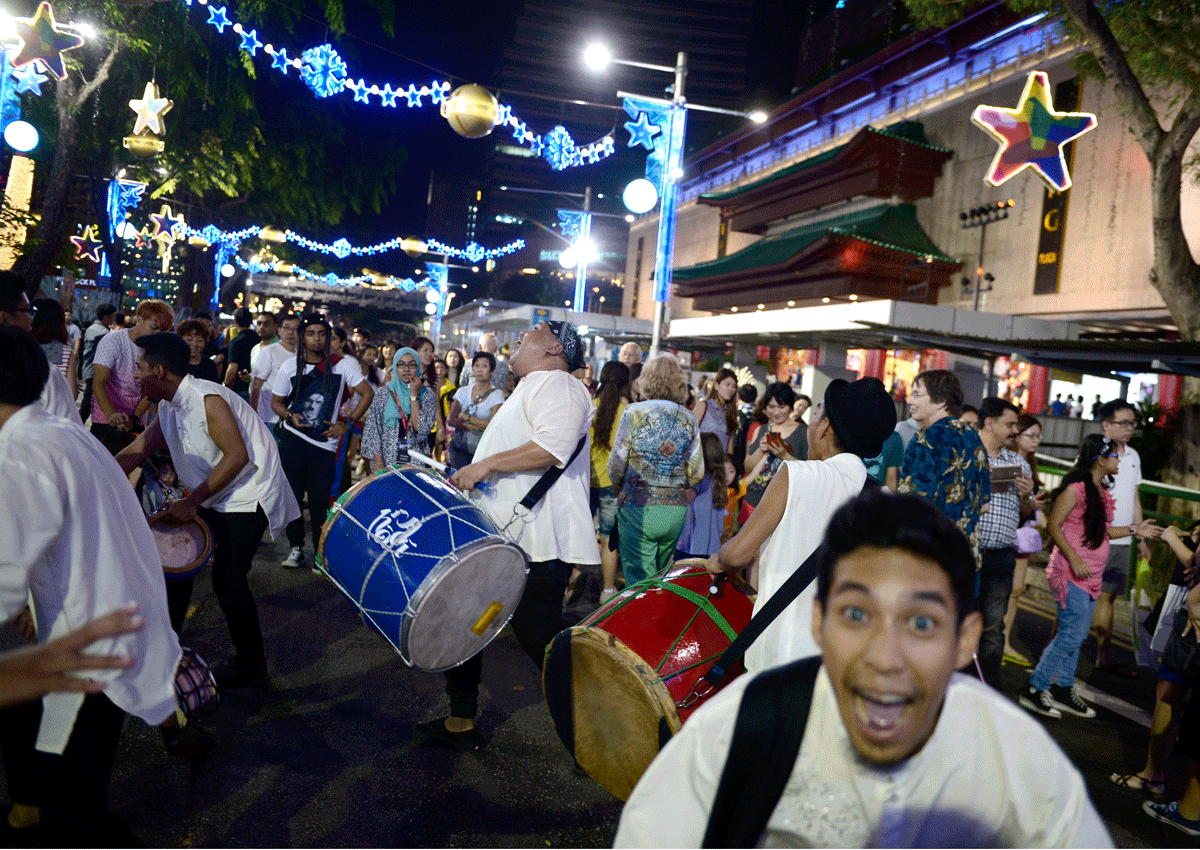 Seven years ago, I ran headlong down the middle of Robinson Road.
Flanked by skyscrapers, this artery through the heart of the Central Business District (CBD) would ordinarily be coursing with cars, but that morning it was full of sweaty bodies on their way to completing a marathon.
Running on that open road, with no cars or traffic lights to stop for, I was filled with an overwhelming sense of freedom.
It is no surprise then that when the news broke last week that a 4.7km route in the Civic District and CBD would be closed to cars for one Sunday morning each month starting February, I was among those cyclists and runners thumping their fists in glee.
The six-month pilot by the Urban Redevelopment Authority (URA) is aimed at giving over road space to cyclists, joggers and walkers, by either fully or partially closing the roads to cars and motor vehicles.
OPEN STREETS
The global movement known as Open Streets began in Colombia in the 1970s. Its arrival here sends a clear message to all that the roads are as much public spaces for pedestrians and cyclists as they are for cars.
This message in car-centric Singapore is a bold but important one and the authorities should take the chance to drive the message home. But it appears the URA is taking a cautious approach, so the public can have "time to adjust to the road closures".
For now, most of the roads - including Robinson Road, Shenton Way and Collyer Quay - will be closed to traffic from only 7am to 9am.
The exceptions are St Andrew's Road and Connaught Drive around the Padang, which will be fully closed till noon.
This approach limits the pilot's reach and impact. How many ordinary Singaporeans will make their way down to the CBD at that early hour of the morning to catch the narrow window of road closure?
By the URA's own admission the chosen roads are "under-utilised" on Sunday mornings - so few motorists would be inconvenienced.
Transport consultant Gopinath Menon is of the view that the road closures should last half a day. He points out that the Orchard Road Pedestrian Night closes off a 660m stretch of busy shopping street for five hours.
"The idea is to get people used to the idea that there are alternatives to the car; they might not be as convenient, but they are just as nice," says Mr Menon.
With a longer timeframe, families will be able to take a stroll from City Hall to the National Gallery and take in the sights of the Civic District before maybe getting to Lau Pa Sat for lunch. After all, if the idea is to "enhance liveability", it makes sense to give people time to savour this rare chance and enjoy these urban surroundings away from the din of traffic.
Some of Singapore's neighbours understand this keenly.
In Jakarta, thousands take to their bikes every Sunday morning as some of the city's main thoroughfares are closed to the chaos of traffic for up to five hours. Swarms of motorcycles, cars and buses are replaced by cyclists and joggers of all stripes.
If this is possible in Jakarta, one of the world's most congested cities, why not Singapore?
Dr Alexander Erath, a transport researcher at the Singapore-ETH Future Cities Laboratory, agrees that the current duration of the event seems short compared to similar initiatives abroad. He adds that there is scope for expansion to other parts of the city.
"I would love to see other areas included, especially those with more active ground floor usage such as Rochor, Little India and Chinatown since those adjacent businesses then could actively be engaged in making it a lively event," he says.
But experts also acknowledge that car-free initiatives evolve over time, garnering community support as they grow.
ROADS FOR ALL
Open Streets started out in the Colombian capital of Bogota as a relatively inexpensive way to combat congestion on the roads. It has since evolved into a statement that roads should be public spaces for all, and not just those who own cars. Called ciclovia (Spanish for cycleway), the weekly event in Bogota sees over 120km of roads closed to vehicles every Sunday.
Up to two million people - out of the city's population of about seven million - attend. To say it has been a roaring success would be an understatement.
Reports abound on how the event has boosted both business and public health. It has also fed the country's love of cycling - helping to shape talents like Nairo Quintana, who finished second at the Tour de France last year.
Former Bogota mayor Enrique Penalosa said it sends the message that "a citizen on a $30 bicycle is equally important as one in a $30,000 car".
That could well resonate with many Singaporeans for whom cars are increasingly out of reach, with premiums for certificates of entitlement hovering around $50,000. More than half of all households do not own a car.
So equity is a concern locally and road sharing is a practice Singapore has been trying to promote.
For starters, the URA has set up more weekend pedestrian zones, where roads are transformed into temporary public spaces. The movement began in Haji Lane two years ago, and has spread to Club Street, Circular Road and Liang Seah Street.
The project has been a boon for businesses, which say takings have increased because of the added foot traffic.
Experts say such activities discourage car use and promote walking and cycling in a subtle way.
There will likely be an emphasis on this "soft approach" in future, as the Government ramps up public education on the issue in tandem with its efforts to build cycling infrastructure in HDB towns.
Last November, the LTA called a tender for consultants to run promotional campaigns this year on active mobility.
This comes on the heels of increased spending by the Ministry of Transport on cycling-related infrastructure.
In the 2015 financial year, it is spending $13.5 million, almost double the amount from a year before, according to latest government Budget estimates.
"The two must go hand-in-hand," says SIM University adjunct associate professor Park Byung Joon. "The campaigns alone may not encourage people to cycle, but it keeps cycling in the public consciousness, so when the infrastructure is ready, it's easier for people to jump on that option."
The ultimate goal is to wean more people off cars. One way to do this is to get them to adopt cycling or walking as a first and last mile commute option - and use public transport for the bulk of their journey.
Peak-hour public transport mode share currently stands at over 65 per cent, but the Government wants to raise this to 75 per cent by 2030.
STARTING YOUNG
Safety remains a big concern for cyclists and especially so for the young. One area that remains to be explored is cycle training for the young.
In Britain, the Safe Routes to Schools campaign encourages children to walk or cycle to school, by building and identifying safe routes that allow them to get there safely away from traffic.
In the Netherlands, safe cycling practices are embedded in school curriculums.
Such education was identified in a 2012 paper by the LTA as a key pillar to supporting a "bicycle renaissance".
This could easily be done here by building cycling paths to schools, and modifying traffic lights and road crossings so children and bicycles get priority, said Mr Francis Chu, co-founder of cycling group Love Cycling SG.
As it is, the Government encourages parents to enrol their children in schools within a 2km radius of their homes - a distance easily covered by bike, if not on foot.
"Children are the seeds of the future, if we start young they have a lifetime to become good drivers and cyclists," says Mr Chu.
That, in turn, paves the way for good road-sharing practices.
dansonc@sph.com.sg

This article was first published on January 7, 2016.
Get a copy of The Straits Times or go to straitstimes.com for more stories.