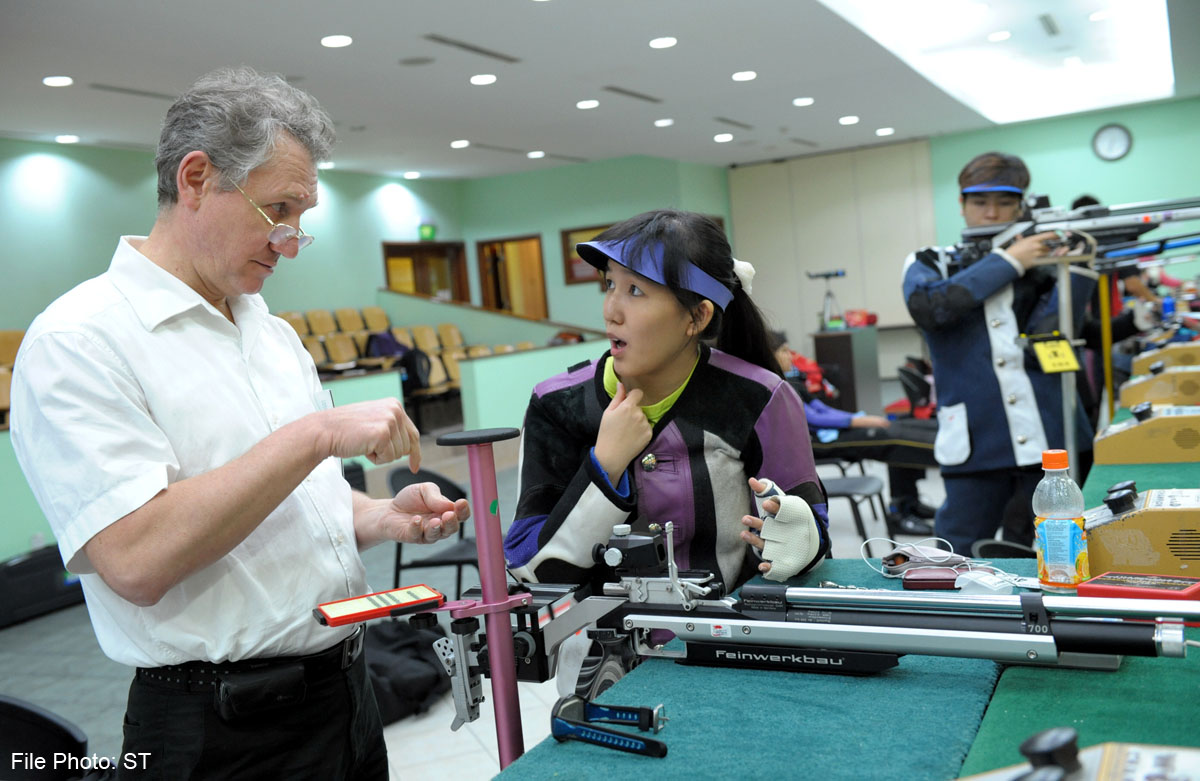 In a corner of the shooting range yesterday afternoon, a chicken-rice eating, laksa-loving Russian is cleaning a Singaporean's rifle with devotion.
He kneels, he swabs the barrel of Jasmine Ser's gun, he jokes: "If you see a guy with grey hair here, he must be a coach."
Kirill Ivanov's hair is silver and on his 54-year-old face are carved the long, slim trenches of time.
He has - in the morning during competition - been studying Ser, who sets an Asian record in the 50m three-positions qualification and then folds with inexperience in the final. I have been studying him.
Ivanov, as we sit together for a while, is a monk of immaculate restraint. If he is not in control, how can he expect his athlete to be?
He draws circles in his notebook, registers every score and fills mental files with every fidget and frown she makes: "I'm looking at her body stability, gun stability, recoil control, emotional control."
Only once, after two 9s, does he emit a gentle "ohhh" and I am drawn to his quiet agony.
"If I don't have emotion, I don't have grey (hair)," he says. He can't shoot for her, yet his heartbeat is vaguely connected to her trigger.
Later, as he cleans the rifle, Ser arrives and sits across him in whispering distance.
She has lost here, yet they are already planning how to win somewhere else. Teacher and pupil start to strip down the final. Muscovite and Singaporean chasing greatness together.
It is an image which inspires for it reflects sports' enduring ability to dissolve borders. In increasingly insular societies, these tiny cross-cultural relationships remind us that knowledge need not be guarded.
In the simple transfer of rifle-holding technique rests a lesson in humility: that we can still learn from each other.
At these Games, Singapore are assisted by coaches from Hungary to Peru and from Thailand to South Africa. There is not a continent we will not investigate for help, yet we have company.
India have found wrestling expertise in a Georgian and befriended a Cuban in boxing. Accents may differ, and culinary preferences collide, but a hunger for a medal is both a glue and a common language.
Gentle ironies are at work. China teach the world sport, yet swimmer Sun Yang was honed in Australia. Even beyond these Games, sport preaches an international understanding.
British runner Mo Farah is trained by American Alberto Salazar while India's cricket team, raised from a pool of a billion experts, are managed by a fellow from Zimbabwe, a nation of 14 million, who prefer football.
If travellers of an older time carried maps, these short-panted coaching wanderers carry laptops with data on biomechanics. They teach us, yet they learn, too.
It is dedicated work that has something to do with salary but nothing to do with fame.
They are not Vince Lombardi, whose quotes are hurled around like wise confetti, nor are they Alex Ferguson, whose statue seems to grow larger by the day. If they make us better, they will do so in anonymity.
The best coaches build dreams and also character.
As Jelena Gencic told the New York Times about the young Novak Djokovic: "I gave him books, not books for young boys, books for older, about life, not just tennis. I liked classical music and he listened with me."
Similarly Sergio Lopez, who like Ivanov won a bronze at the 1988 Seoul Olympics, has been mentor to Joseph Schooling but also friend.
He is a burly swimming architect from Spain to whom Schooling admits he can reveal his most intimate fears.
"I only trust a very few people on this planet," says the swimmer, "and it's safe to say Sergio is one of them."
Sacrifice as a virtue is routinely bestowed on athletes, yet it is equally applicable to coaches.
Ivanov's wife and daughters reside in Moscow and for all his three or four visits home a year it is a love nourished on Skype.
In a plaintive moment he says: "I miss my family, but also my country" yet he is clear: "I spend my (current) life to help her (Ser)."
Thirty hours a week or so, he and Ser plan, talk, train. It is to him that she can bring her rawest emotion and her unvarnished opinion: "Yes, we have open disagreements."
It is to her that he can bring cold, necessary honesty, saying of her gold-medal winning Commonwealth Games final: "It was not bad but not excellent."
As I eavesdrop with permission, she speaks of getting into the "zone" faster in finals and he says he's going to make training "more difficult". On they go, dissecting and deliberating, coach and athlete, and as I wander away from a private moment, I wonder:
Perhaps one day Singapore will develop our own experts and a fellow from Yishun will be teaching pistol technique to a boy in Perth. Though getting him to eat durian might be another matter entirely.
rohitb@sph.com.sg

This article was first published on Sept 27, 2014.
Get a copy of The Straits Times or go to straitstimes.com for more stories.