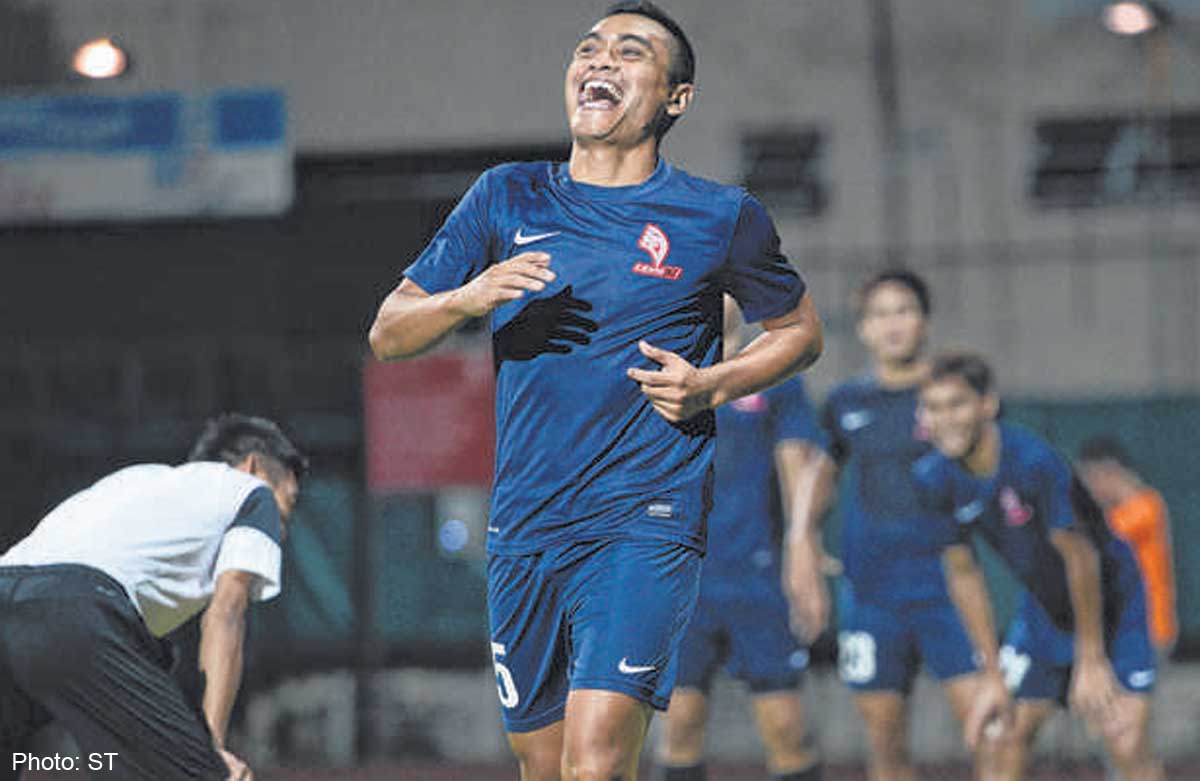 THE ball was on the penalty spot. Sufian Anuar took aim, shot and then looked away in disgust as his effort was parried away.
While that moment took place merely in a training session on Monday, as the LionsXII rehearse their tactics and polish their finishing ahead of tonight's Malaysian FA Cup first-round game against DRB-Hicom, it was evident that the 26-year-old striker took his craft seriously.
A little too seriously - according to LionsXII coach Fandi Ahmad, who is nevertheless putting his faith in Sufian by fielding him as the main striker against Hicom at Bishan Stadium, with first choice Khairul Amri doubtful with a groin injury.
He said: "Sufian is very critical of himself. He has this big burden to score goals for the team and I want to help him overcome that fear.
"I would tell him not to let it bother him. Even if he misses five chances, it will be good if one hits the net. I think he's playing well so far and his work rate is very good."
While Sufian prepared to lead the LionsXII line on Tuesday night, things could have turned out very differently for him, as he started his career as a goalkeeper.
While playing for the National Football Academy Under-17s, then-coach V. Sundramoorthy converted him into a striker.
"I was the second-choice goalie then," he recalled.
"Maybe Sundram felt that I will be wasted on the bench."
Since then, he has grown from strength to strength, scoring five goals in his first stint with the LionsXII in 2012 and energising the team with his non-stop running.
With Fandi bringing him back into the LionsXII fold after a year away with S-League outfit Warriors FC, Sufian declared: "I want to help my team to start winning again.
"Once we taste victory, our confidence will go up. I hope to contribute with my runs into space and my aggression."
Last Friday, the defending Malaysian Super League champions started their league campaign on a losing note, going down 0-1 to Pahang in Kuantan.
Against the Malaysia Cup holders, their 4-3-3 system was undone when they struggled against the hosts' pacy wingers and a back injury to central midfielder Isa Halim.
And on a wide Bishan pitch, Fandi intends to congest the midfield to frustrate Hicom - who finished sixth in the second-tier Malaysian Premier League last season - by stringing four men across the middle of the park in a 4-4-2 system, with the hardworking Hafiz Sujad partnering Isa.
Still, the 51-year-old believes too much has been read into his match strategies.
"It's not about formations," the former national captain said.
"Be it 4-4-2, 4-3-3 or 4-2-3-1, these all sound good to listen to. But what is important is we need to win to get our morale up and lift our spirits again.
"We are struggling to score, that's why we have been working on our finishing technique.
"We simply have to shoot. Any midfielder or winger who has a chance will have to take the opportunity."
Last year, the LionsXII exited the FA Cup in the first round after a 1-0 defeat by PKNS.

Get a copy of The Straits Times or go to straitstimes.com for more stories.