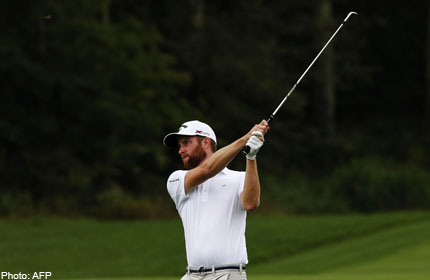 SEA ISLAND', United States - Chris Kirk won the $5.5 million McGladrey Classic on Sunday as a bogey at the final hole cost Briny Baird a chance to grab a long awaited first US PGA Tour title.
Kirk fired a four-under-par 66 to notch his second career victory on 14-under 266.
He and Baird were tied for the lead playing the 18th when Baird, seeking his first US tour win in 365 starts, drove into a fairway bunker. He fired out into a water hazard and Kirk needed only to par for the one-shot victory over Baird and South African Tim Clark.
"I didn't have a really good lie, but it was a doable shot," Baird said.
"My foot just slipped ... I didn't do a good job."
Baird closed with a 67, while Clark roared up the leaderboard to a total of 267 with a 62.
Baird, 41 and back on tour after 2012 shoulder surgery, now has six runner-up finishes since he joined the tour in 1999.
"It's not all about winning," Baird said. "I've said that, but this hurts. This really does. This is very disappointing."
Brian Gay (67), John Senden (67) and Scott Brown (66) tied for fourth on 268.
Matt Kuchar, 2012 US Open champion Webb Simpson, and Matt Every were a further two strokes back on 270.
Kirk's drive at 18 had found the rough, but he eventually made a two-footer for his winning par.
Baird and Kirk had entered the final round sharing the lead on 10-under par.
Baird edged ahead with a six-foot birdie at the second hole, and drained a 26-footer at the fourth to move two clear of Kirk and Clark, who had five birdies in a six-hole stretch starting at the second to climb into contention.
Kirk had gained a two-shot lead through 12, but Baird responded with a 30-foot birdie at 13.
At 14 Baird he seized the lead with a birdie as Kirk had to take a penalty stroke en route to a bogey. Kirk regained a share of the lead with a 15-foot birdie at 17, setting up the drama at the last.
"Everyone in the community has wanted a local to win this event so badly," said Kirk, who attended the University of Georgia.
"I don't live here full time, but hopefully they'll take it."