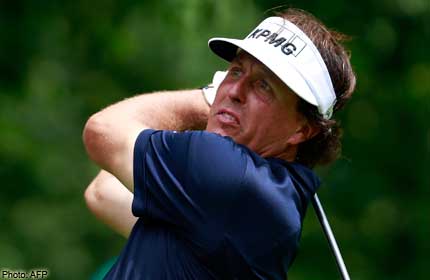 UNITED STATES - In the pithy words of the Americans lay their disparate tales. On the par-five fifth, staring at his third shot which refused his command and flared to the right, Tiger Woods shouted: "Goddammit." At the par-five 17th, his three-wood taking off like a stone from David's catapult, Phil Mickelson yelled: "Go, baby, go."
It is also about as many words as they might say to each other in any given golfing week.
No one was surprised an American won the Open. The surprise was which one. The long-haired Mickelson who smiles like a greeter in a casino was five shots back and too far back. The balding Woods, who grimaced like a man in psychological pain, was close enough to scare Lee Westwood but close never wins prizes.
A 66 by Mickelson on a brutal course didn't make sense; alas, a final-round fold with a 74 by Woods is becoming predictable.
Mickelson is a hugging, kissing family man; Woods keeps his children away from the media and has the look of a loner. The first man is like a political candidate who wants to be embraced; the second would just prefer your awe. The first hangs out on the 18th green and has reporters making jokes with him. When Woods cracked a joke in the press tent earlier in the week, American writers took a while to recover from the jolt.
Woods used to be a one-man, red-shirted miracle factory; Mickelson was the artist who blew his chances. Now they've exchanged places. Woods is a strangely failing machine, having misplaced the part which seals the deal. He is proof of the vincibility of the invincible and a great story has become a sad, stumbling story.
In 2012, he started the US Open 69, 70 and finished 75, 73; at the 2013 Open it was 73, 70 and then 76, 74. At the 2012 British Open he went 67, 67 and then 70, 73. At the 2012 PGA Championship, he started 69, 71 and ended 74, 72. Under pressure, he broke men, now his game breaks down.
Woods, slimmer around the shoulders, still looks tough. Mickelson is tougher than he looks. He is the unmuscular, goofy hug machine you see, but there is a fire under his flab. He has had heartbreak at the US Open, been overshadowed by Woods, been confronted with his wife's cancer and has arthritis himself.
Mickelson has not let it defeat him; Woods, of course, is simply never defeated. He is unlikely to ever reveal his failings and this is revealing in itself. Even after his final-round fold ruined his week, he said of his Open: "I'm very pleased with the way I'm playing. I'm right there and I hit a ton of good shots this week."
Admitting weakness is not an act Woods is comfortable with and it is tragic and telling all at once. To admit his game is off is to admit defeat. As everyone doubts, he cannot doubt; as everyone stops believing, he cannot stop; as everyone insists he is still far, he has to insist he is close.
Amid Majors lost and amid sceptical interrogators, he maintains a staggering positivity and it might look like delusion but really, in some strange way, it is courage. The one man who still completely believes he will match Jack Nicklaus is Tiger Woods.
Mickelson has his own courage and it is in tailoring a Las Vegas-style, gambling golf game to the more thoughtful and mature demands of links golf. It has taken him 20 tries to get it right.
If Woods wants to be the greatest, Mickelson just wants to be completely great. Asked if his ownership of three of the four Majors qualified him for true greatness, he demurred: "I think that if I'm able to win the US Open and complete the career Grand Slam, I think that that's the sign of the complete great player."
It was a graceful moment, some distance from Woods' answer when asked about Mickelson's 66: "It's certainly gettable out there." Woods never gives an inch but golf needs him as it does Mickelson. It needs the charming, accessible, garrulous champion and it needs the stony, resolute warrior who hunts history.
Mickelson lifts us on his best days; Woods lifted golf itself at his best.
The last I saw of Mickelson in Scotland was on a chaotic 18th green on Sunday, the fading light punctuated by camera flashes, fans yelling "Phil, here", and him grinning like a new father.
The last I saw of Woods was an erect figure walking away with his minders, stopping to kiss girlfriend Lindsey Vonn and then striding out of Scotland, beaten yet unbowed.
Mickelson has a trophy he never thought he'd get and Woods has got a gift from Mickelson he never thought he needed. Mickelson is 43, Woods is 37. From the triumphant first man has come proof to the losing second man that he still has time. It's all an athlete ever wants.

Get a copy of The Straits Times or go to straitstimes.com for more stories.