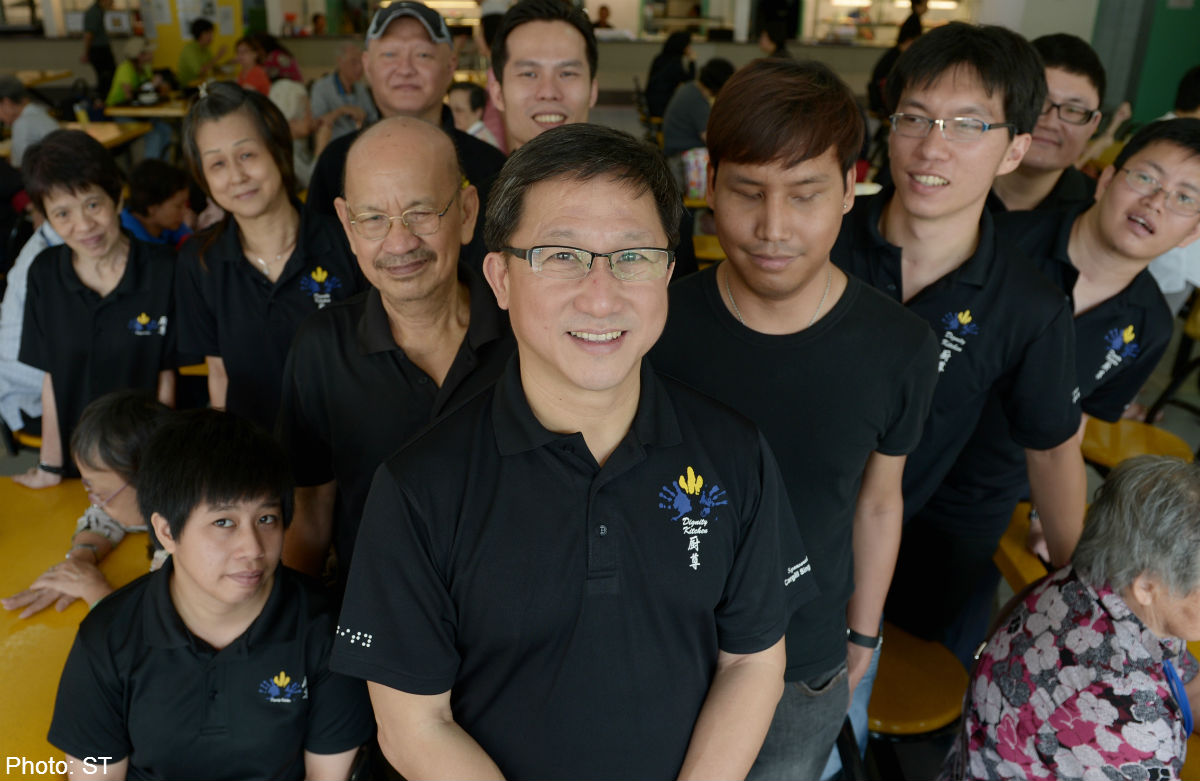 He took his savings, money from a re-mortgaged property and his late mother's inheritance.
And he risked losing it all running his non-profit business.
Dignity Kitchen founder Koh Seng Choon pumped in $1 million to run his hawker training school for the disabled and disadvantaged. It posted just over $3,000 profit last year.
Mr Koh knows Mr Lionel Lye, whom The New Paper profiled on June 23. Mr Lye's team lost $1 million dollars running the social enterprise Kampung@Simpang Bedok.
Touted as Singapore's first private-run hawker centre, it folded last October, after opening in 2012.
Both men said they learned expensive lessons - like how doing good meant making bad mistakes.
Mr Koh, 55, said he made zero sales when trainees wore badges stating disabilities like "I am deaf" or "I am blind".
He had thought it would help customers understand why service would be slower, but people ended up avoiding the staff instead. Business picked up after they stopped wearing the badges.
Mr Koh, an engineer by training, said: "That's why many social enterprises wind up. I don't encourage everyone to do this. Don't go in blindly."
In 2009, about a third of the 73 social enterprises in a funding scheme failed.
Mr Koh hit on the concept after a polio victim, who wanted to be a chef, approached him.
Dignity Kitchen, which was conceived in 2006 and opened in 2010, initially lost about $1,000 a day.
He said: "People asked if I ever wanted to give up. My answer was yes, every single day - but I couldn't."
Too many people were depending on him.
Western food chain Eighteen Chefs' founder Benny Se Teo said: "It's normal to lose $15,000 a month. Not everybody can handle it." Mr Se Teo, a former drug addict, was broke, but he now offers franchises for $50,000. His is a rare success story.
There are about 400 social enterprises here, including 180 members under the Social Enterprise Association, estimated its executive director Alfie Othman.
He said: "The bulk of social enterprises here tend to hire a percentage of their manpower from the marginalised sector or offer products and services that address a market gap.
"Their success depends much on market forces, quality of products and services, and a good team."
Good intentions alone do not make for good business.
KEY
Diversification is key, said Mr Koh, adding: "I don't rely on just one area (like walk-in customers). With new hawker centres, including non-profit ones, coming up, there'll be greater demand for hawkers."
He also customises consultancy services and offers events such as the hawker-for-a-day outreach programme.
Of the 217 people his team trained, 175 have got jobs. The trainees included single parents, ex-convicts and the intellectually disabled.
Said Mr Koh: "I don't give you the fish. I teach you how to fish and, more importantly, I give you the skills and self-respect to cook the fish so you have dignity and are proud of what you do."
With this recipe, Dignity Kitchen has bagged accolades like the World Street Food Congress (Best Street Social Enterprise Food Association/Group) and Enabling Employers (Leader) awards.
Dignity Kitchen helps woman get back on her feet
Divorcee Sharifah Mohd had many worries.
Would she be able to put food on the table? Could she look after her six sons, aged from seven to 21, on her own?
Home for Ms Sharifah and her children was a rental flat.
Her 16-year marriage ended in 2008 and her ex-husband now has a new family.
In search of a job with flexible hours, the former kindergarten teacher became a hawker, manning Malay food stalls at various locations in Ang Mo Kio and Tiong Bahru with a friend.
She said: "I tried to find a job where the timing would fit my family's schedule. I wanted to be there when they came home, but most places offered only fixed working hours."
Monthly income for the 43-year-old at those places was "a few hundred dollars", so she searched for jobs at hawker centres with higher traffic, but to no avail.
Help groups referred her to Dignity Kitchen's founder Koh Seng Choon, 55, in late 2012.
A two-month stint at the hawker training school for the disabled and disadvantaged followed.
Since April, Ms Sharifah has been tending the Malay food stall at Dignity Kitchen foodcourt in Serangoon Central six days a week, from 8am to 4pm. She manages the stall with Madam Rahimah Abdul Rahim, 55, and Mr Johar Mohd Ali, 50.
UPGRADE
The $1,300 monthly pay has helped Ms Sharifah and her sons move to a three-room flat in Yishun last month. More importantly, "this job lets me have dinner with my boys every day", she said.
But there's another worry - slow walk-in business.
"Some people think Dignity Kitchen is a training school, so they avoid the place," she said.
"I hope more people will visit the foodcourt and try our food. It pains my heart to see what we prepared go to waste."
NEXT UP:
- A third Dignity Mama second-hand bookstore
Jointly managed by mentally-challenged children and their mothers, there are now 14 pairs on the wait list. Mr Koh Seng Choon hopes to partner another hospital.
- Start a birds' nest project with special needs schools
For students with an IQ level of 30, who have difficulties learning how to cook or serve. Said Mr Koh: "In Singapore, we don't really see the disabled in public. I believe by equipping them with the necessary skills, they can interact with society and lead meaningful lives."
- Start up to five Dignity Kitchenettes by next year
For former Institute of Mental Health patients to manage food stalls in mainstream schools.
- Launch Dignity Kitchen in Hong Kong by 2017
- Offer IPO eventually
Eighteen chefs a business, not just charity
Want to buy a franchise?
You can - if you have at least $50,000.
That's how much Mr Benny Se Teo charged those keen to use the name of his Western food chain, Eighteen Chefs.
And the former drug addict-turned-restaurant boss had not one but two takers.
"Who says a social enterprise is not viable?" the 54-year-old said.
As the first social venture in Singapore to start a franchise, Eighteen Chefs has made a business out of doing good.
The recipe worked so well that a fourth outlet, in the east, is opening by year-end.
"It's all done without getting a single cent in grant money," Mr Se Teo said, citing branding, cinema-centric locations, innovation and back-up plans as key ingredients.
"You must have a Plan B, C and D even before problems crop up," the President's Challenge Social Enterprise of the Year 2012 award-winner said. "If the food doesn't suit people's taste, I tweak the food. If the price doesn't suit them, I tweak the price."
Some counterparts fail as they focus too much on the social aspect, he added. "They forget about running the business."
Started in 2007, the venture known for giving ex-convicts a second chance, almost crashed when it expanded in 2009.
PARTNERS
Mr Se Teo said: "My partners - all from non-food and beverage industries - wanted to have a say in how things should be run."
The business lost money, to the tune of almost $500,000. At one stage in 2010, Mr Se Teo was broke.
So he revamped the model. Now, former offenders comprise 38 per cent of the payroll - a ratio that lets him balance business concerns with mentoring.
But he bristled at the thought of customers patronising his business simply because they like his way of doing good.
"A social enterprise is still a business. That's why I cannot accept running it based on sympathy or charity," he said.
"With your own business, failure is not an option. I never compare with others.
"I'm just grateful for what I make, be it $300 or $30,000."

This article was first published on June 24, 2014.
Get The New Paper for more stories.